The inside of a bright orange quonset hut in the newly developed Brewery District of Downtown Springfield is home to a century-old burger joint that serves up the best in traditional diner food. Casper's got its start in 1909 when Casper Lederer started a fruit business and began selling his famous chili out the back using the same Garland stove that the chefs at Casper's still use today.
In 1948, Lederer moved his business into a quonset hut on the southwest corner of Glenstone Avenue and Cherokee Street before it eventually moved to its current location. Casper's is a staple when it comes to hearty chili and greasy burgers. The food is delicious, but the star of the show is the collection of vintage posters and local artwork that covers every available inch of space inside the structure. The tables and chairs have been painted bright, energetic colors and guests are made to feel like they've stepped back in time thanks to the trippy décor.
Even the main counter, where a waitress with a brightly colored vintage apron takes customer's orders, is painted red and topped by basic condiments along with a variety of hot sauces set out for customers to dress their burgers and fries. Casper's does have a traditional yet simple tri-fold paper menu, and the menu is also handwritten on a bright yellow board fixed to the slope of the building.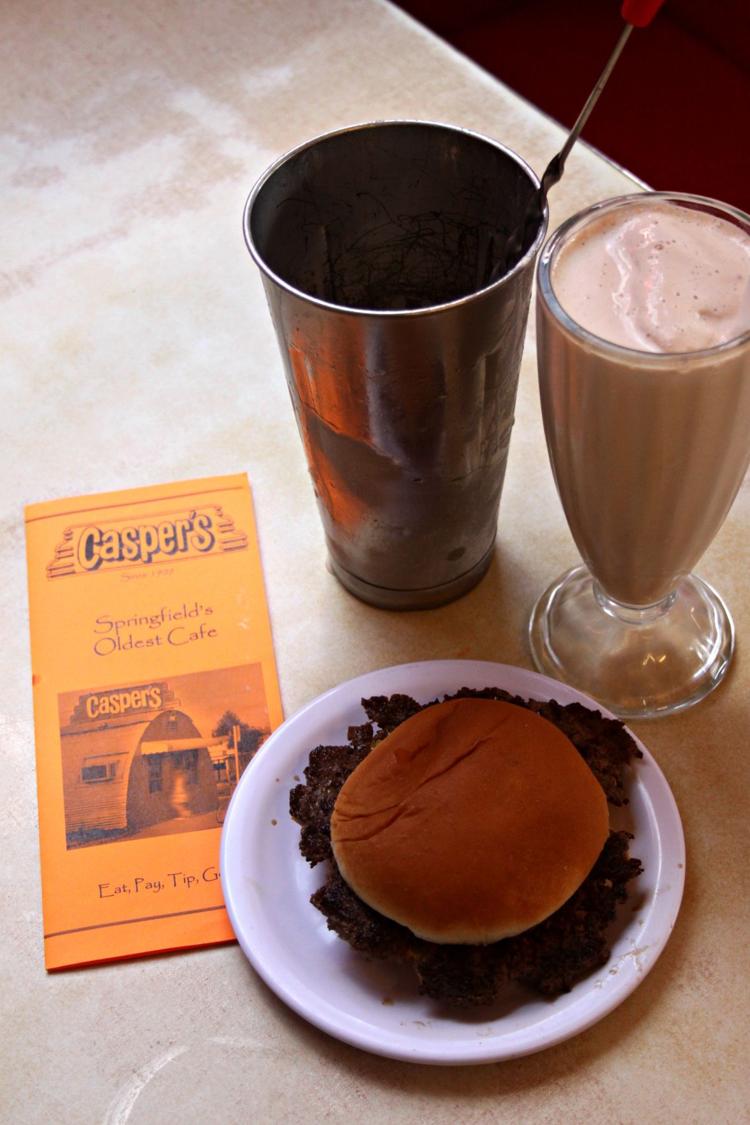 The restaurant offers straightforward, simple plates like double hamburgers and cheeseburgers, chili burgers, ham sandwiches (including an egg and cheese option), chicken sandwiches, and an open-face sandwich or grilled cheese. Casper's also offers chili cheese fries three ways, topped with spaghetti, frito pie or "Casperito style"made with chili cheese and sour cream then topped with more chili cheese, tomatoes and salsa. Look for Jr. and Sr. Coney hot dogs; plus, every Wednesday is Coney Day. True to greasy-spoon traditio, Casper's also has dessert that rivals anything you'd find at a bakery or a malt shop.
The classic chocolate shake is made right in front of you with an old school malt milkshake mixer and served in a tall shake glass with the extras on the side in the mixing tumbler. There's nothing like thinking you're finished with your milkshake only to find out that there is, in fact, more milkshake. If desserts are your thing, don't miss the Tuesday special: Pineapple Upside Down Cake Day.
Springfield's oldest cafe was passed down through the family who originally opened it, with Casper's son Charles taking over in 1966. Belinda Harriman started working at Casper's in the '70s; she became partners in the business with Dan Harriman in 1985. Casper passed away that same year and Belinda moved the business to Downtown Springfield. Casper's was purchased from the Harrimans by Trevor Crist and Shawn Kraft, Missouri State University Tau Kappa Epsilon fraternity brothers, in 2013.
Thanks to Crist and Kraft, the restaurant is now open all year long and has added some fresh items to the menu. The old Casper's wasn't open in the summertime and stayed closed until the day after Labor Day. When the pair bought the business, they updated things a bit by adding air conditioners and keeping Casper's open for business all year. They keep the spirit of the space alive by continuing to add to the art that makes Casper's so eclectic and well-known.
"Each piece is unique in its own way; a lot of it has been around for so long like the woodcut prints that came from Charles's son and the dough art the employees have made over the decades," Kraft says. "Then, there are the the old chalk statues you would get at the fair in the '30s and '40s instead of stuffed animals."
There's truly no place like Casper's, and this little diner fits perfectly into the Route 66 history that makes Springfield well known and the growing downtown foodie scene that's drawing new crowds to downtown.
Casper's is open Monday through Saturday from 10:30am to 4:30pm.
Casper's, 601 W. Walnut St., Springfield, Missouri, 417.866.9750, facebook.com/casperschili