If your Friday night plans call for a tub of ice cream, you're in luck: You can likely find Ice Cream Factory pints in flavors such as Brownie Blast, Cobalt Cookie, Extreme Mint and Strawberry Cheesecake at your local grocery store. If you live in Jefferson City and you want the full experience, head down to the scoop shop on Madison Street.
Shannon Imler opened the original location of Ice Cream Factory in Eldon, Missouri, in 2019, and in early 2020, he expanded to Jefferson City. But Imler got his start in the creamery business years before, when he invested in a friend's shop in Eldon. When that shop closed, Imler had already spent countless hours churning original flavors of ice cream, so he decided to venture out on his own. Ever the entrepreneur, Imler aimed to create an ice cream franchise that could spread scoops and smiles near and far.
"People might walk into an ice cream shop unhappy, but they don't leave that way," says Imler.
The shop in Jefferson City has neon signs in the window and a modern aesthetic, setting the stage for the bright colors and intriguing flavors of the ice cream in the freezer. Sink your spoon into a bowl of blackberry cobbler ice cream and you'll find chunks of pie crust among swirls of crushed blackberries. In the shop's best-selling gooey butter cake ice cream, Imler combines pieces of gooey butter cake, ribbons of butterscotch and caramel and cream cheese-flavored ice cream. Vegan customers have irresistible options too. Indulge in the refreshing lemon poppy seed or the decadent mocha cookie crumble – both made with creamy coconut milk.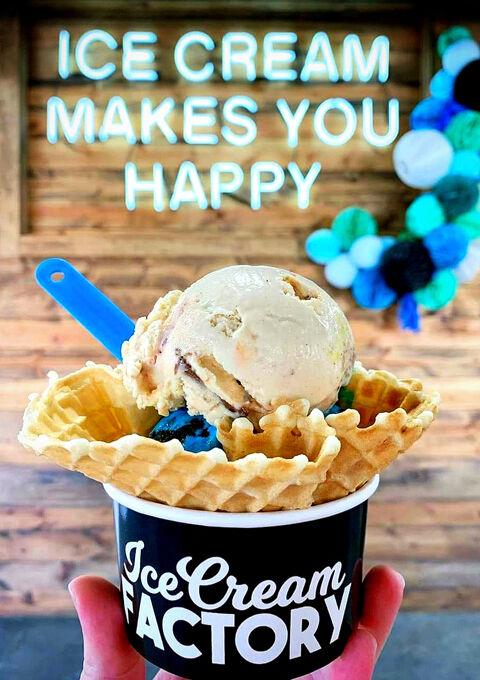 The menu also features classics such as black walnut, butter pecan and butter brickle, which Imler says is a favorite of Governor Parson's. "The governor and his wife came to the shop after the [2020] stay-at-home order was lifted just to get a scoop," says Imler. This summer, in honor of the Missouri Bicentennial and as a tribute to Governor Parson, Imler will release 5,000 commemorative pints of butter brickle for sale in stores, with a portion of proceeds going to charity.
As the COVID-19 pandemic pushed Imler to find new ways to get his ice cream to customers, he looked to grocery store shelves. Today, pints can be found in more than 400 stores across Missouri, Oklahoma and Arkansas, and the list keeps growing. You can even pick up a pint at Boardwalk Waffles and Ice Cream in Maplewood, Missouri.
"When people buy our ice cream at the store, they're supporting a family – not a global chain or corporation," says Imler.
A third location of Ice Cream Factory is in the works as well. And Imler says he won't stop scooping until he's sold more pints than Ben & Jerry's.
The Jefferson City location of Ice Cream Factory is open every day from 10:30am to 10:30pm. "Ice cream is enjoyed with family and friends," says Imler. "People get off work, have dinner and then they want to go do something fun, so we're open late to accommodate everyone."
Ice Cream Factory, 710 Madison St., Jefferson City, Missouri, 573.723.2103, icecreamfactoryco.com