When Simon and Codi Bates' restaurant, Bon Bon, opened in Lawrence in 2016, its historic building lacked one notable feature: a kitchen. The couple (who also own and operate the Burger Stand restaurants in Lawrence and Topeka) pursued a novel solution to their problem by installing a food truck kitchen adjacent to their building, in which all of the restaurant's food was prepped and cooked. It worked, but only for a while. For cooks, summers were scorchfests and winters were often brutal.
Finally, last winter, the Bates closed their food truck kitchen and began work on a large expansion that would not only provide a true, modern kitchen for Bon Bon, but double the restaurant's indoor seating capacity. In the interim several months as construction was ongoing, Bon Bon's kitchen talent cooked from behind the restaurant's small bar, which was no small feat. Using induction burners, slow cookers and an off-site kitchen, the stews, braised meats, noodle dishes, dips and desserts they provided were nothing short of impressive.
The new bistro, coffee and bar concept offers an eclectic menu.
Last week, Bon Bon at last debuted its new kitchen and dining area, along with a new summer menu. The expansion, like so much of what's now constructed in this historic neighborhood in East Lawrence, is a blend of old and new. The original turn-of-the-century limestone building houses the original dining room and bar, and now connected to it on its west side is a 40-seat dining space of steel and glass, almost like a greenhouse. At the far west end of the greenhouse is that much-desired new, modern kitchen, which has a window into the new dining space. A large outdoor patio fronts the entire restaurant, it too expanded in this round of construction.
The menu remains true to Bon Bon's original eclectic Asian-meets-Midwest-meets-anything-goes style, and features a diverse selection of shared plates, buns and sides. It incorporates fresh vegetables and herbs grown in Bon Bon's giant on-site garden, and dishes and specials change regularly depending on what's available both from that garden as well as local farmers and ranchers.
Among Bon Bon's small plates, customers can opt for a generous dish of yellowfin tuna tataki, served on a heap of shredded cabbage and glazed in a shiso, ginger and tamari sauce, or a rich chicken liver pâté served with grilled bread, pickled shallots and a housemade mostarda. Bon Bon's Mexican-inspired queso fundido is made with a house chorizo ragu, whipped pinto beans and Chihuahua cheese, and is served with crunchy blue corn chips made with local Yoli tortillas.
Two classic items that are available once more now that the kitchen is complete are the hot chicken and katsu (fried pork loin) buns, as well as a fried eggplant bun, served with curry salt and a miso-lime aïoli and fresh herbs. Among Bon Bon's new and updated items available in large plate format are the Root Beer General Tso's, which can be made with Amish chicken or tofu from Lawrence's Central Soy, along with fresh steamed broccoli and fried rice; and the impressive okonomiyaki, a Japanese-style pancake topped with local pork belly, tempura "scrap," cabbage, mushrooms, kewpie mayo, katsu sauce and bonito flakes. A true standout dish is the confit duck with Dan Dan noodles: on a bed of housemade ramen noodles Bon Bon's chefs add a chile and duck fat peanut sauce, a soft-boiled egg, cilantro and scallions, as well as an entire duck thigh and leg, its skin perfectly crisped and its meat rich, flavorful and juicy.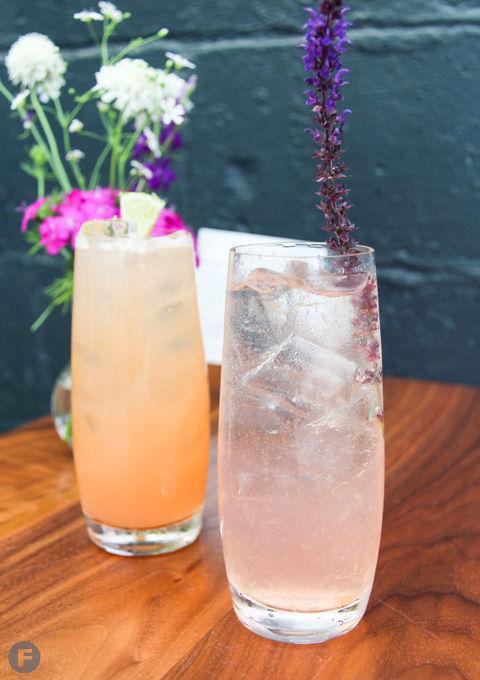 Bon Bon's cocktail program remains a standout in Lawrence, with classic and seasonal cocktails available as well as a thoughtful selection of mocktails, or as they call them, "potions." On the current seasonal cocktail menu, among others, is the High Five, which features CH organic vodka, a seasonal garden shrub, simple syrup and soda. The flavorful Moxie includes turmeric-infused Builder's botanical gin, and pineapple gum syrup with a wedge of lemon. From the classics menu customers can opt for a Painkiller, house Gin & Tonic, Mule and even a patio-friendly frosé.
In a neighborhood that has quickly become one of Lawrence's top dining and drinking destinations, Bon Bon has long proven itself a unique and valuable destination. Its expansion only makes it more so.
Bon Bon is open Tuesday through Thursday from 11am to 10pm, and Friday and Saturday from 11am to midnight (kitchen closes at 10pm).
Bon Bon, 804 Pennsylvania St., Lawrence, Kansas, 785.856.2275, bonbonlawrence.com