The corner of 75th Street and Wornall is one of the busiest in Waldo. The surrounding area is packed with bars, restaurants and coffee shops that are all within walking distance of one another.
That type of close-knit neighborhood bar district is exactly why Travis Lester and Justin Safier, owners of Broseph's Restaurant Group, thought it would be the perfect place to open a location of their elegant yet casual restaurant and bar concept, Brick+Mortar (which also operates a location in Santa Monica, California). The restaurant opens today in the former Tanner's Bar and Grill space at 7425 Broadway Street.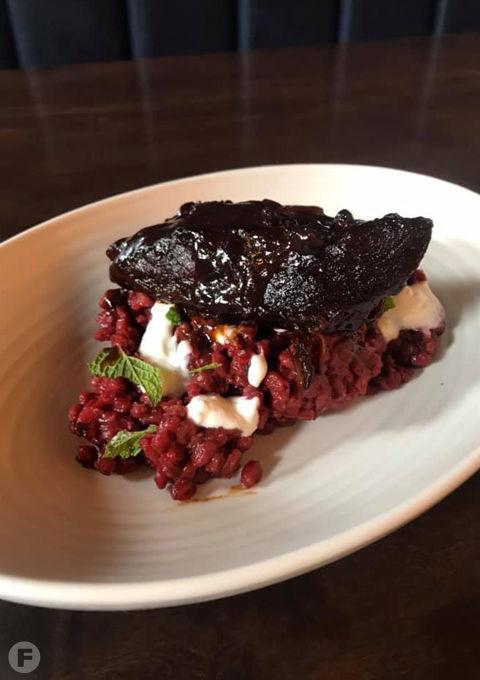 Brick+Mortar is ready to serve the neighborhood seven days a week for lunch, dinner and weekend brunch on Saturday and Sunday. The restaurant will be a destination for the late-night crowd, as the bar and the kitchen will both be open until 3am on weekends.
The 3,000-square-foot space has undergone a complete renovation. With two garage doors that can be rolled up on sunny days, the dark wood has been taken off all of the windows and now the space has lots of natural light that highlights the red brick wall.
Almost everything has changed for the better about the layout of this space, which will seat 70 in the dining room and 65 in the bar and lounge area. Walls have been knocked down to open up the dining room to the bar, which has also been moved to the other side of the room.
There is another smaller bar in the back corner of the room that will be used to make drinks for the dining room when the main bar is packed and will also serve the small patio area that has been created outside for standing-room only cocktails. 
Inside the space are several photo opportunities designed for selfies. One entire wall has been painted with a black and while mural of all of the significant buildings in the Kansas City skyline. There is also a fun photo booth will have a neon sign that says, "I heart KC," and the photos taken inside will then be displayed on televisions in both Brick+Mortar locations. Even the shared bathrooms get in on the action with a luxe hallway lined with flocked wall paper and a neon sign that says, "It was all a dream."
Lester has roots in the area, as he attended Pittsburg State University in Pittsburg, Kansas and played baseball for the Gorillas. He's already made Kansas City his home once again; he and his wife, Gina, moved from Santa Monica last fall to officially set up the restaurant group's new home base in Kansas City.
"We looked for several years for the right market for us to open our next Brick+Mortar location, and Kansas City felt right. We liked the Crossroads, Brookside and Waldo and when we heard this space was available, Waldo became our first choice; we love it here," says Lester. 
Broseph's Restaurant Group also acquired Chappell's in North Kansas City last summer. Longtime owner Jim Chappell sold his 32-year-old restaurant and bar widely known for its vast, museum-quality collection of sports memorabilia.
Brick+ Mortar corporate executive chef Laurent Saussy has designed a menu specifically for this location. Currently, you can find him in the kitchen working alongside the new chef de cuisine at the Kansas City location, Juan Ceron, who has previously worked at Classic Cup, Golden Ox and The Granfalloon.
The two chefs have perfected an interchangeable menu that is the same for lunch and dinner, with nothing over $30. "We wanted people to have options when they came to dine with us," says Lester. "We have a really nice 6-ounce petit filet on the menu that comes with blue cheese potato gratin and blistered tomatoes that is sitting at the top of our menu in terms of price, or you can come in and share some less expensive appetizers from our 'shares' menu like a charcuterie board, hummus plate or chicken wings with blue cheese and hot sauce."
The menu includes a solid salad selection, with seven entrée-sized salads including the kale Caesar salad. It comes dressed with slivers of aged Parmesan cheese and marinated anchovies nestled inside a toasted bread ring that surrounds the salad and acts as the edible crouton fence to keep the salad neatly corralled on your plate. These subtle, sophisticated plating touches set the comfort food at Brick+Mortar in front of the culinary pack in Waldo.   
There are a couple of soups and handhelds, including sandwiches, tacos and a burger. The Double, Double Cheeseburger will help put this place on the map; it's served with American cheese and housemade "animal sauce" and modeled after the famous In-N-Out burger.
Small plates offers some of the most delicious bites on the entire menu, and could make a meal for one or a shareable appetizer for two people. These include a Hamachi crudo, a mahi mahi ceviche served with plantain crisps, grilled octopus with white bean ragout, lamb meatballs with an other-worldly tomato-mango curry sauce on top and a clever "beet" wellington with goat cheese cream.
Pasta is hand cut and made in-house. This section of the menu runs the gamut from a simple cavatappi mac 'n' cheese to purple potato gnocchi with rock shrimp tomato nage.
The entrees range from chicken and waffles to ahi tuna poke, steaks, roasted salmon and roasted chicken. The braised beef short rib with a pretty farro and beet risotto with yogurt and fresh mint is as comforting and filling as it is creative. Don't skip the sides, which offer several options for vegetarians.
To drink, the newly placed bar offers plenty of seating with several TVs playing whatever local game is on. A gorgeous green wall sits behind the bar and offers 32 regional and local beers on tap, a carefully culled wine list and a cocktail menu that offer classics with a twist.
With a 3am liquor license, Brick+Mortar plans to draw industry folk in by also keeping the kitchen open late into the evening.
"Since we will stay open until 3am on the weekends, we will be able to morph the dining room with the customers' experience. We will go from being a bright space serving a quick and satisfying business lunch into a more relaxed happy hour and dinner vibe with candles on every table. Then, as the night goes on, the room will slowly evolve into more of a late bar scene," says Lester. "The lights will come down a bit more and the music will get turned up to create even more ambiance."
In Waldo, everyone has their favorite restaurant to eat at and their favorite bar to drink at. Brick+Mortar will offer both of those rolled into one.
Brick+Mortar, 7425 Broadway St., Waldo, Kansas City, Missouri, 816.575.7688, brickandmortar-kc.com