Sarah Osborn Blue has spent the past few years making pastries for some of the best restaurants in St. Louis, from frosted sprinkle donuts at Sardella to toasted marshmallow semifreddo at Elmwood. 
These days, though, her regular customers are a little, well, hairier. 
This spring, the acclaimed pastry chef turned her focus to Jax Snax, a new line of dog treats made with spent grain from local breweries. Affectionately named for her adorable 10-year-old black lab, Jax Snax offers several different types of treats, all styled after different beers.
"In my experience as a pastry chef, I care about the ingredients, and that's kind of where I'm coming from here, too," she says. "I want everything going into these to have a purpose as well as being delicious and dogs wanting to eat them. It's just about bringing that mindset to making a dog treat."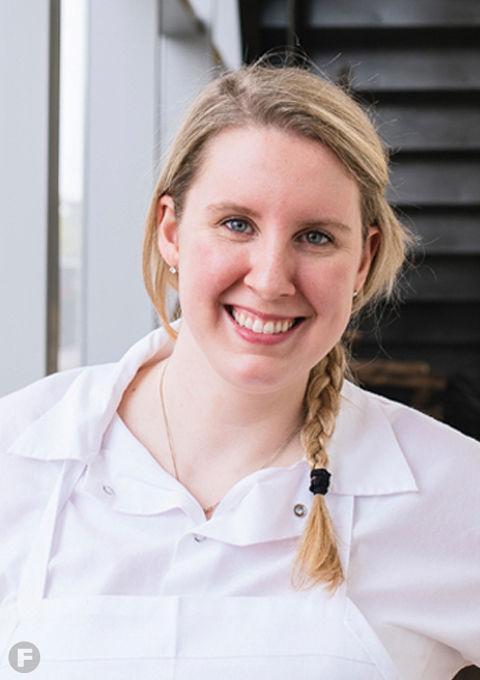 With that in mind, the treats are all made with a base of vegetable purée, nut butter and spent grain that Blue sources from local breweries and makes into a flour. "It's St. Louis; we're such a beer city and I felt like [spent grain] was something fun that I could incorporate in," she says. "But as I started researching more, I found out that it's an awesome source of fiber and a huge source of protein for dogs. I'm not using any white flour; I'm only using the spent grain as my flour in the treats as a binder. It brings a lot of benefits to the dogs."
Blue says that the other ingredients are also beneficial to dogs. Local honey helps with allergies, brewer's yeast is shown to help repel fleas and flaxseed helps with dry skin and makes the coat a little shinier. 
Just as you'd order your favorite beer from a local brewery, you can choose your dog's treats based on beer style. They range from the IPA (white bean, IPA spent grain, sunflower seed, flax seed, honey, brewer's yeast, egg, blueberry, basil) to the Blonde (pumpkin, blonde ale spent grain, cashew, egg, flax seed, honey, brewer's yeast, turmeric, mint, parsley) to the Stout (sweet potato, stout spent grain, cashew, flax seed, egg, coconut, honey, brewer's yeast).
"It's kind of cool because the stout ones get super dark; they have chocolate notes and smells to them, but obviously they have zero chocolate whatsoever," Blue says.
Blue had initially planned to launch Jax Snax at the Tower Grove Farmers' Market this spring, which was postponed due to the COVID-19 pandemic. Fellow market vendors Kitchen Kulture quickly stepped up to help, though; Jax Snax treats are now available to order online and can either be delivered or picked up at Kounter Kulture in Lindenwood Park.
"I'm not leaving the restaurant industry by any means," Blue says. "But this is just sort of a fun new adventure to take and I'm going to go with it and see where it takes me."
Jax Snax, jaxsnaxstl.square.site