Just a few months ago, Living Room Coffee & Kitchen in Maplewood, Missouri, had 20 seats inside, limited outdoor seating and a frequent line out the door. Now, the coffee shop has leveled up.
"The main feedback from people was that it was too small inside," co-owner Nate Larson says. "The seats felt like we were right on top of each other."
The new space is more than twice the size of the original location.
But with 60 indoor seats, 60 patio seats and a brand-new walk -up window, that is no longer an issue. Living Room recently expanded into the next lot over, formerly home to Bolyard's Meat & Provisions, which moved just down the street last year. After Bolyard's vacated, Living Room jumped on the opportunity to expand its space.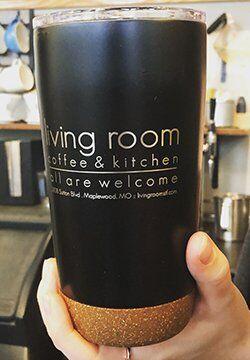 It took months of planning and preparation to make the renovations happen. Living Room even had to close for six weeks, but every member of the staff returned back to work once renovations were over, which Larson says was a huge deal for them.  
"I'm still pretty much floored by it," Larson says. "We really do have a tight-knit staff, and it's a really healthy workplace."
Along with its tightknit staff, Living Room is close to its community. Larson says up to 90 percent of customers are regulars, and for these avid coffee-drinkers, Living Room's 2022 Coffee Lovers Mugs are now available. The $165 price for these 16-ounce insulated travel mugs may seem steep, but they are much more than a simple mug; they get you a free pour of house coffee, cold brew or iced tea every day during 2022. 
Larson says that the mugs help the business through a slow time of the year, but they also offer a great deal to customers and help reduce waste from disposable coffee cups. 
"It checks all the boxes," he says. "If you came in every day during the year, you would save over $1,000 on coffee."
Living Room is open for indoor dining (with proof of vaccination card and ID) and carryout. 
Living Room Coffee & Kitchen, 2808 Sutton Blvd., Maplewood, St. Louis, Missouri, 314.899.0173, livingroomstl.com