Finding New York-style bagels in the St. Louis area is about to get a little easier.
Lefty's Bagels will launch this month at The Bakers Hub in Chesterfield, selling handmade New York-style bagels in classic flavors like plain, sesame seed and everything. The boiling-and-baking outfit comes from brothers-in-law and best buds Doug Goldenberg and Scott Lefton – the surprisingly right-handed namesake for the bakery. 
Lefton is well-traveled, having spent time living in both Chicago and Los Angeles before returning to his hometown of St. Louis. He never considered himself a baker, but during his free time when he wasn't working in his tech job, Lefton started making bagels after his local bagel shop shut down.
"That just spawned an enormous obsession," he says. "Anybody you talk to who knows me will tell you I go way down into the rabbit whole when it is something interesting to me."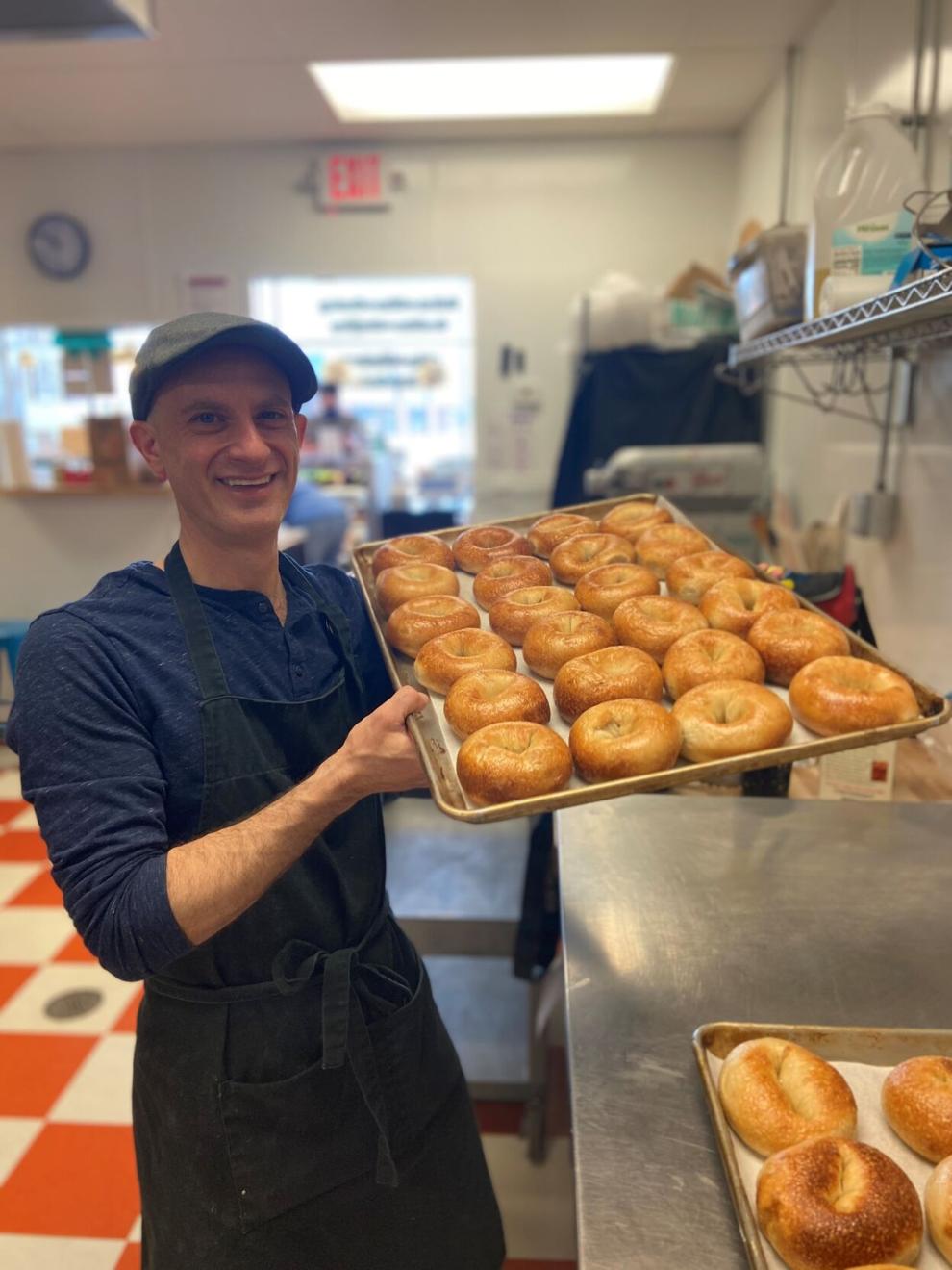 Lefton started making bagels for his family, and they loved them. As he got better and better, he would post photos of his completed product on Facebook, and the attention they garnered was significant. At a time when he saw social media as being mostly partisan and divisive, he noticed one thing brought his timeline together: pictures of bagels. 
That kickstarted a dream of opening a bagel shop, but Lefton knew that the investment in a brick-and-mortar space would be extreme, even though he had a fantasy of a bagel shop on every corner like in some major cities. Then, two things happened: Lefton discovered The Bakers Hub, and he pulled in Goldenberg, his partner in crime from everything to cooking to homebrewing. Both have full-time jobs, but with the flexibility that The Bakers Hub offers – providing a place to make and sell the bagels without the overhead of a brick-and-mortar bakery – the two decided to take the plunge. 
When Lefty's officially launches this month, its bagels will only be available on weekends to start, but availability might increase as time goes on. Lefton is starting with your typical favorites – plain, poppy seed, sesame, everything, cinnamon-raisin and blueberry – but given that he loves to "tinker," you might find specials like a salt or pumpernickel bagel. But don't worry: above all, he likes to keep it classic. 
Shop for everything from French macarons, pies and cheesecakes to empanadas, kolache and vegan sweets.
"You're not gonna find a marshmallow-chocolate chip-peanut butter bagel at my place," he jokes. 
Although Lefty's is just gearing up to launch, Lefton and Goldenberg have big hopes for the future of the bagel shop.
"The dream is to definitely get to a bigger footprint than the Bakers Hub," Lefton says. 
In the near future, the duo hopes that they can partner with restaurants or stores that would want to sell or serve their bagels, but down the road, the ultimate dream is their own brick-and-mortar bagel shop and café where they can make and serve their bagels directly to customers, featuring deli-style bagel sandwiches.
Lefty's Bagels is slated to launch in April, but no official opening date has been set yet. Follow the bakery on social media for the latest updates. 
Lefty's Bagels (inside The Bakers Hub), 67 Forum Shopping Center, Chesterfield, Missouri, 314.295.4898, leftysbagels.com