After weeks of picking up curbside pizza from your favorite local restaurants, you might feel the need to vary your routine and get active – like by making pizza at home.
Mitch Frost, the owner of Pie Guy Pizza in The Grove, has made it easy to do just that with his at-home pizza packs, plus DIY kits to prepare garlic knots, sourdough bread, salads and calzones in your own kitchen. First, choose which type of pizza you're most confident in tackling at home – options include pan, deep dish or a personal size – then select a few side dish kits and place your order by phone at 314.833.5532 or online.
Frost says pizza toppings vary at the moment depending on what's available and what's most cost-effective, but currently, classics such as pepperoni, sausage, green pepper, red onion, green olive, artichoke hearts, pepperoncini and minced garlic are all on offer. Pizza and calzone kits cost $20, while the garlic knot and salad kits are $8 each and the sourdough loaf kit is $6.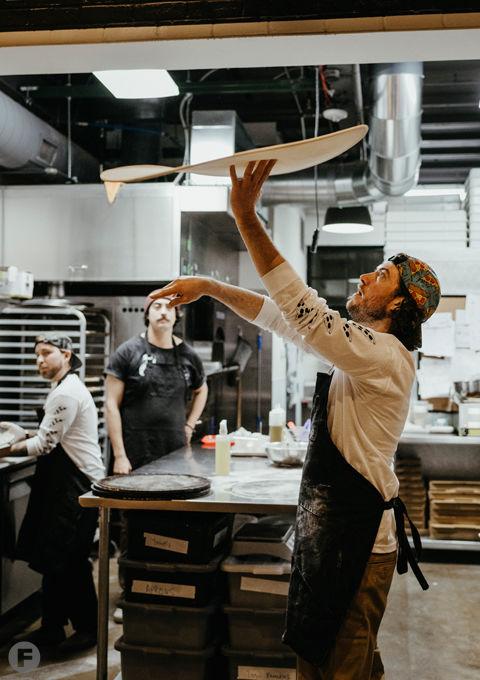 "The pizza kit dough balls aren't quite as big as the 18-inch pie [served at Pie Guy], because I don't think most people would be able to fit that in their ovens, but it's pretty close," Frost says with a laugh. "It fits on an average size sheet pan almost perfectly, which is an easy option for people doing it at home. The pizza kits come with all the same ingredients that we normally use at Pie Guy. So far it's been a really great success; the community has definitely shown their support for Pie Guy, and I'm just beyond thankful."
Orders are available for curbside pickup only Tuesday through Saturday from 3 to 6pm. Pie Guy is implementing safe social distancing practices for contactless pickup: When you arrive at the restaurant, stay in your car and give Pie Guy a call with your name and order number. Next, roll down a rear window or pop your trunk and a member of the Pie Guy team will bring out your order, with staff wearing masks and switching gloves for every order.
The crew at Pie Guy stays up late. They know how to party. And you're invited.
Frost says he's been encouraged by the response and business so far, with some customers even buying multiple pizza kits to drop off on the porches of friends and family.
"I think that's just amazing," he says. "It's super fun handing out a fun activity like that. It has a lot of meaning behind it too; it just helps us so much. A lot of people have been sharing their pictures of their products through our Instagram page, too, and I've been more than impressed – I think I've offered a couple of people jobs after this already."
Pie Guy shares a space with Gezellig Tap House & Bottle Shop, which is also offering curbside pickup for its wide selection of local, national and international beers, wines and canned cocktails. Orders can be placed over the phone at 314.833.5532 or online Wednesday through Saturday from 3 to 8pm.
Just as the two concepts complement one another for dine-in customers, Frost says the curbside pickup combo of beer and pizza just makes sense.
"We did this the first week without being integrated together, but we've seen a lot more orders coming in. I mean, it's a perfect scenario: You've got your activity, your dinner and your drinks while doing it at the same time," he says. "And it helps us both out, you know, cause we both need each other to be alive at the end of this. So we're kind of just both helping each other out as best we can."
Gezellig Tap House and Bottle Shop, 4191 Manchester Ave., The Grove, St. Louis, Missouri, 314.833.5532, gezelligstl.com
Pie Guy Pizza, 4189 Manchester Ave., The Grove, St. Louis, Missouri, 314.899.0444, pieguystl.com