Two years ago, Emily and Gabriel Wouk, along with their two daughters, were ice skating in New York City. Snow was falling, and the aroma of fresh donuts was wafting through the flakes. Emily remembers that the vanilla mini donuts had Christmas sprinkles; they were simple but delicious.
"We went back four times that night," she says with a laugh. "We just thought, 'What if we never have these again?'"
As it turns out, the Wouks decided to bring the mini donuts to Springfield, Missouri, launching their food truck, SnoNut, in September 2020.
Emily, a nurse practitioner by profession, had always dreamed of selling snow cones, and she decided the mini donuts would enhance the sweet experience at SnoNut. Since opening, she says they've been overwhelmed – but in a good way.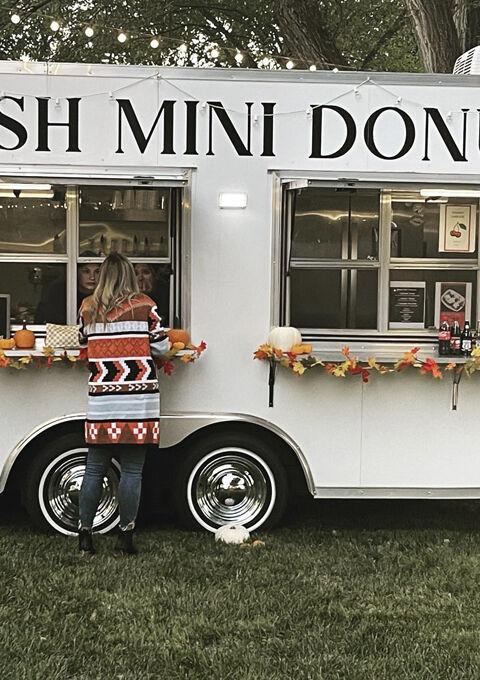 The vanilla cake mini donuts are crispy on the outside and squishy on the inside. "Some people say they're a cross between a donut, a pancake, a funnel cake and a muffin," Emily says.
Fresh out of the fryer, the dessert donuts are drizzled with sauce, available in five signature flavors (chocolate, vanilla, caramel, honey and Nutella) as well as seasonal flavors such as pumpkin pie and maple. They're then topped with various sugars, sprinkles, candies and nuts.
The donuts with both chocolate and maple sauce and chocolate chips are currently a fan favorite. If you're a Chiefs fan, though, you'll want to order the donuts with vanilla sauce, red sprinkles and gold flakes for game day.
Pair any order with a warming drink such as apple cider, coffee or hot cocoa. SnoNut even offers hot cocoa slushies that customers of all ages enjoy.
Local sweet tooths aren't the only ones impressed by the business. Days after its one-year anniversary, SnoNut won Best Sweet Treat at the MO Food Truck Fest. "It was the best anniversary present ever," Emily says.
She and Gabriel both have day jobs, so SnoNut is only open on weekends. But you won't want to miss this Springfield experience: The custom truck was designed so that kids can see the donuts coming out of the machine, which was the case on that winter night in New York.
"I want everyone to have that same magical experience," Emily says.
SnoNut is open Friday through Saturday from 5.30 to 10pm and Sunday from 3 to 8pm. The food truck usually parks at 2551 South Campbell Avenue, but check social media to verify where it'll be parked next.
SnoNut, facebook.com/snonutllc