The first tenant in downtown's new Brewery District Flats development is open for business.
Frank 'n' Steins started serving gourmet hot dogs and brats on March 11. 
Owen John Chace (who previously owned JC O'Malley's Irish Pub) is a movie buff, so the names of the dishes at Frank 'n' Steins are plays on popular films. The best-selling Big Grubowski, for instance, is a chili cheese dog with onions and jalapeños. Another popular pick is the Brattyshack, a chicken bacon brat topped with Cheddar, shredded lettuce, minced tomato and bacon, all drizzled in Ranch dressing. The Bite Club, meanwhile, is a chicken cordon brat topped with ham, Swiss and Dijon sauce.
The menu features all-beef franks, chicken brats, beer brats and vegan wieners, as well as gluten-free options. Hot dogs are available in a variety of sizes, including the Blockbuster, which is a half-pound dog.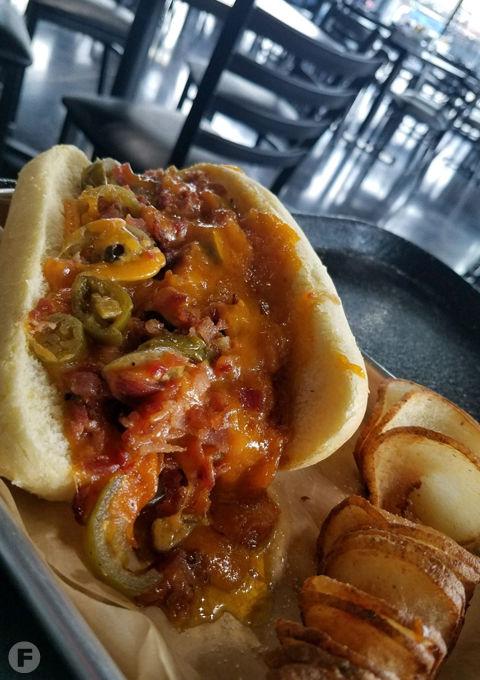 As for the "Steins" part of the name, the restaurant features 20 taps, including selections from Mother's Brewing Co., White River Brewing Co., Piney River Brewing Co., Boulevard Brewing Co., KC Bier Co. and O'Dell Brewing Co., to name a few. Domestics like Budweiser are also available in a cooler. Chace says that he'll add a new tap each month at the suggestion of customers. Starting in April, he will have customers vote on which beer they want him to add.
With 1,800 square feet, Frank 'n' Steins has a sleek, modern feel with big windows and plenty of natural light. The black tables and chairs pop against the light gray walls. There's a television above the bar and another across the room.
 The Breakfast Grub, for instance, is a maple brat with egg, tomato, avocado and Provolone.
Chace's wife, an artist, created the artwork for the restaurant, which ties in with the theme. You'll find hot dog characters also inspired by popular movies, including the famous dance scene from Pulp Fiction – just done in a bun. There's also a play on the famous poster for Godzilla on a back white wall, where an angry-looking stein climbs a condiment tower and in one hand holds a terrified female hot dog in heels.
Currently, Chace is focused on speed and efficiency to serve a quick lunch to the downtown crowd. Customers can order online on the Frank 'n' Steins website or via Facebook; after paying online, your meal will be waiting for you when you walk in the door so you can grab it and go.
Frank 'n' Steins currently closes at 10pm on Fridays and Saturdays, but Chace says he's looking to potentially expand into late-night hours. He's toying with the idea of shutting down beer sales, but offering packaged hot dogs to sell when bars close. 
Frank 'n' Steins, 535 W. Walnut St., Suite 101, Springfield, Missouri, eatfns.com