Restoring the historic grist mill in Ozark, Missouri, and transforming it into a riverfront restaurant has been a dream long in the making. Johnny Morris, founder of Bass Pro Shops, purchased the mill in 1993, and years later, when his daughter Megan Stack joined the restoration efforts, it became a family passion project. On Fri., Sept. 3, The Ozark Mill officially opened for lunch and dinner reservations.
Executive chef Kevin Korman curated the main menu and worked with resident farmers Liesel McCleary and Brendan Sinclair on a market menu that rotates based on seasonal availability. "We have an urban farm that has about an acre of farmable land," says Dayle Duggins, marketing manager of Finley Farms. "Those farm ingredients make their way to your plate."
Right now, the seasonal pizza on the market menu utilizes okra grown by McCleary and Sinclair. Korman then chars the okra and pairs it with salsa verde and red sauce to add to the dynamic flavor of the pizza. He also ferments the pizza dough – made with freshly ground hard red wheat flour – in-house daily.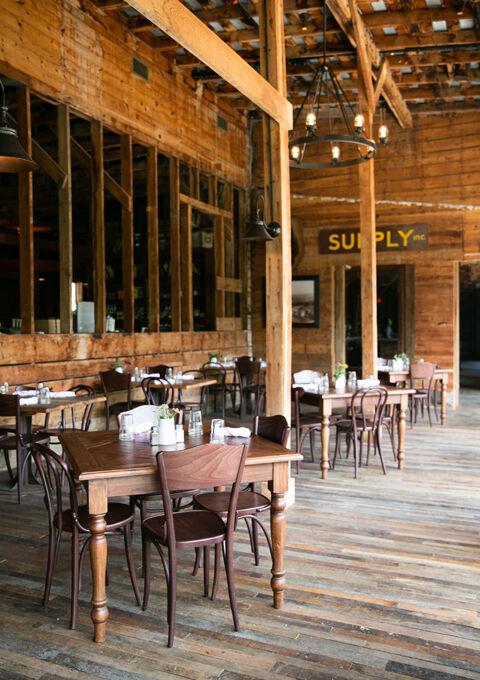 On the main menu, you can order a mushroom pizza for lunch year-round or a flatbread mushroom appetizer for dinner. McCleary and Sinclair are working on cultivating shiitake mushrooms on the property, so expect shiitake dishes to make an appearance on the market menu in the future.
Another elevated Ozark classic is the ​​risotto fritter. Multiple flavors work harmoniously together, but the pickled pepper aïoli takes center stage and gives the dish a nice kick.
The menu also delivers when it comes to dessert. The green tomato cake, one of The Ozark Mill's signature desserts, is topped with microgreens, but don't let the vegetables fool you – the cake is still sweet and similar in flavor to carrot cake.
Kevin Longley, food and beverage general manager of The Ozark Mill, led the efforts on the bar side, curating a market cocktail menu and main cocktail menu, as well. Try the Porch Pounder. Available year-round, the invigorating drink features bourbon, fresh strawberries and lemonade. Currently, the market cocktail is a sangria made with white wine, apple, blackberry, apricot and mint.
The Ozark Mill houses a general store that sells home goods, branded merchandise and culinary concoctions such as jams and tea. And the Finley Farms team is also working on opening The Garrison, a speakeasy that will be located on the lower level of the restaurant.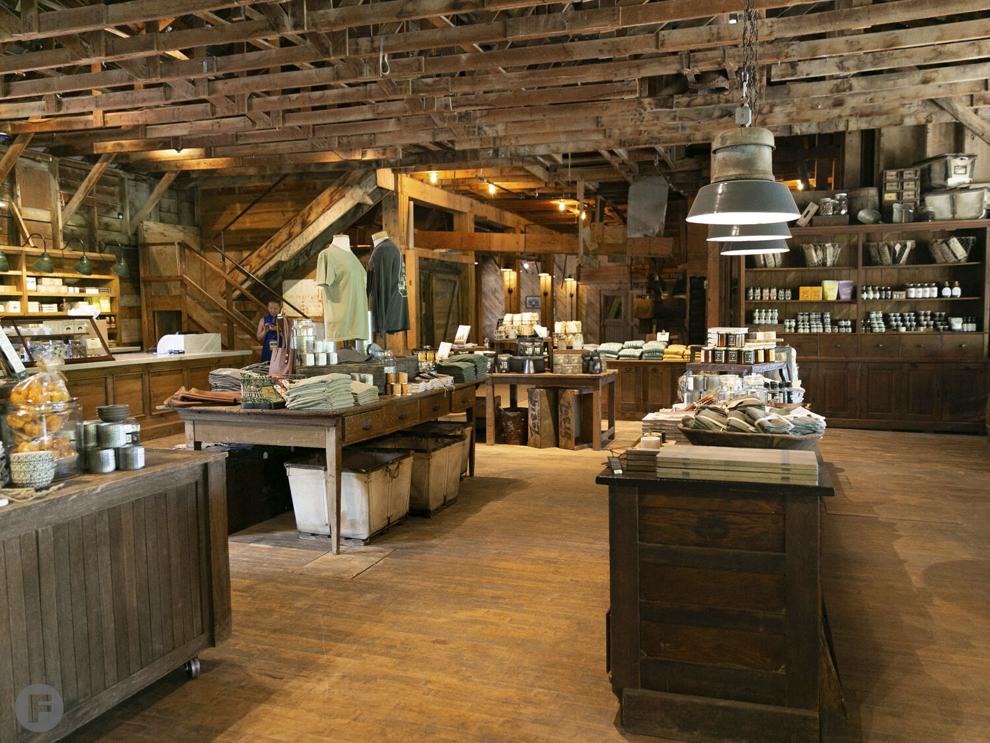 The land that surrounds The Ozark Mill is an attraction in and of itself, with a relocated historic bridge, an open-air chapel, an urban farm, a weekly farmer's market and an on-site coffee shop and makers space dubbed The Workshop.
"When you come to Finley Farms, there are so many ways to plug in and have an experience unlike any other in the Ozarks right now," Duggins says. "You can start at The Workshop and get coffee and take a little walk around our farm. In The Ozark Mill, the dining experience is really very unique because it's overlooking the Finley River. You're surrounded by [the outdoors] as well as the nature of the farm when you dine here. Also while you're here, you're able to walk our grounds, walk across the bridge or walk to the chapel and really connect with nature."
The Ozark Mill at Finley Farms, 802 Finley Farms Lane, Ozark, Missouri, 417.210.6644, finleyfarmsmo.com/the-ozark-mill