Little-known fact: The Ozarks are home to a massive Romanian and Russian population. They're a proud bunch, and they rely largely on David Pruteanu's traditional European cuisine when they're craving a taste of home. Pruteanu, the owner and chef at Little Danube in Ozark, Missouri, has developed a loyal following for his traditional delights like Romanian cabbage rolls and langos, a savory fried bread dish. Now, Pruteanu is preparing to dish out those European flavors in an even bigger way.
Pruteanu arrived in the United States as an infant after his father, Troyan, crossed the Danube River to escape Communist Romania. In 1990, Troyan settled with his wife and 12 children in the sleepy farming town of Union, Missouri, where Pruteanu spent a bucolic childhood watching his mother and sisters prepare traditional Romanian dishes. Hungry for knowledge and inspired by his family's rich culinary traditions, Pruteanu quickly excelled in the kitchen. He went on to train under bigwig chefs including former White House chef Pierre Chambrin and Dan Barber of the world-renowned Manhattan eatery Blue Hill. "Every chance I got, I would work for a different chef," Pruteanu says. "I was desperate for knowledge and experience. I was working 18 hours a day and spending time at local restaurants on my one day off."
Chef David Pruteanu honors the history of his family, who escaped Communist Romania in the 1980s.
Things slowed down after Pruteanu's wife gave birth to their daughter, Emma. They moved back to Missouri to be closer to family, but they soon discovered a serious lack of European dining options – despite the demand from the area's hordes of Romanian and Russian immigrants. Pruteanu opened Little Danube in 2017, dishing out traditional eats in a tiny, 18-seat space in Ozark. Needless to say, word spread quickly.
Now, Pruteanu is ready for the next step: He will close the Ozark location after June 22, taking a few months off to rest after an upcoming foot surgery. After his recovery period, Pruteanu plans to reopen the restaurant – this time in a much larger, more flexible space in nearby Springfield, Missouri. Although he's not looking forward to the surgery, he feels that the timing couldn't be better. "Having a broken foot kind of helped push us in the right direction," he says, laughing. In the meantime, he'll be dreaming up even more ways to spread the word about traditional Romanian cuisine.
What is your favorite ingredient to cook with and why? People who know me know that I absolutely love garlic. In the springtime specifically, people in Romania will go out and pick the fresh garlic with the green leaves. Then, you crush them using a mortar and pestle. Romanians eat garlic like no one else – we eat it raw. We put it on our cabbage rolls, our mashed potatoes. We put it on everything. That's one thing I personally love to use: green garlic stems. They'll change your life.
What do you like to cook at home or on your day off? We eat very seasonally at home. In the summer, we eat a lot more salad and a lot less meat. We do the traditional cucumber-tomato salad. In my family, we also eat what's called mămăligă – basically, a Romanian variation of cornmeal grits – all summer and all winter. We also plant a garden, so we eat a lot of our own eggplant, onions, things like that. Strawberries is another one. One of my favorite things in the summertime: We'll eat mashed strawberries – similar to a strawberry soup – with sugar and sour cream. You eat that with hot mămăligă. The combination is amazing.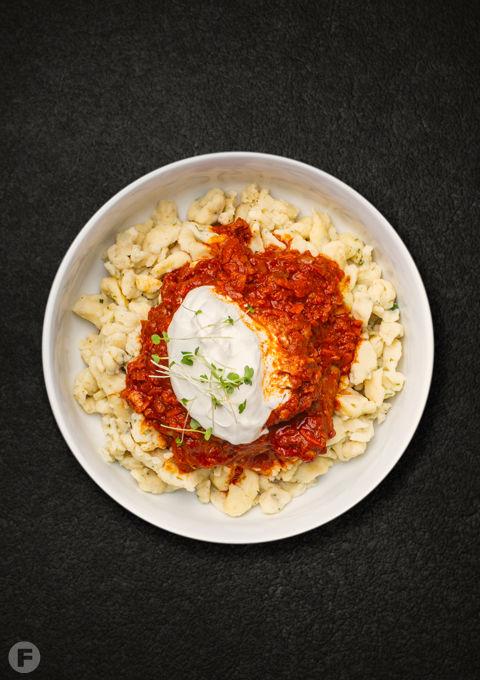 If you could tell home cooks one thing, what would it be? Don't be afraid of cabbage. It sounds silly, but a lot of people are very nervous about trying our cabbage rolls. We eat cabbage like it's going out of style – that's another ingredient we use year-round. We cook it down and make soups; we do a half-sauerkraut, half-fresh cabbage dish with smoked pork. It's a staple.
What is your first food memory? Making eggs, honestly. We had a farm, so we would fry eggs in the morning for the whole family. I have seven older sisters who are amazing cooks, and in the Romanian tradition the men don't really cook… Basically, since I'm the youngest, I was always babied. Growing up, I watched my sisters cooking with my mother, and I would try to start something – like cutting the sausages for breakfast – and they would always take it away and finish it. That always bothered me, so I guess that's what really got me into cooking: to prove to my family that I could do things in the kitchen, too.
What inspires your cooking? How do you approach R&D at your restaurant, and what inspires that process? I'm trying to keep the culinary chain from breaking. Grandmothers used to take their grandchildren and show them the old ways and the traditional recipes, right? Every household has their own spin on a different recipe. But with the younger generation, it's so easy to go pick food up instead of spending two days to make a cabbage roll. After working a full-time job plus being a parent, it's really hard to go home and produce tons and tons of food – especially in the old traditional styles. That's where I come in: trying to keep the flavors of my childhood alive and keep the traditions going.
What are your future plans? We've been searching for a bigger place in Springfield for about six months now. We want to be able to have alcohol – beer and wine specifically. We get a lot of people asking for it, and our current landlord doesn't permit alcohol. Springfield has a great beer scene, and I'd love to work with the local brewers. I'd also love to have more seating – our space currently only has 18 chairs, and we do have massive groups that would like to come in and rent us out. Ultimately, I'm looking forward to growing our audience – to sharing these traditions with more people in and out of the community.
Little Danube, facebook.com/littledanube