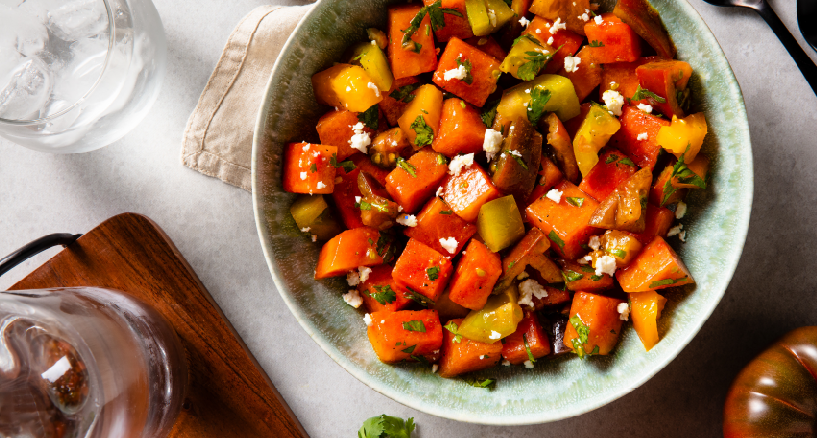 During the summer months, my go-to meal is typically a salad packed full of fresh produce while so many fruits and vegetables are at their peak. Nothing tastes sweeter than a fresh tomato just picked off the vine or a juicy peach fresh from the farm. Since Schnucks partners with local farmers, it's easy to grab seasonal favorites like tomatoes, corn, peaches and watermelon grown in our local communities.
Nearly any produce can be incorporated into a salad, which is why they are a great way to eat more fresh produce that is Good For You. Don't get me wrong, leafy green salads always have a place in my kitchen, but sometimes there's nothing more refreshing than a cold, fruit salad on a hot day. Not only great for a quick lunch, but these are perfect to have on hand for picnics and backyard barbecues.
Recipes like this month's Turmeric and Tomato Watermelon Salad come together in minutes and are sure to impress your family and friends. The best part is you don't have to heat up your kitchen and it's full of Good For You foods. To find more Good For You foods at Schnucks opt in to our Good For You community at schnucks.com/goodforyou or pick up the latest edition of Simply Schnucks Magazine. So as the weather heats up, find ways to keep cool. Enjoy simple meals, filled with delicious local produce and share them with those you love.