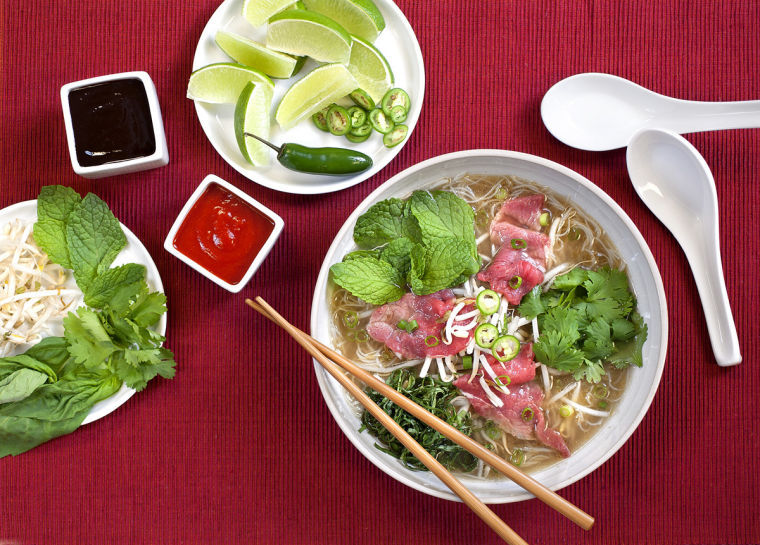 When it's cold outside, a great bowl of soup can seem like the only thing that will warm you up. Instead of the standby chicken noodle or common beef stew, take a trip to Vietnam and savor bold, fragrant and fortifying pho. Pho is a common street food in Vietnam that is believed to have originated in the early 1900s. The star of this Vietnamese soup is rich and flavorful broth.
We've created a menu that complements this fresh, aromatic pho. Spring rolls, Vietnamese fried rice and a creative twist on ice cream that mirrors classic Vietnamese iced coffee offer a comforting and creative winter dinner.
Beef Pho
Serves | 4 to 6 |
Broth
3 Tbsp grapeseed oil
5 lbs beef bones
2 lbs chicken wings
2 yellow onions, large dice
2 carrots, peeled and chopped
2 celery ribs, chopped
1½ cups peeled and chopped ginger
1½ lbs shiitake mushrooms, chopped with stems on
3 bunches scallions, roughly chopped
8 cloves garlic, unpeeled
¼ cup fish sauce, plus more for seasoning
8 whole star anise
2 tsp Chinese five-spice
5 whole cloves
kosher salt and freshly ground black pepper
Pho
1 lb rice vermicelli noodles
1 Tbsp sesame oil
1 lb strip steak, slightly frozen
1 lb bean sprouts
2 bunches scallions, thinly sliced
½ cup chopped cilantro
1 bunch Thai basil or regular basil
1 bunch fresh mint
1 serrano chile, thinly sliced
2 limes, cut into thirds
| Preparation – Broth | In a large pot, heat oil over medium-high heat. Sear the beef bones in batches. Once they are all seared, return them to the pot and add the chicken wings, onion, carrots, celery, ginger, mushrooms, scallions and garlic. Cover with cool water (at least 6 cups). Bring to a boil and then reduce heat to a simmer. Simmer for 1 hour and 15 minutes. You will see foam and fat form on the surface. Using a spoon or ladle, skim these impurities occasionally throughout the cooking process. Add fish sauce, star anise, Chinese five-spice and cloves and simmer for another 30 to 45 minutes. Strain, skim and season to taste with salt, pepper and additional fish sauce.
| Preparation – Pho | While the broth is simmering, cook rice noodles until tender. Drain and toss noodles with sesame oil to prevent clumping and sticking. Set aside. Slice the slightly frozen strip steak as thin as possible and set aside. Prepare the rest of your garnishes.
When the broth is strained and seasoned, divide the noodles and the garnishes, except the limes, among four to six bowls. Pour the hot broth over each and serve with lime wedges.
CHEF'S TIPS
Stock tips. This dish is really about the broth, so it's important that you do it right. To make a faster broth that is still delicious but a little less work, you can start with high-quality premade stock. Combine chicken stock and beef stock and add aromatics, such as onions, carrots, ginger, mushrooms and scallions. Simmer them in the premade stock for about 30 minutes. Strain and season with fish sauce and salt and pepper. This will cut your preparation and cooking time down quite a bit.
Vegetarian Vietnamese. You can follow the above shortcut using vegetable stock and water and omitting the fish sauce. You will have a slightly lighter broth, but you will still pick up those bright Vietnamese flavors. Instead of steak, use thinly sliced firm tofu.
---
GET HANDS-ON!
Join FEAST and Schnucks Cooks Cooking School on Wed., Feb. 27, at 6pm to make the dishes in this month's menu. Tickets are just $40 for a night of cooking, dining and wine. RSVP at schnuckscooks.com.
MAKE THE MEAL
Beef Pho
Vietnamese Fried Rice
Spring Rolls
Vietnamese Coffee Ice Cream
LEARN MORE
In this month's cooking class you'll learn to make stocks and broths from scratch. With the multitude of vegetables and garnishes used in this menu, we'll bone up on knife skills and cutting techniques. And you'll learn how to use rice noodles and rice paper in cooking.