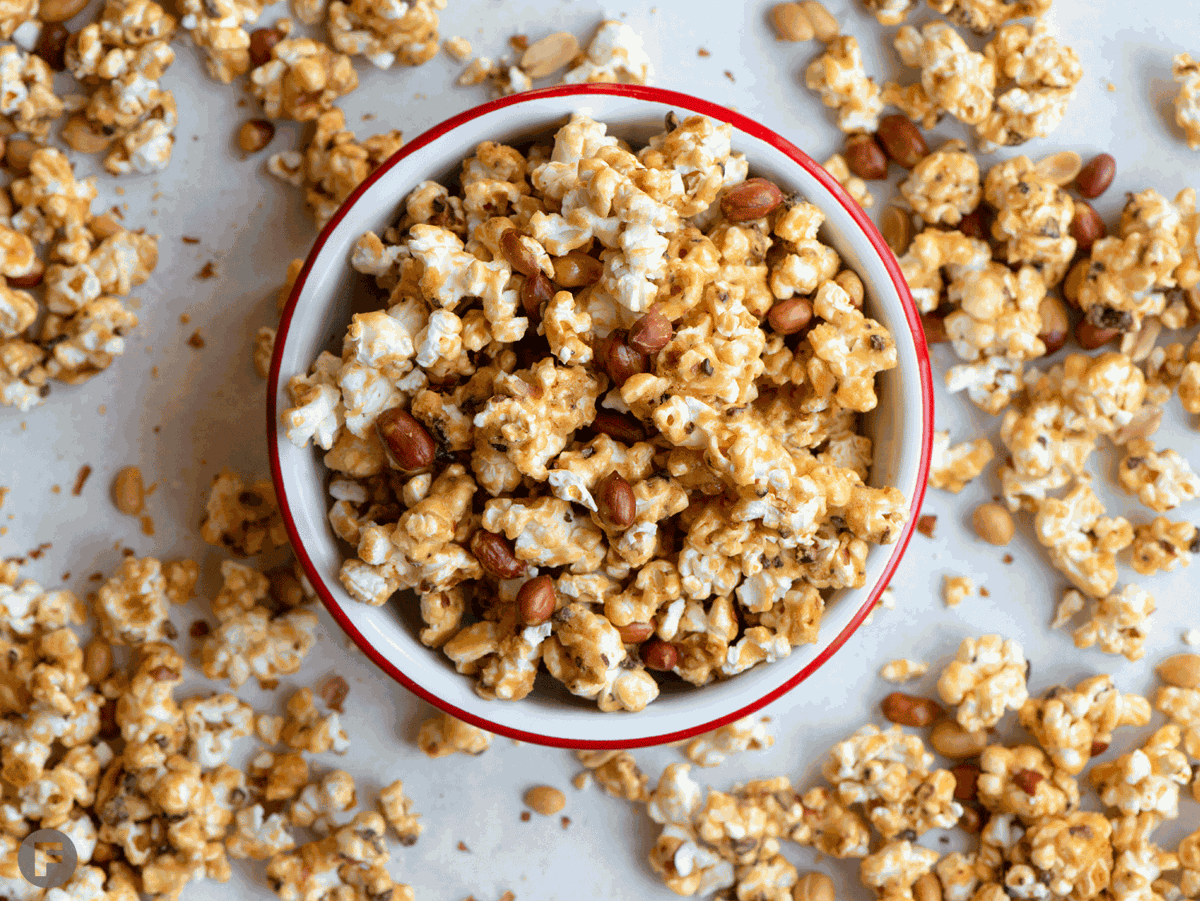 It's hard to resist the salty-sweet combination of caramelized popcorn. Buttery and nostalgic, this updated classic features chocolaty cacao nibs and crunchy peanuts – the perfect accompaniment to your next movie night at home. In a pinch, you can substitute microwave popcorn for the popcorn kernels.
Cacao Nib & Salted Peanut Caramel Popcorn
Yields | 8 cups |
⅓ cup popcorn kernels
2½ Tbsp neutral oil
¼ tsp baking soda
1 cup salted Spanish peanuts
3 Tbsp cacao nibs, chopped
¾ cup brown sugar
½ vanilla bean, split and seeds scraped
3 Tbsp light corn syrup
¼ tsp kosher salt
4 Tbsp unsalted butter, melted
flaky fine sea salt, for sprinkling
| Preparation | Preheat oven to 250°F and line a baking sheet with parchment paper or a nonstick silicone baking mat. In a large pot over medium heat, combine popcorn kernels and oil; cover, with the lid slightly open, and cook until kernels stop popping. Transfer popcorn to a large bowl and set aside.
Measure out baking soda; set aside. Measure out Spanish peanuts; set aside.
In a small saucepan, combine cacao nibs, brown sugar, scraped vanilla bean seeds, corn syrup, salt and butter; set over medium heat and bring mixture to a boil. Cook until candy thermometer registers 250°F, approximately 1 to 2 minutes after mixture begins to boil. Remove from heat and immediately stir in baking soda (it will bubble up as it reacts with the sugar); stir until thoroughly combined. Pour mixture over popcorn and gently but quickly stir to evenly coat popcorn. Add peanuts and gently stir to evenly distribute. Pour everything onto prepared baking sheet; using the back of a spatula, spread mixture out into a single layer. Bake, 1 hour, stirring halfway through.
Remove baking sheet from oven and stir popcorn one more time. Sprinkle with sea salt and then set on a wire rack to cool completely.  Once cool, enjoy right away or store in an airtight container for up to three days.