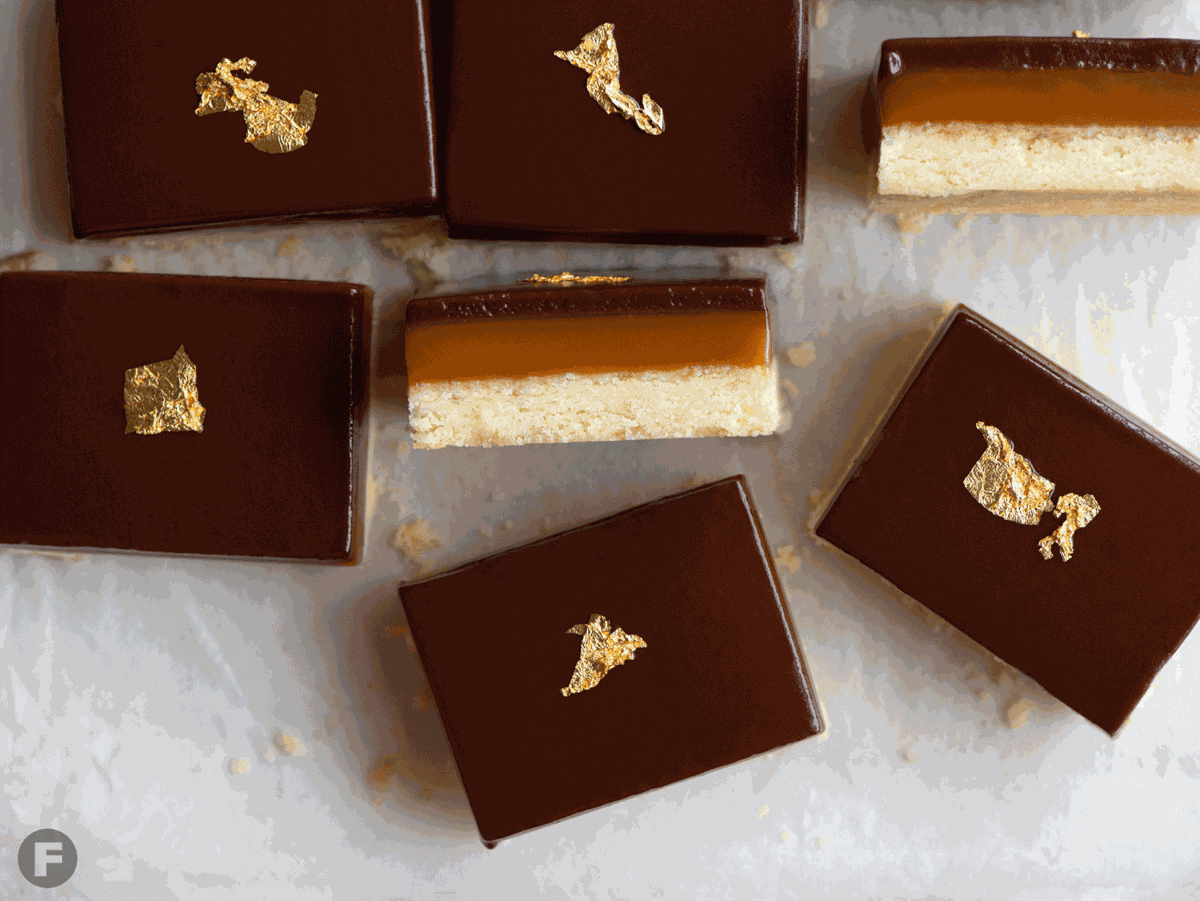 Looking for a showstopper that celebrates the season? These layered cookie bars feature tender shortbread topped with chewy salted caramel and decadent dark chocolate. Finish them with flaky sea salt or, for an added touch of glamour, a fleck of edible gold leaf.
Salted Caramel Millionaire Bars
Yields | 20 bars |
Shortbread Crust
½ cup (1 stick) unsalted butter, room temperature
3 Tbsp sugar
1 Tbsp powdered sugar
1 large egg yolk
½ vanilla bean, split and seeds scraped (or ½ tsp vanilla extract)
1 cup all-purpose flour
¼ tsp baking powder
¼ tsp kosher salt
Salted Caramel Filling
½ cup heavy cream
1 tsp kosher salt
1 cup sugar
⅓ cup water
½ cup (1 stick) unsalted butter, cut into tablespoon-sized pieces
½ vanilla bean, split and seeds scraped (or 1 tsp vanilla extract)
Dark Chocolate Topping
3 oz semi-sweet or dark chocolate (55 percent to 65 percent cacao), chopped
¼ cup (½ stick) unsalted butter
1 tsp light corn syrup
| Preparation – Shortbread Crust | Preheat oven to 350ºF. Line an 8-by-8-inch baking pan with parchment paper or aluminum foil. In the bowl of a stand mixer fitted with the paddle attachment, mix butter, sugar and powdered sugar on medium speed until light and fluffy, approximately 3 minutes. Add egg yolk and vanilla; mix until combined. Stop and scrape down bowl as needed. In a small bowl, whisk together flour, baking powder and salt; add to butter mixture and mix on low until combined. (Do not overmix the dough here, or you'll wind up with a tough crust.)
Transfer dough to a large sheet of parchment paper; set a second sheet of parchment paper on top. Roll out dough into an 8-by-8-inch square. Place the parchment paper-encased dough in refrigerator; chill, at least 15 minutes.
Remove dough from refrigerator. Peel off parchment paper and set dough in prepared baking pan, pressing around the edges if needed to distribute it evenly. Bake until shortbread is lightly golden, 20 minutes. Remove from oven and set on wire rack to cool.
| Preparation – Salted Caramel Filling | In a small saucepan, combine cream and salt; bring to a boil and then remove from heat. Set aside until ready to use.
In a medium saucepan, add sugar in an even layer; gently pour water on top. Set over medium heat; without stirring, cook until mixture comes to a boil and begins to caramelize. To prevent crystallization, use a pastry brush dipped in cold water to remove any sugar crystals that form around the sides of the pan. Once sugar begins to turn golden amber in color, gently swirl pan to evenly distribute caramelization. Allow caramel to become a deep amber color and then remove from heat; immediately whisk in warm cream mixture (it will bubble up at first but will calm down as it's whisked). Whisk in butter until fully incorporated. Place back over medium heat; whisking constantly, cook until caramel reaches 245ºF on a candy thermometer. Remove from heat and whisk in vanilla. Pour salted caramel over the top of the shortbread. Let cool completely to fully set.
| Preparation – Dark Chocolate Topping | Add all ingredients to a small heatproof bowl. Heat in microwave, 30 seconds; remove from microwave and stir until fully melted. Pour chocolate mixture over set salted caramel; tilt pan as needed to spread chocolate into an even layer. Allow chocolate to set at room temperature.
| To Serve | Once chocolate is set, top with flaky sea salt or edible gold leaf. Cut into 1½-inch-by-2-inch bars and serve. Store leftover bars in an airtight container at room temperature for up to three days.