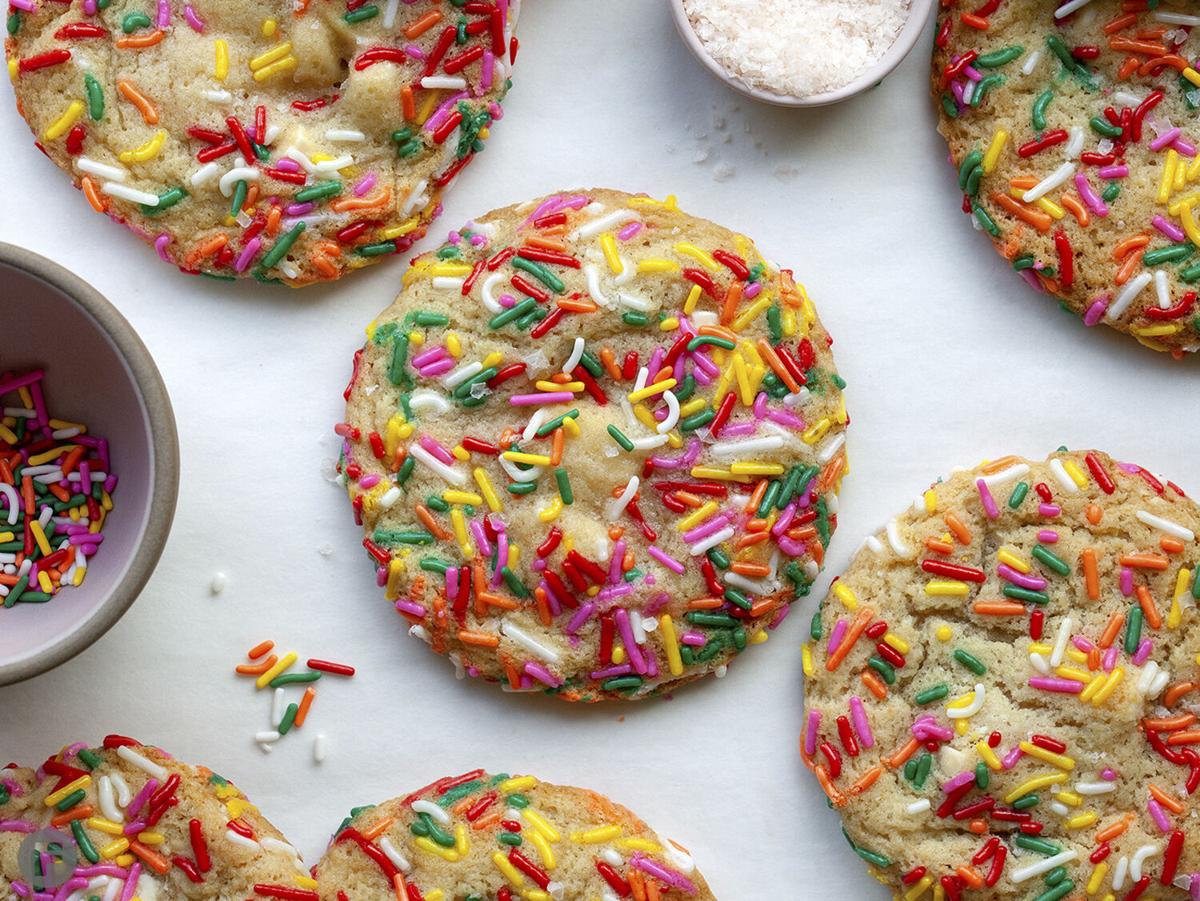 When it's time to celebrate, skip the cake and go straight for these cookies. The chewy, buttery sugar cookies are studded with creamy white chocolate and coated in rainbow sprinkles. I suggest breaking out any fancy white chocolate stashed in your cupboard and making these cookies immediately for Pride Month as well as the start of summer.
Rainbow Sprinkle Cookies
Yields | 18 cookies |
2½ cups all-purpose flour
⅓ cup malted milk powder
½ tsp cream of tartar
1 tsp baking soda
1 tsp kosher salt
1 cup (2 sticks) unsalted butter, room temperature
1¼ cups sugar
2 large eggs
1 Tbsp vanilla extract
9 oz high-quality white chocolate, chopped
2 cups rainbow sprinkles, for rolling
flaky sea salt, for sprinkling
| Preparation | Preheat oven to 350°F. Line a large baking sheet with parchment paper. In a small bowl, whisk together flour, malted milk powder, cream of tartar, baking soda and salt; set aside.
In the bowl of a stand mixer fitted with the paddle attachment, cream butter and sugar on medium speed until light and fluffy, 2 minutes. Add eggs, one at a time, mixing until just combined and then mix in vanilla. Reduce speed to low and add flour mixture, mixing until just combined. Mix in white chocolate. Transfer cookie dough to refrigerator and chill, 10 minutes.
Add rainbow sprinkles to a bowl. Using a 2½-ounce cookie scoop or ¼ cup, portion out dough and drop each dough mound into sprinkles; gently roll in bowl until evenly coated. Place on prepared baking sheet, spacing each dough mound 2 inches apart. Bake until lightly golden brown around the edges, 13 to 14 minutes. (The centers might still look pale – that's OK; they'll continue to bake as they cool on the pan.) Remove from oven and firmly slap the baking sheet on the kitchen counter once to deflate tops of cookies. Set on a wire rack and lightly sprinkle cookies with flaky sea salt; let cool. Store cookies at room temperature in an airtight container for up to three days.