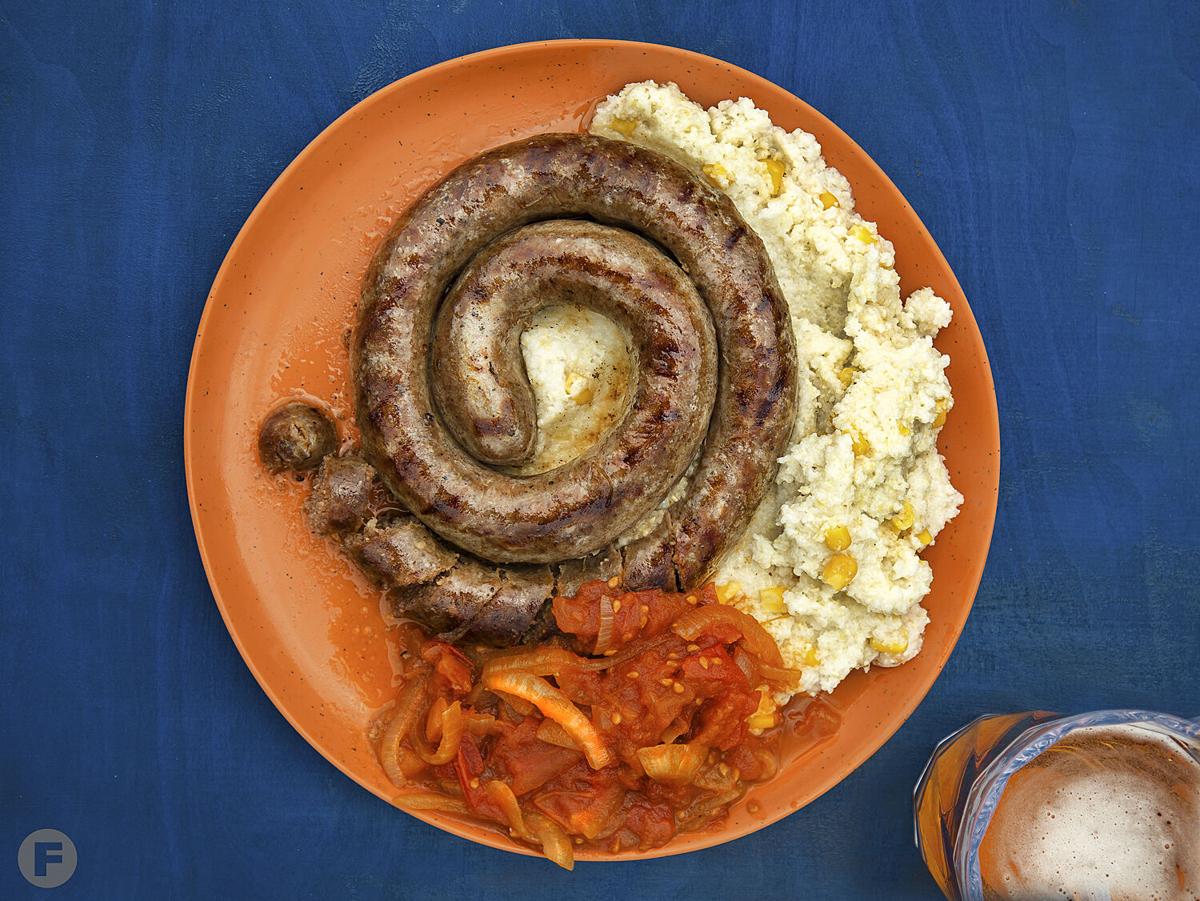 A fixture at braai – the signature South African cookout – boerewors is typically shaped into a thick spiral and boasts a robust, coriander-laced flavor profile. The sausage is usually grilled in its full coil over wood or coals and then sliced and served with pap (a traditional maize-based porridge) and sous (tomato relish).
Pap en Sous with Boerewors
Serves | 4 |
Sous
2 Tbsp olive oil
2 onions, roughly chopped
8 tomatoes, diced
1 Tbsp brown sugar
2 Tbsp balsamic vinegar
1 Tbsp Worcestershire sauce
salt and freshly ground black pepper, to taste
chile flakes, to taste
Pap
2 cups maize meal, polenta or white grits
1 cup heavy cream or half and half
½ cup sweet corn (optional)
salt, to taste
boerewors, grilled and sliced into sections
| Preparation – Sous | In a large sauté pan over medium heat, add olive oil and onion; cook until caramelized, 5 to 10 minutes. Add tomato, brown sugar, vinegar and Worcestershire; stirring occasionally, simmer, 20 minutes or until tomatoes are stewed. Season with salt, pepper and chile flakes to taste.
| Preparation – Pap | In a medium saucepan, bring 6 cups salted water to a boil. Whisk in maize, polenta or grits; stirring occasionally, cook until boiling, approximately 5 minutes. Add cream or half and half; stirring constantly, simmer until mixture is thick. Add sweet corn, if desired, and season with salt to taste. Remove from heat and let stand, 10 minutes, to thicken.
| To Serve | Plate pap; top with a dollop of sous. Serve boerewors on top or on the side.