One of Kansas City's best food trucks has opened as a full-fledged restaurant in the heart of downtown Mission, Kansas. Estrella Azul, which sold authentic and delicious Mexican food for four years out of its dark blue kitchen on wheels, first opened its brick-and-mortar location at the end of August, but it has started picking up steam in the last month or so as word got out.
Chef and owner Isael Andrade says that he was drawn to the spot in downtown Mission because he had always received such positive feedback when his truck was open for business in the area. "Residents and shoppers were always asking us when we would be coming back as events were finishing up," Andrade says. "We knew when it was time to open the full restaurant, this would be one of the main areas we would want to look in."
Luckily, they found the perfect spot on the south side of Johnson Drive, just east of Lamar. Andrade says that response from customers has been extremely positive, and that the nearby local businesses have been extremely communicative and welcoming. He is happy he has found such a perfect fit for Estrella Azul.
It helps that food like Estrella Azul's would fit in just about anywhere. Andrade looks to emphasize the types of food and flavors that he grew up with, and he has spent over two decades in professional kitchens, starting as a dishwasher and working his way up. "My mother cooked this type of food every day – she would wake up extremely early in the morning so we could get to school with a full belly," Andrade says. "I try to make my food with that same love and passion that she did." He says the goal at Estrella Azul is to be as authentic to those childhood memories as possible while still giving guests the type of food they want.
The different varieties of street tacos, street tacos, available with your choice of chicken, ground beef, shredded chicken, carnitas, asada or al pastor, are some of the best sellers. The burrito al pastor is another popular option, and Andrade says his favorite thing on the menu is anything with steak. The massive carne asada fries, which are easily enough to feed two people, are not the most authentic (or tidiest) food on the menu, but extremely tasty. The slices of jalapeño, fresh cilantro and seasoning on the steak offered a nice kick to help balance the richness of the rest of the dish. Couple an order with a bottle of Jarritos Mandarin Soda and some churros for dessert and you've got quite a meal.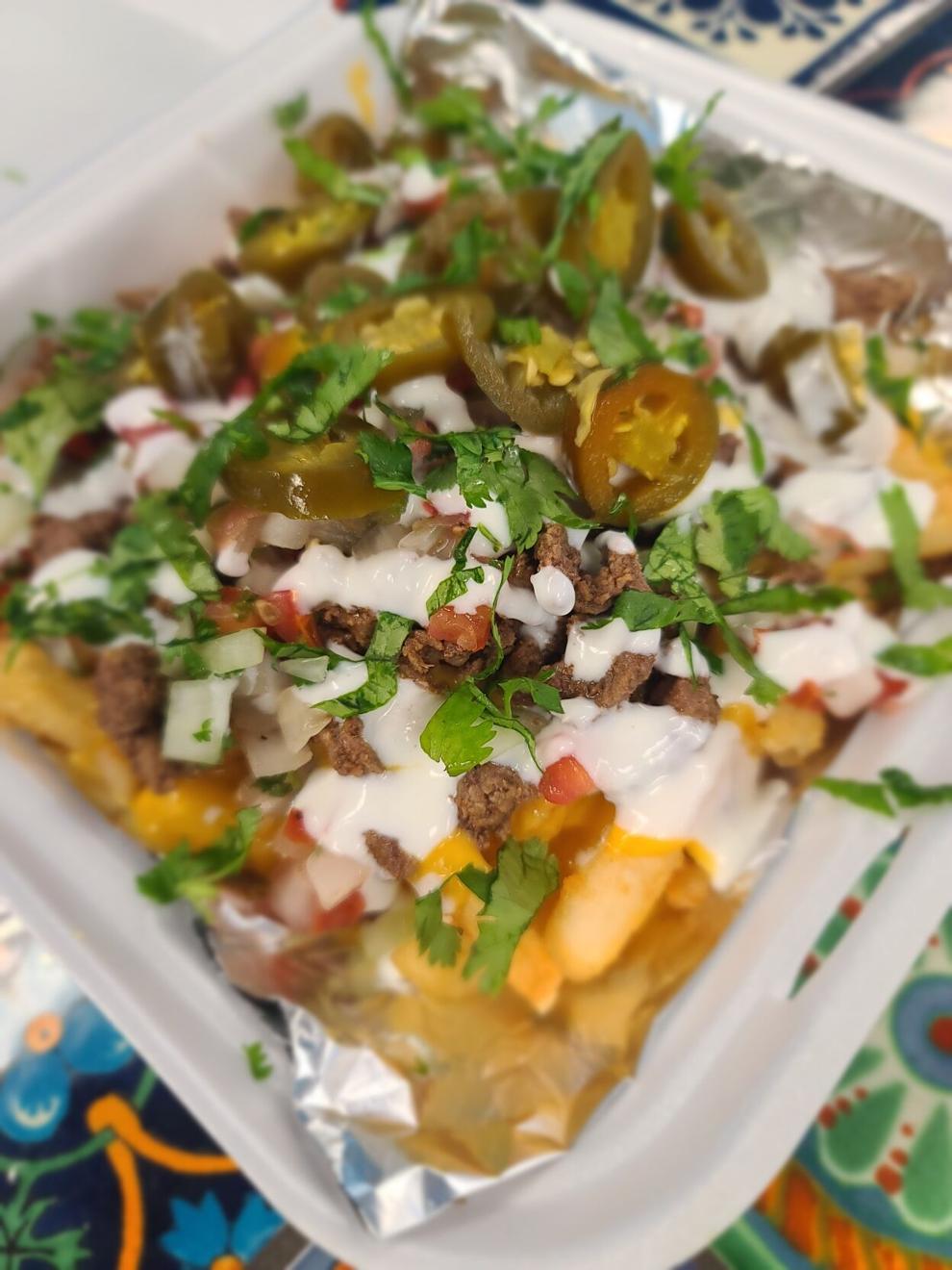 If you consider yourself a salty veteran of the Estrella Azul food truck, you'll be happy to know that the menu expanded significantly with the opening of the restaurant. You'll also be happy to know that Andrade hasn't hung up his wheels entirely; you can still book the Estrella Azul truck for private events like weddings, parties and more. The menus and prices vary by event, just give them a call and they'll work with you to help figure things out that will best suit you and your guests.
Andrade loves being in a set location, as it has made it easier to establish relationships and develop a plan moving forward. Estrella Azul is currently in the works on a liquor license, so you'll hopefully be able to enjoy a Margarita with your tacos in the near future. The restaurant has also started offering daily specials, and Andrade encourages people to check out Estrella Azul on social media to know what is available on any given day.
Ultimately, Andrade's hope is that guests who stop in not only enjoy their meal, but also are excited about coming back for repeat visits. "We want to exceed everyone's expectations," he says. "And, if we don't, we want to know why. That way we can address issues and continuously improve our food and dining experience." The dining space is big enough for quite a bit of socially distanced eating, but Estrella Azul also offers online ordering for carryout, and its menu is available through several third-party delivery services like DoorDash and Uber Eats. 
Estrella Azul,  6011 Johnson Dr., Mission, Kansas, 913.549.3030, estrellaazulkc.menufy.com