Described as a "breezy beach café" situated in the heart of Leawood's Park Place Shopping Center, Outta the Blue is the latest full-service coffee shop and bar from Keith Bradley, Thomas McIntyre and Tyler Enders, the minds behind Made in KC, a local chain of coffee shops and specialty stores.
Upon stepping into the bar and café, visitors are immediately transported to their own little oasis with palm fronds hanging overhead, tropically hued surfboards adorning the walls and cabana-like swings lining the front window for patrons to sit and sip upon.
"While our Made In KC stores are designed to be a blank canvas in order to allow the brands we carry to color the space, with Outta the Blue, we were able to branch out and design a concept specifically for Park Place and the Leawood community," Enders says.
Outta the Blue is built on MIKC's established café model, serving coffee from a custom blend of African and Central American beans, specially roasted for the shop by Christopher Oppenhuis's Marcell Coffee to offer balanced, complex flavors that work as well in a latté as they do an iced coffee. For Enders, the decision to work with a local roaster was an easy one.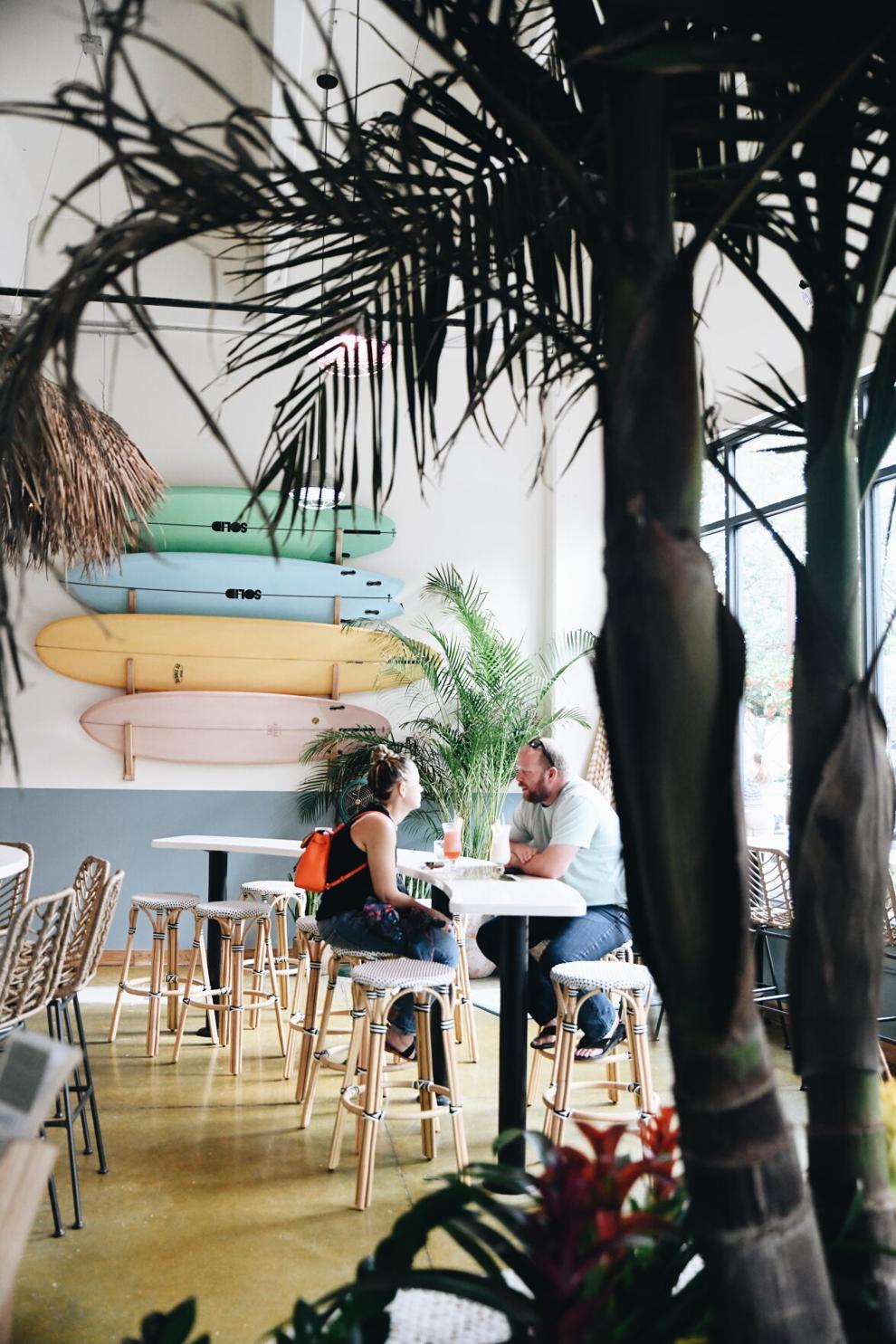 "We've always tried to work with as many local vendors and makers as possible," he says. "Marcell created this coffee blend specifically for Outta the Blue, and we're incredibly happy with the result."
To complement the café's caffeine selection, Outta the Blue is serving cold-pressed juices and Mattie's Foods' vegan breakfast sandwiches, plus a slew of other health-conscious baked goods and "Grab & Go" sandwich and salad options from The Kansas City Baking Co. and Parisi Coffee. But much like MIKC's other ventures, including Outta the Blue's sister concept Front Range and the Made In KC Cafés, much of the draw comes from the bar menu, where an expertly curated list of local brews, natural wines and classic, tropical cocktails keep patrons satisfied well past the morning hours.
Upon first glance of the cocktail menu, one might assume Outta the Blue is a Tiki bar, but the MIKC team has worked hard to distance themselves from recent trends that have appropriated the religious and spiritual identities of many Asian and Pacific cultures.
"When we were working on this space and menu, we were very deliberate to avoid imagery or themes that might be construed as 'Tiki,'" Enders says. "Collectively, we're aware of the many ways in which some have taken unique cultures and identities of others for their own financial benefit. Instead, we purposefully leaned towards a breezy beach concept with our own health-focused versions of classic tropical drinks."
Outta the Blue's "On the Beach" drink menu includes a mojito, daiquiri, Painkiller and the Blue Hawaiian, offering everything you've come to love from your favorite rum-based cocktails while pulling back on the sugar content and reimagining these classics with natural alternatives. And while rum is certainly having it's day in the sun, don't sleep on their delicious Paloma.
Of course, it's impossible to pull off California beach vibes without some expertly curated wine, and Outta the Blue's diverse wine list is proudly all-natural. Of the more than two dozen wines they pour by the glass, all are classified as organic, biodynamic or natural. For lovers of orange wine and skin-contact versions, MIKC wine curator Adam Pfeifer offers some of the most fun and funky wines you'll find in all of South Kansas City. In addition, Outta the Blue's expansive rotating list of local canned, bottled and draught beer will make it hard to choose just one – all while giving you a reason to stow your phone away and take a break from screens altogether.
Outta the Blue is open from 7am to 10pm Monday through Thursday, 7am to 11pm Friday, 8am to 11pm Saturday and 8am to 10pm Sunday. 
Outta the Blue, Park Place, 5291 W. 116th Place, Leawood, Kansas, 913.217.8220, outtatheblue.co