Kansas Citians craving a traditional Mexican meal can now turn their attention to Lenexa.
Red Kitchen, owned and operated by Alejandra De la Fuente, debuted in the anchor space at the Lenexa Public Market on Oct. 9, where it is now open for Mexican breakfast and lunch. The restaurant will take over the space vacated by Chewology, which left for a new location in Westport this summer.
De la Fuente' business – previously named Red Kitchen Tamales – first took form in 2017 as a tamale stall that only opened Tuesdays. As her tamale stand grew, De la Fuente gradually added new items to her menu including breakfast burritos and chilaquiles, which she will continue to serve. She's introduced even more breakfast options to the new space – such as huevos rancheros and molletes – as well as items like queso fundido and enchiladas. Red Kitchen KC will also have a liquor license, so diners can enjoy Margaritas and other cocktails alongside their dishes.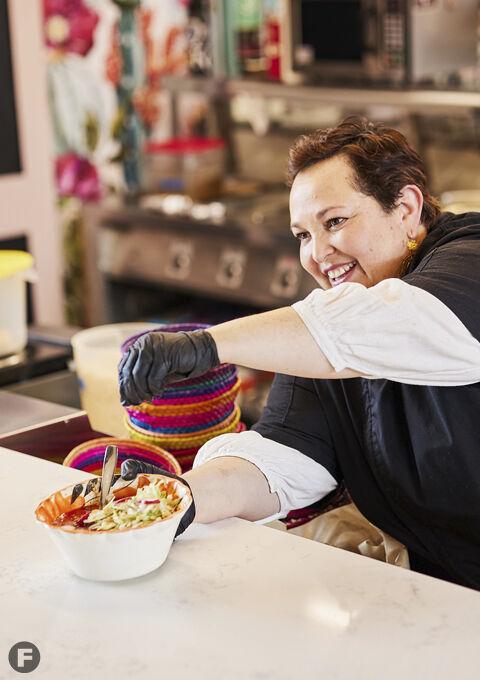 "I'm excited because I'm bringing more to my menu, and my food is 100 percent Mexican," De la Fuente says. "I'm not doing anything with cheese on top [of the food], and I don't even sell chips and salsa. That's not how we serve the food in Mexico. I'm not against Tex-Mex food, it's just that I really want people to know it's a Mexican place. It's going to be only what they serve in Mexico."
De la Fuente also brings some of her own Mexican style to the location. The space contrasts Lenexa Public Market's black and red coloring and industrial look with hot pink, purples, blues, yellows and greens.
"It's going to be a very vibrant, colorful place to be in," De la Fuente says. "A little modern, but at the same time very colorful."
The kitchen is open concept, meaning patrons can see De la Fuente in action. She has been the sole producer of Red Kitchen KC's food in the past, and that will continue even as more customers arrive. Accommodating more customers in a larger space will present a new challenge, but an upgrade in kitchen equipment will help. After using just a two-burner electric stove before, De la Fuente now has a fryer, a hood vent and more.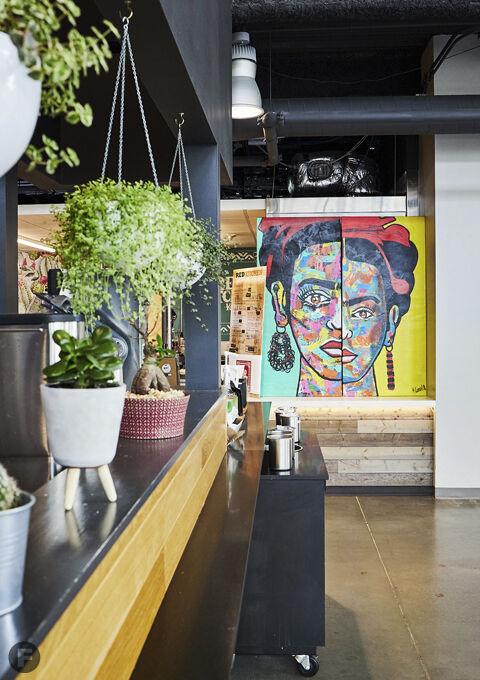 "I don't have any help cooking," she says. "So that's going to be my biggest challenge. But I want (the food) to be from my heart. It's like having guests in my house; I want to be the one cooking for my friends. I want that personal touch that can only come because I made the food."
De la Fuente is hoping that personal touch will lead to returning customers who feel as if they're being welcomed into her own home.
"I want them to know I'm taking care of them," she says. "I want to treat them like they're at home, because it's a community. I also want them to know that I'm a Latina woman and an entrepreneur. I want people to know that Mexicans are also entrepreneurs. We also bring good things to this country. We are here to bring happiness." 
Red Kitchen is currently open Tuesday through Saturday from 7am to 1pm and Sunday from 8 to 11am. 
Editor's note: This post has been updated to correct Alejandra De la Fuente's name. 
Red Kitchen, 8750 Penrose Lane, Lenexa, Kansas, 913.717.5005, facebook.com/redkitchentamales