What is a coffee shop, if not a place for a quick pick-me-up, a chance to re-energize and space for community to gather? These are the questions that TJ Roberts has asked himself for years.
Born in Kansas City before being adopted at the age of two, Roberts grew up in Wamego, Kansas, a small town just 20 minutes east of Manhattan, where he was the first Black student to graduate from his high school. He attended Kansas State University before returning to Kansas City to work a desk job; soon, he began brewing coffee, yet he also felt the urge to do more to give back to the community.
In October 2021, Roberts served his first cup of coffee at Kinship Café, located in the heart of Kansas City, Kansas – one of the few Black-owned coffee shops in the metro area. Equipped with a contagious smile and infectious enthusiasm, his passion for coffee is surpassed only by his commitment to helping others help themselves.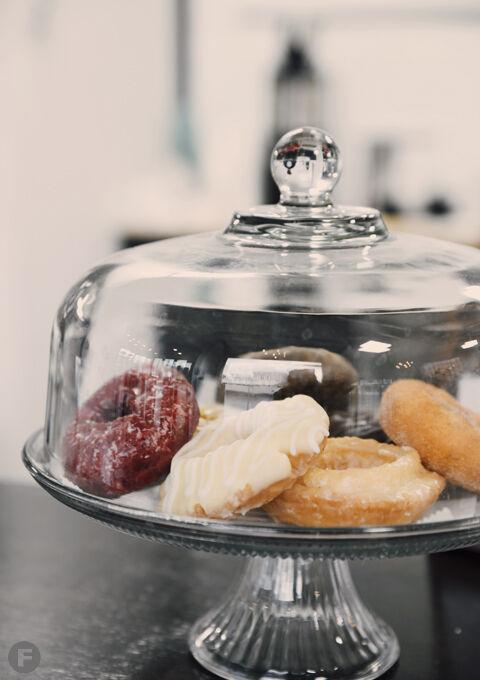 "I want transparency and goodness to be at the center of everything we're doing," Roberts says. "This whole thing has been about creating a space for the community to gather and build ourselves up, together."
As a part of that, Roberts opens up the café to the community from 4 to 7pm on weeknights to provide what he refers to as "equitable programming." Kinship's ongoing GoFundMe provides funding for teachers, instructors and other professionals to lead speaker series, networking events, programs and seminars in the space that can help members of marginalized communities focus on self improvement. To date, Kinship has hosted classes on résumé building, hip hop yoga, meditation, financial literacy, holistic living, computer coding and more.
"Coffee has always created a sense of community, but I wanted to take this concept a step further and create a space where we can truly be a resource for everyone," Roberts says. "I hope that every person who comes here feels better when they leave than when they arrived – whether they're here for coffee or not."
By curating a judgment-free environment where children and adults alike can learn and grow, Roberts has made Kinship about more than just coffee – but the coffee itself is certainly worth a visit.
Roberts has been a barista for years, with stints at both The Roasterie and Messenger Coffee Co., and he has worked closely with Charon Thompson and Dan Smith, the founders of Black Drip Coffee, a Black-owned and -operated coffee collaborative working to provide others with the tools and resources to open their own small businesses. In fact, Roberts is selling Black Drip's Renegade coffee, a special blend roasted alongside Messenger to help fund and raise awareness for the nonprofit.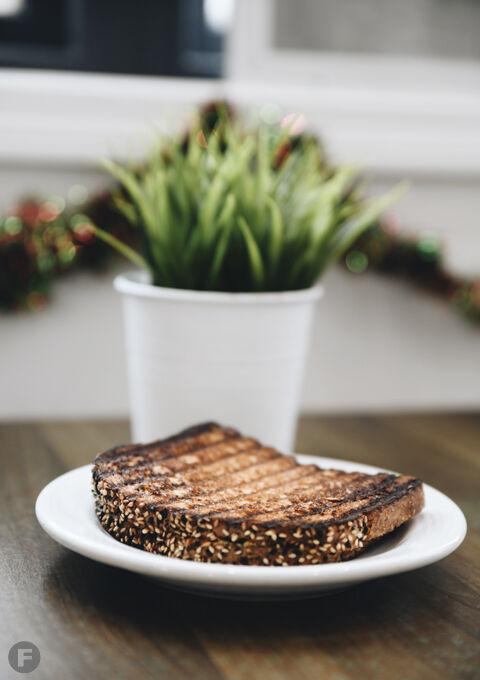 Perhaps the most noteworthy drink sold at Kinship is the housemade chai, but this hottest item is actually served cold. Kinship's cold brew is also made to order; to do this, Roberts "flash brews," pouring hot, fresh coffee directly onto ice, which halts the brewing process and locks in the flavors without the bitterness.
While most people come to Kinship for a cup of coffee and a sense of community, Roberts has won over many lunchtime regulars for his menu of wraps, sliders and sandwiches. He's not a vegan – which he attributed in jest to his love for bacon – but much of his menu is vegetable-heavy, and for good reason.
"I want to serve others the kinds of food that makes me feel better after I eat it," Roberts says.
One of the crowd favorites is the vegan Philly, a spin on the classic cheesesteak with bell peppers, onions, portabella mushrooms and vegan mozzarella over jasmine-turmeric rice. Other favorites include the gluten-free Kale Yeah! Wrap, which features sundried tomatoes, red onions, red peppers, carrots, walnuts and spicy hummus wrapped in a warm tortilla, as well as the KCK Smoked Chicken Slider, comprised of smoked and pulled chicken on a Hawaiian roll topped with zesty slaw and "SmokeyDopalicious" barbecue sauce.
If it's too early for lunch, don't worry: Roberts has plans to host pop-ups with chef Shanita McAfee-Bryant, Spicy Moon Foods and other vegan kitchens in the coming months. In the meantime, he's stocking the café with baked goods from Hana's Donuts, as well as vegan options from Happy Roots – both perfect for dunking in your beverage of choice. 
Kinship Café, 719 N. 6th St., Kansas City, Kansas, 913.258.5613, facebook.com/Kinshipcafe.kc