While downtown Shawnee, Kansas, is not exactly the first place in the metro that comes to mind when KC area drinkers are in the mood for cocktails, Jill Cockson and Jay Sanders may quickly change that perception. With their newest effort, Drastic Measures, the two have created a comfortable, cozy neighborhood bar that defies expectations for what you can find west of I-35.
And like Swordfish Tom's, Drastic Measures is a spirits-only bar, so don't arrive expecting to find any beer or wine. But with the approachable, easygoing menu and comfortable environment, customers will likely find the adjustment to a different kind of menu an easy one.
Although it is situated in a building constructed in 1850, Drastic Measures feels cool, comfortable and modern. Natural stone walls are accented by mid-century chairs and modern, geometric tables, along with live plants. It is brighter and feels more casual than Swordfish Tom's, and this is intentional. The emphasis here is on comfort and the downtown Shawnee neighborhood, which was chosen because of a connection between one of Cockson's friends and the building's owners, Derick and Shelley Shackelford. Once Cockson and Sanders met the couple and toured the building, the fit felt natural, and the Shackelfords are now partners in the business, along with Cockson and Sanders.
We caught up with the bar manager to talk about building a home bar, burritos and what he really drinks at home.
Sanders, whose past credits include time behind the bar at Manifesto, is responsible for the menu at Drastic Measures. He has created a small selection of accessible cocktails that cover a range of flavors and spirits. He has aimed to create an unintimidating menu with something for everyone – as well as one that is as safe as possible for guests while still being delicious. "I've been thinking about ways we can avoid handling garnishes and fussing around with it for 10 minutes, while still making your drink look and taste different than what you've had before," he says.
For example, he adds, "there are crushed ice drinks with big, bright, vibrant garnishes – but it's simple stuff. If it's not adding to the drink then it's taking away, so if it's not edible or an aromatic, it doesn't belong here." Customers can start with something smoky and spicy in the Deadeye Diaz, which features mezcal, Ancho Reyes chile liqueur, passionfruit, and chile- and cilantro-infused oils drizzled on top of the shaken drink. Those in the mood for a classic bourbon cocktail can opt for the Town Square, featuring a blend of rye bourbon, Amaro Lucano, Grand Marnier, vermouth and Creole bitters, poured over a custom-imprinted clear ice cube.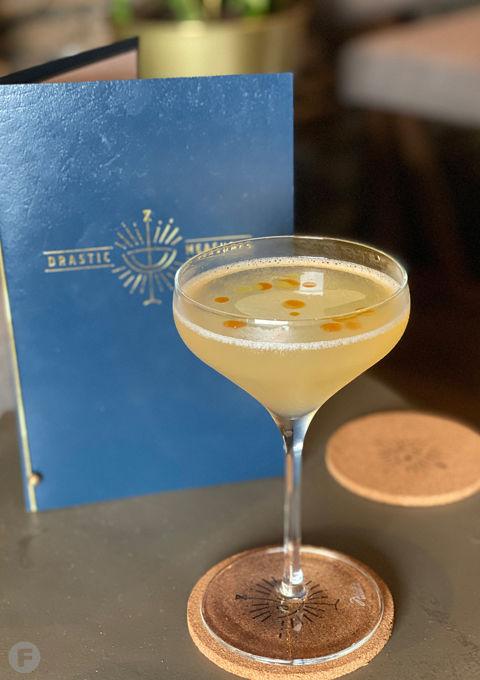 Although opening in the midst of a pandemic is far from an ideal situation for any bar or restaurant owner, Cockson and Sanders are atypically prepared for the occasion. Beginning at her Crossroads cocktail bar, Swordfish Tom's, which opened three years ago, Cockson emphasized the merit of smaller spaces and more focused menus. By being able to focus on fewer customers and by having to carry less inventory, Cockson and Sanders are able to pay more attention to the hospitality elements of the business while also spending less on overhead. These ideas, which helped make Cockson's Crossroads venture profitable long before COVID-19, are particularly well-suited to the environment in which new businesses have to operate.
Customers at Drastic Measures are required to wear masks while moving throughout the space, but may remove them once seated at their tables. Customers are seated by the bar's host, and distance measures are respected. Currently there are only a few seats at the bar, and if a customer requests that no one sit by them, that request will be honored.
Sanders is excited to take on the challenge of the new venture, despite obstacles beyond the team's control. The bar's first week saw brisk business and a wave of customers eager to try something new in Shawnee.
"I'm not after accolades here," says Sanders. "We just wanted to create a nice neighborhood cocktail bar. I just want locals to think, 'Let's go to that nice place down the street.'"
Drastic Measures is open Monday through Saturday from 4pm to 1:30am. Drastic Measures does not accept reservations (seating is first-come, first-served), and is a cash-only bar with an ATM on site.
Drastic Measures, 5817 Nieman Road, Shawnee, Kansas, drasticbar.com