After a major setback, Big Red Food Truck is on the road again.
Brothers Clayton and Tucker Caleb always knew they wanted to run a business together – they just never knew what it would be. They explored several ideas, but they had one bottom line: Whether they succeeded or failed, the business needed to be in their hands. Between that conviction and their lifelong love for burgers, entering the food industry felt like the logical next step, and a food truck seemed like the perfect fit. 
"If your food is bad, you can make it better," Clayton says. "If your location stinks, you can change it if you have a food truck. Then it just came to us."
Not even two years later, Clayton and Tucker – 23 and 22, respectively – now own and operate Big Red Food Truck KC, serving smash burgers three to four days a week on Noland Road in Independence, Missouri.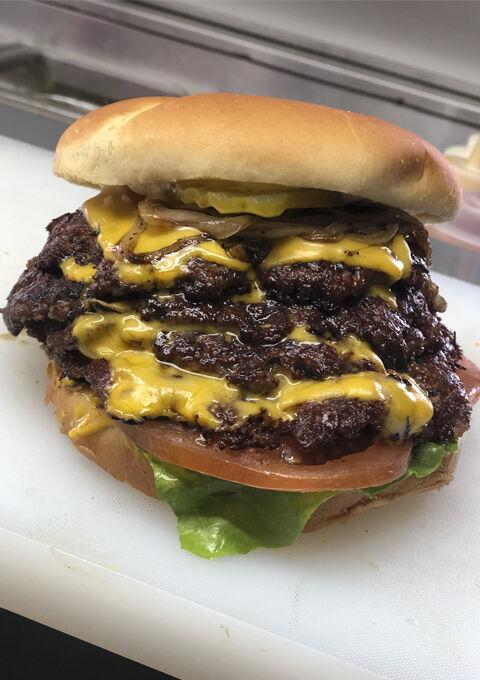 Clayton and Tucker's journey started in 2020, when they both lost their jobs during the pandemic. The brothers capitalized off the success food trucks found during the lockdown and began serving burgers to teachers at North Kansas City schools last winter. Their business grew quickly, and the Calebs soon purchased a second truck earlier this year to expand their operations. However, they were in the process of refurbishing it when disaster struck in July: The building in which they stored their trucks, tools, equipment – everything – caught fire, destroying what they worked so hard to achieve.
"Literally everything we owned was gone," Clayton says. "Decimated. The first couple of days, we were stunned. It takes blood, sweat and tears to build what we built, and then it's just gone, right out of our hands."
Clayton and Tucker were devastated, but the setback didn't quell their ambition. Three days later, they decided to build another food truck, this one from the ground up. It took three weeks, and the Calebs built everything themselves: electrical, gas, windows, the hood fan and shelves. Clayton even taught himself how to paint, and his girlfriend designed the art on the front display.
Big Red Food Truck's featured item is the double smash burger, made by pressing two balls of fresh ground beef onto a griddle before being loaded with toppings. The burgers are made with locally sourced beef from Mies Wholesale Meats in North Kansas City.
Using Tucker's original recipe – don't ask him to unveil his secrets – the food truck serves several variations of the smash burger, including a quadruple bacon smash burger, made with a full pound of ground beef and topped with thick-cut smoked bacon. Fries and tater tots are also offered, with the option of chili cheese on top.
"We decided on the burgers after looking into the business," Clayton says. "It's a classic thing, and we've always been burger eaters. Then we started messing around with the recipe. It's our own special thing, and there are secrets to it that make it different."
Now, Big Red Food Truck KC is back serving burgers on Noland Road, but the Calebs' appetite grows. They're on track to add another truck in December, and they hope to soon expand to Downtown Kansas City and Blue Springs, Missouri – maybe even a restaurant down the road, if all goes well.
"We love it," Clayton says. "For us, it's not even about money. We love making them. I eat [a smash burger] every single day. I can't not."
Big Red Food Truck KC, bigredfoodtruckkc.com