Fifteen minutes before 6pm on a crisp Friday in late November, Nancy McConnell arrives at my front door. She carefully sets a blue and white striped hat box and a white paper bag filled with food on my porch and then calls me to make sure I'm home to receive the packages.
This is Cottage to Carriage, the fine-dining meal delivery service that Nancy and her husband, Carl, launched in March 2020. The couple have operated the revered Stone Soup Cottage for almost 12 years, and since 2013, the restaurant has been situated on a picturesque 43-acre farm approximately 40 miles west of St. Louis. Prior to the COVID-19 pandemic, Stone Soup was known for its warm and attentive service, white tablecloths and crackling fireplaces, setting the tone before artful plates of food and expert wine pairings arrived at each table. The restaurant is famous for serving meals that stretch out across three hours, allowing guests to savor every sip and bite.
Last year, as restaurants across the country sat empty for months due to the pandemic, restaurant owners grappled with how to best capture that sort of hospitality through takeaway orders. The crisis hit fine-dining restaurants especially hard: As restaurant owners scrambled to establish curbside and delivery services – many for the first time – chefs began adapting their menus to offer more casual fare. For many, creating a thoughtful hospitality experience to-go took a back seat to keeping the lights on.
When it became clear that the dining room at Stone Soup would be closed for the foreseeable future, the McConnells found a way to preserve what makes dining at their restaurant so special, including the masterful hospitality they've always provided.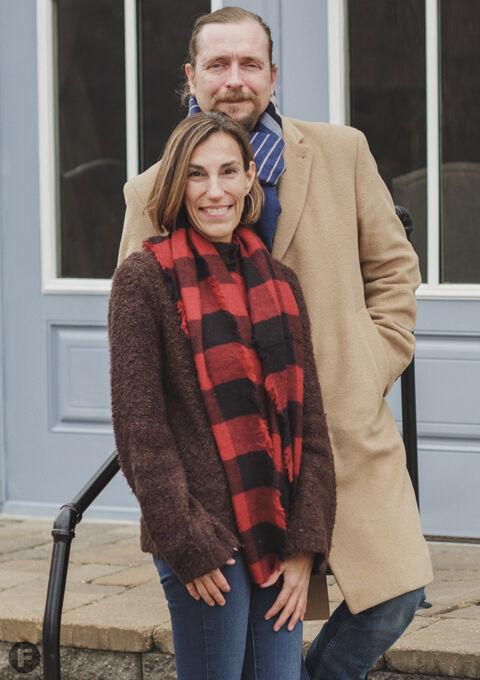 "You can't ever totally recreate the dining room experience," says Carl. "It's tricky. We had to figure out a way that we could do [takeaway] that would represent our brand, otherwise it wouldn't be Stone Soup. Nancy and I found our creativity within our brand, and I think that's important because it gives you boundaries – it keeps you fenced in so you don't get too crazy or faraway from what you're doing."
For $150, including tax and a 20-percent service fee, guests can have a three-course meal for two delivered to their door. The food is packed in disposable paper takeout boxes snuggly stacked inside a white paper bag. This is by design, says Carl, to preserve the integrity of each course as best as possible. The service aims to offer customers "a special night in" that reflects the same thoughtful yet simple approach the McConnells have always shared at Stone Soup.
"When you look at our brand, it really is very simple – thoughtful and simple," says Carl. "People aren't going to be able to have that main dining room experience we've become known for, but hey, I can sure as heck give it a great try by delivering your meal and getting to know people that way."
Meals are delivered between 4 and 7pm, usually by Carl or Nancy themselves and often with the help of their eldest teenage son, Christian. (Sometimes marketing director Amy Kaller pitches in, too.) Depending on demand, Nancy says that she and Christian have spent up to 14 hours driving around the greater St. Louis area to ensure each order arrives on time and then picking up the hat boxes the next day. "It's not just getting a Styrofoam box and having Grubhub deliver it," says Nancy. "Whoever is delivering and picking up these boxes is part of the Stone Soup family."
Standing in our kitchen, my husband, Billy, and I open each paper takeout box with care and excitement, the way you might unwrap a package labeled "fragile." Each box is clearly labeled: Housemade Rolls, Soup (potato and leek with Taleggio cheese croquettes), Entrée (osso bucco with a brandy, truffle and late-harvest mushroom sauce and arancini) and Dessert (chocolate crème brûlée). I gently slide the crème brûlée cups into the fridge, as they don't require any preparation before serving. To protect the integrity of the meal – which is prepared at Stone Soup in Cottleville, Missouri, and sometimes travels as many as 50 miles – some of the food arrives par-cooked, with easy instructions for reheating or finishing courses.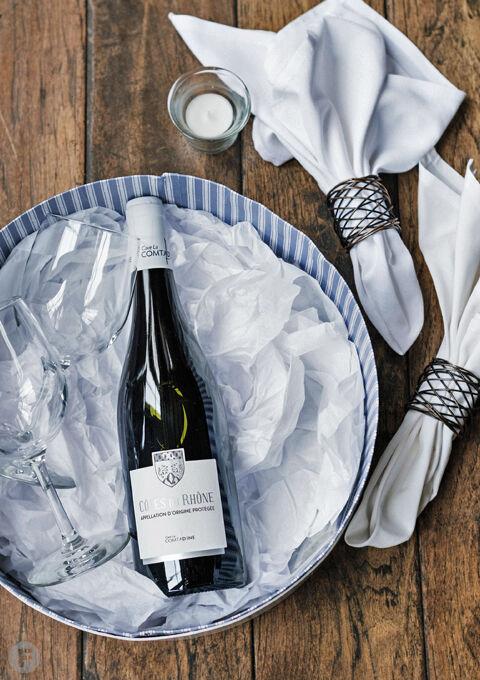 Inside the hat box, we find heating instructions for the food, a printed menu, a bottle of wine, two wine glasses, wine tasting notes, two linen napkins tucked inside shiny napkin rings and a tealight candle. In addition to elevating the at-home experience, this benefits Stone Soup's purveyors, including the linen company they've worked with for years. (The napkins, napkin rings, stemware and candle holder are picked up in the hat box the day after the meal.) The presentation is elegant and interactive, allowing diners to immerse themselves in the experience by finishing and serving the meal at home.
It's also a way to translate the warm hospitality so essential to great restaurant service. Often that service is intangible – fresh silverware that seems to appear out of nowhere or a water glass that's always full – yet you feel its absence. This sort of hospitality satisfies a deeper need within us for comfort and community – something that lingers long after your last bite. Nancy and Carl know this well, and recreating that magic through their delivery service has been key to the success of Cottage to Carriage.
"It had to make structural sense but also give our guests something they could unpack and say, 'Wow, wine glasses and a candle' – something that's tactile," explains Nancy. "Anything that we could fit into the box that would help with that experience and give our guests, for a moment, a nice feeling that they are being taken care of."
For months, Billy and I have eaten takeout at the kitchen island or in front of the TV, but a spread of this sort deserves something special. As Billy preheats the oven to 300°F for the osso bucco, I clear off our dining room table and cover it with a fresh tablecloth. The heating instructions indicate that the osso bucco needs to be finished in a pan in the oven for 30 minutes, covered in foil, with one cup of water. In total, the meal prep should take approximately 30 minutes, but most of that isn't active cooking time. This is one reason Carl likes to serve braised meats in the Cottage to Carriage meals, as they are quick and easy to reheat at home.
"I'm doing a lot of braised meats, where people can just reheat them," says Carl. "I'm using fresh vegetables and wine sauces. For dessert, I've done crêpes with mascarpone and pears – simple things where [guests] just sauce it and put it on a plate. I'll put little garnishes with it, too, with instructions. So it gives them hands-on experience, but it's not going to overwhelm them. It's prepared at Stone Soup, and they just put the final touches on it."
While the osso bucco heats up, we have some time to kill, so I uncork the 2016 Tommasi Poggio al Tufo Rompicollo from Tuscany, Italy, which Nancy chose to pair with our meal, and pour it into our neglected wine decanter. As the wine breathes, I catch the savory aromas of the main course wafting in from the kitchen. The wine is meant to pair with that juicy bone-in veal shank.
Since the beginning, Nancy's wine pairing strategy with the Cottage to Carriage meals has been inspired by the main course while also considering the flavors in the soup and dessert. For our meal tonight, her tasting notes promise "aromas of blueberries, blackberries and flowers" and "a full body with firm and chewy tannins" with "a long and flavorful finish."
"It's a little bit different than the wine pairing we would normally do at the restaurant, where I pair different courses with wine," says Nancy. "I have to sort of pivot and say, 'OK, what wine is going to go with the main course?', as opposed to, 'I'm going to do two whites, two reds and a rosé with the entire tasting menu.' So I'm trying to choose wines that are maybe a little bit more feminine, that will go with the three courses but will definitely enhance the entrée. I love old-world wines, so I'm trying to stick with those – and maybe they're something that our guests normally wouldn't experience."
The osso bucco is almost done, so we add the two cups of soup to a saucepan and set it over medium heat. While Billy stirs the soup, I retrieve our fine china, rinsing the bowls and plates in preparation for plating the meal. Next, we crisp both sides of the Taleggio cheese croquettes and arancini in a sauté pan with olive oil. We love to cook, but if we didn't, none of this would be challenging.
That simplicity is, of course, intentional, and largely due to Carl's and Nancy's almost two decades of experience working on luxury cruise lines and private jets. The couple met while working aboard the Clipper Adventurer, a Russian icebreaker, in 1998; Nancy was the cruise director and Carl was the executive chef. Over the course of almost 20 years, Carl had the chance to cook on every continent; he estimates that he's traveled to 130 countries, adding that Nancy has visited even more. For both Nancy and Carl, those years of creative problem-solving and travel proved incredibly valuable during R&D for the Cottage to Carriage program.
"I was producing high-end, fine-dining meals for up to 60 passengers," says Carl. "I would par-cook food, and once it got on the ship or plane, I would finish it. So I wanted to offer that experience to our [Stone Soup] clients."
Nancy also credits her many years working in hospitality in the international travel industry with preparing her to launch the Cottage to Carriage program. "For years I had to think on my feet when I was working with guests where something didn't turn out the way that we needed or an itinerary change occurred and we had to pivot on the spot," she says. "So when all of this came about, we really had to think about how we were going to present our guests with a luxury, very personal delivery experience – and we had never even done carryout before at Stone Soup Cottage. So we had to think on our feet, put our heads together and see what would be the best experience for our guests."
As at the restaurant, the Cottage to Carriage three-course meals are inspired by the seasons as well as Carl's career focus on European-inspired fare, and the menus are heavily informed by the many lessons Carl learned while cooking around the world. While developing the initial Cottage to Carriage menus, Carl drew from that experience, choosing dishes that would travel and reheat well yet could be garnished and served easily and with style.
"It's important, from an R&D perspective, that the [Cottage to Carriage] menu items can be reheated and be of high quality," says Carl. "That's a big deal, and quite honestly, it's much harder to write menus this way – but I'm up for the challenge. I remember that from my travel days – how difficult it was to write menus for those private jets because you're having to reheat the food later, and you want it to turn out like, 'Wow, you just made that right now?'"
To that end, soups and side dishes are meant to be quickly reheated or crisped up in a pan; main courses often feature braised meats, which are easy for home cooks to finish in the oven, such as our osso bucco. The inaugural menu in April featured asparagus bisque with fresh crab and French gnocchi, smoked duck crêpes with brown butter and arancini and caramel flan. By December, the program offered a meal of lobster chowder with a dill biscuit, Châteaubriand with Parisian potatoes and a fig bread pudding with eggnog anglaise.
Tonight, though, our menu captures the very essence of autumn, especially the rich, earthy sauce paired with the veal. When the potato and leek soup is at temperature, Billy portions it into two bowls and gently places the Taleggio cheese croquettes on the rims. He then garnishes each bowl with the delicate fresh sorrel and marigolds provided by Carl in a small plastic cup. "I'm a chef," I hear him whisper with a laugh. That's the beauty of the Cottage to Carriage meals, though – even as you're keenly aware that you didn't create this food, you're still a part of the process.
"We're very hands-on with our clients, and this gives [them] a way to be hands-on with us," reflects Carl. "For 12 years, people have come to see us at our place in Cottleville, and for a lot of people, that's a very good distance to come. This time has been very scary for all of us, especially [those of us] in the restaurant industry, but a real light for me, personally, in all of this, is to be able to go to my clients' homes and touch [their lives] in that way."
As we're reheating the meal and delighting in each step of the process, it hits me just how personal this all feels for us, too. Billy and I both love to cook – a shared passion that has been put to the test during the pandemic – but this is something else altogether. Tonight, we're entrusted with finishing and serving this special meal that Carl created, and it's a thrill unlike anything we've experienced the entire year. That feeling has clearly resonated with others across the St. Louis area, as the McConnells say the fine-dining meal delivery service has been a big hit. Longtime customers aren't the only audience, either – the easy online ordering and contactless delivery has introduced Stone Soup to an entirely new customer base.
"I don't know of anybody else offering fine-dining [meals] for delivery," says Carl. "That's a big thing for people; they want that. We've created a new business offshoot for the restaurant. Even when we [reopen the dining room], when that time comes, I don't envision Cottage to Carriage going away. It's given us a bigger audience. There are people who haven't been to the restaurant that have gotten the Cottage to Carriage meal a few times – that's what they prefer, and we don't want to lose those clients."
As we sit down with our first two courses, plus the incredibly flaky housemade crescent rolls with infused butter, we can't help but marvel at the dishes in front of us. Our first course, the soup, has a slight natural sweetness from the leeks and an earthy depth from the potatoes, while the croquettes offer crunch and tang. Next up is the osso bucco – now barely clinging to the bone and swimming in some rendered fat – topped with that mushroom, truffle and brandy sauce, which adds umami to every bite. For dessert, we crack into the chocolate crème brûlée, with its delicate top layer of caramelized sugar giving way to the decadent chilled custard underneath.
The wine, which I started sipping with the second course, takes on new flavor and dimension alongside the dessert. The bold blend of Sangiovese and Cabernet Sauvignon match the intensity of the rich meat, yet the wine doesn't overpower the richness of the dessert – and just as Nancy promised, each sip ends with a long and flavorful finish.
Maybe it's the candlelight or the intriguing wine pairing, the fork-tender osso bucco or the comforting potato and leek soup, but as we dine and sip and talk, I feel the same familiar intimacy that Carl and Nancy create at Stone Soup. We couldn't make this meal at home for myriad reasons – we're not chefs, we're not sommeliers, and we certainly couldn't pull it all off in 30 minutes or for just $150.
The most important reason we couldn't recreate this experience on our own, though, is simply because we're not Carl and Nancy. Their passion, experience and expertise have brought the meal to life, and with it, they've given us a chance to reconnect with one another. Restaurants are at their best when the service, the food and the wine work in harmony, allowing everything else to fall away, and for just a little while, you can immerse yourself in a meal, a conversation, a comforting place where you feel like family. That's an experience we crave now more than ever, and one that Carl and Nancy have somehow, magically, managed to deliver.
Stone Soup Cottage, 5809 Highway N, Cottleville, Missouri, 636.244.2233, stonesoupcottage.com