Near Eminence, deep in the heart of Missouri, the forest is rich with towering white oak trees and crystalline springs. But look a bit closer, and you'll see that these are no ordinary woods.
Rows and rows of white oak logs stand propped against tree trunks, a platoon awaiting its orders. Nearby, dozens of other logs bathe in bright blue cattle troughs that resemble backyard swimming pools, where they soak for 24 hours before falling in line with the others. Soon, they will sprout tiny white dots the size of a pencil eraser, which will burgeon into tan umbrella-shaped caps rolling inward to reveal the creamy white gills of shiitake mushrooms.
This is Ozark Forest Mushrooms, where owner Nicola Macpherson cultivates some of the most prized mushrooms in the state.
On any given day, you can find Macpherson out and about picking the fruits of her labor. Macpherson, a spunky English native from the Welsh Borders, met Daniel Hellmuth, the son of an architect/farmer from southeast Missouri, in 1976 while they were both studying at the University of Sheffield. After graduating, Macpherson became a biology teacher and hobby farmer. In 1987, she came to the U.S. on holiday and reunited with Hellmuth, during which time the two friends fell in love; they got married the following year.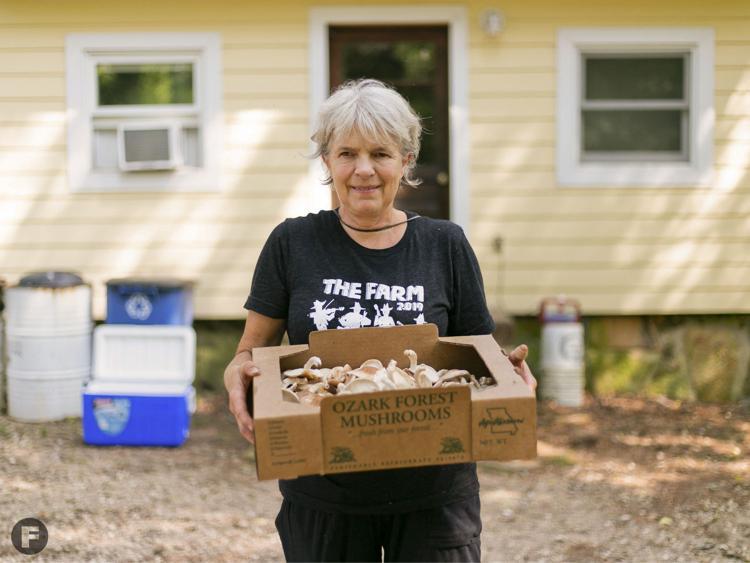 Although Macpherson had heard stories about the Hellmuth family farm before her first visit, some things still surprised her. "The farm is so different from where I grew up," she says. "The first time I visited, it was July and it was hot. I had been to India before and I thought, 'Oh my gosh, it's as hot as India here!' To me, Missouri is almost tropical. I had never seen hummingbirds, turtles nor snakes before I came here."
The same year as Macpherson's visit, Hellmuth and his family attended a conference on shiitake mushroom farming and quickly realized they had the resources to grow their own. The microclimate in their little corner of the Ozarks has all the right ingredients for mushroom farming, including freshwater springs, a shady canopy of oak trees and thick humidity; atmospheric conditions at the farm are similar to climates in East Asia, where shiitake mushrooms are native. Unlike other mushroom varieties that can grow on just about anything, shiitakes are wood-digesting fungi ("shii" means "hardwood trees" in Japanese, while "take" translates to "mushroom"). Shiitakes can only be grown on sawdust or oak logs, though many chefs will argue that the flavor of oak-grown shiitakes – such as Macpherson's – is simply superior.
"Ozarks farmers live a hardscrabble life," says Macpherson. "There isn't a lot of soil down here and the timber is not particularly good; it's not easy to make money. However, growing shiitake mushrooms is something at which we can thrive – you just have to be willing to deal with a few cuts, scrapes and ticks along the way."
With land in the Ozarks and knowledge of biology and agriculture, Macpherson launched Ozark Forest Mushrooms and began cultivating mushrooms in 1990. The first round of logs was really more of a hobby: "We were as surprised as anyone that it worked," she says. Excited and optimistic, she decided to increase their six logs to 100 the following year. Backed by steady success, Ozark Forest Mushrooms now has approximately 20,000 logs that yield different strains and ages of shiitakes. "You could say things really mushroomed," Macpherson says with a laugh.
Although white oaks grow in abundance on the farm, Macpherson currently outsources logs to give the piece of land she uses a chance to regenerate. Sustainable farming practices are important to her: The oak logs, once they've outlived their term as mushroom hosts, are burned during the winter months to heat the greenhouse where she also grows oyster mushrooms. "We try to use every part of the tree, and we never clearcut," she says. "We want the forest to still be here in 20, 30, 40 years; we want it to be there for our children and grandchildren." Macpherson's emphasis on sustainability sets her apart, in addition to the fact that her company is one of the few commercial operations left in the U.S. that grows shiitakes on logs rather than sawdust by-products often from clearcut timber crops.
From the beginning, chefs across the region have respected and valued Ozark Forest Mushrooms' products for their unparalleled flavor and texture, allowing the farm to expand and become a pioneer of the state's food scene. "We were doing all that farm-to-table stuff more than 20 years ago, before it was trendy," says Macpherson, adding, "Although we called it 'tree-to-table.'"
Over the years, Macpherson has learned to adapt to the challenges that accompany mushroom farming. For example, when the farm flooded in 1993, dousing the mushrooms with too much moisture, she salvaged them with a food dehydrator and started selling dried mushrooms. "Opportunities come and go, little disasters strike, but we continue to figure it out and forge ahead," she says.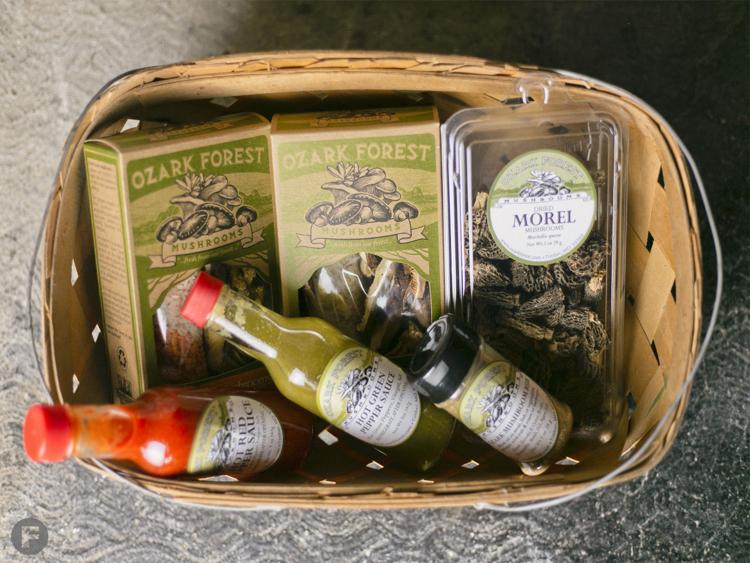 A number of years ago, chefs began requesting more variety, so Macpherson started growing oyster mushrooms alongside the shiitakes. Now, countless strains of velvety oyster and shiitake mushrooms, some with kitsch names such as Niche Happiness, thrive on the farm. Certain types grow better in spring and fall, such as Snow Cap, a strain of shiitake that produces uniform, thick-fleshed mushrooms with textured, stark white caps. Others love the summer heat, such as Night Velvet, another strain of shiitake that develops discernible deep brown caps with lacey ornamentation. Macpherson welcomes diversity to extend the growing season.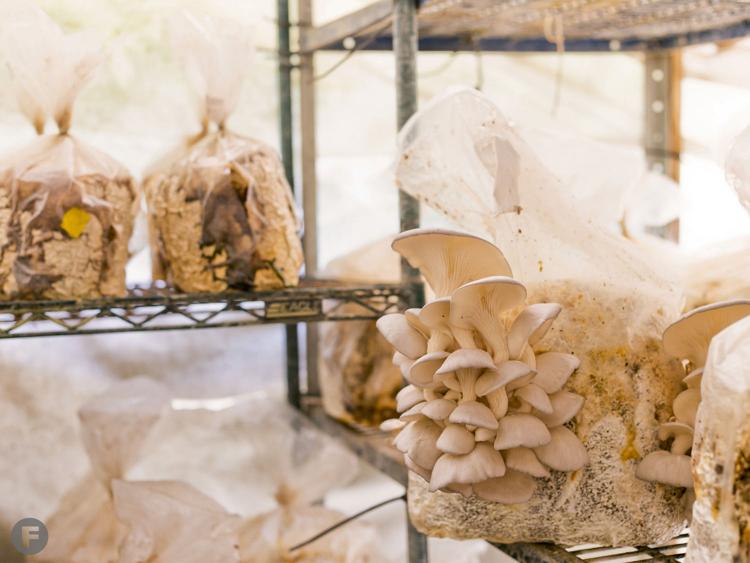 Ozark Forest Mushrooms purchases grow bags that sprout oyster mushrooms, making the growing process much simpler than that of shiitake mushrooms. Macpherson stores the bags in a humid tent inside the aforementioned 3,500-square-foot greenhouse, where they yield brown, gray and yellow oyster mushrooms. Their broad, fan-like caps have curled edges that become wavy and lobed with maturity, and they release a bittersweet aroma reminiscent of anise. The canary yellow variety are startling in their beauty, so much so that it's hard to believe they're fungi. When cooked, all three colors have a mild, nutty flavor and delicate texture – part of their global appeal.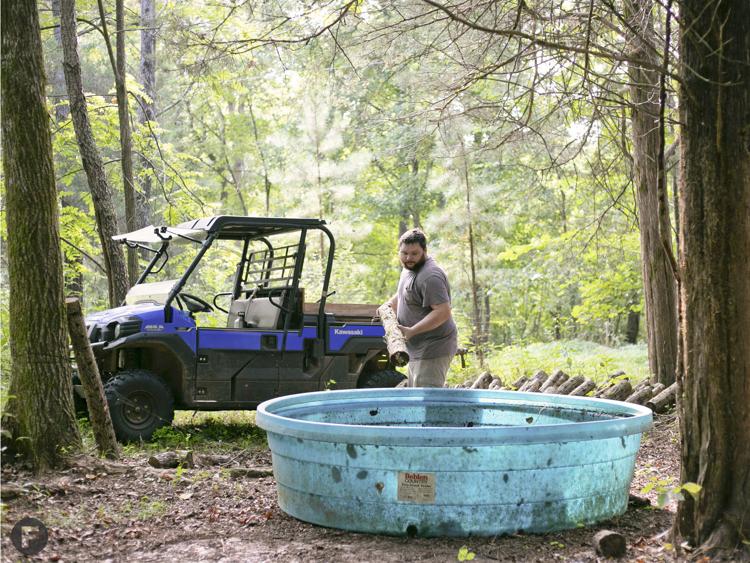 Growing shiitakes, on the other hand, is a much more labor-intensive process. Once the trees lose their leaves and sap flow slows down in late fall, Macpherson and farm manager David Enloe – with help from a local inoculation crew and two cordwood timber cutters – take logs of white oak and drill a diamond pattern of 12-millimeter-deep holes in each. Next, they use a special inoculating tool – think turkey baster – to inject the holes with mushroom spawn and then coat the injection sites with hot food-grade cheese wax, which acts as a Band-Aid, stopping the spawn from drying out and protecting it against contaminants.
Once the logs are prepared, they incubate in a shade house, an outdoor structure covered with shade cloth to ensure that it remains cool when temperatures rise. After nine to 12 months, fuzzy white threads of mycelium (the vegetative part of a fungus) begin to sprout from the logs. To keep the logs moist during this period, the shade house allows for rain to trickle inside, and in times of drought, an overhead sprinkler system mists the logs.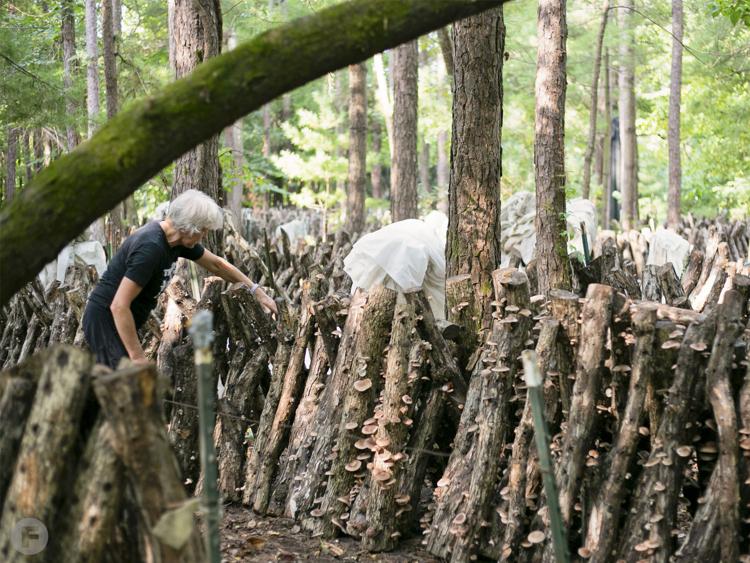 When the time is right, the logs are transferred to cold spring water tanks, where they soak for 24 hours, after which point, Enloe props them vertically in the forest and covers them with a humidity cloth. Depending on how hot and humid it gets, the mushrooms are ready to be picked in five to 10 days.
While Macpherson is out picking mushrooms, she's been known to sneak a handful or two for a snack; when eaten fresh, shiitake mushrooms have a surprising, yet delightful, garlicky aftertaste. "I never get tired of eating shiitakes because of their meatiness and uniquely woodsy flavor," she says.
Many St. Louis diners are familiar with Ozark Forest Mushrooms – although sometimes unknowingly – as its products are a favorite among some of the city's best chefs. Meatier and tastier, with less stem and less water weight, than those of its competitors, the Ozark-grown mushrooms are found in dishes ranging from the Mushroom & Ricotta pizza at the U.R.B. (Urban Research Brewery) to Farmhaus Restaurant's Roasted Ozark Forest Mushroom Salad with the farm's shiitake and oyster mushrooms plated alongside kale, toasted Missouri pecans, Baetje Farms goat cheese and a warm bacon vinaigrette. At Annie Gunn's Restaurant in Chesterfield, Missouri, shiitake, oyster and French horn mushrooms are often grilled for salads, sautéed for pan sauces and even pickled. Its grilled lamb loin chops are served with chutney made from Ozark Forest Mushrooms. "I choose Ozark Forest Mushrooms because I love the quality of the product," says executive chef Lou Rook III. "Nicola is incredible. Her mushroom varieties give me a perfect canvas to work with."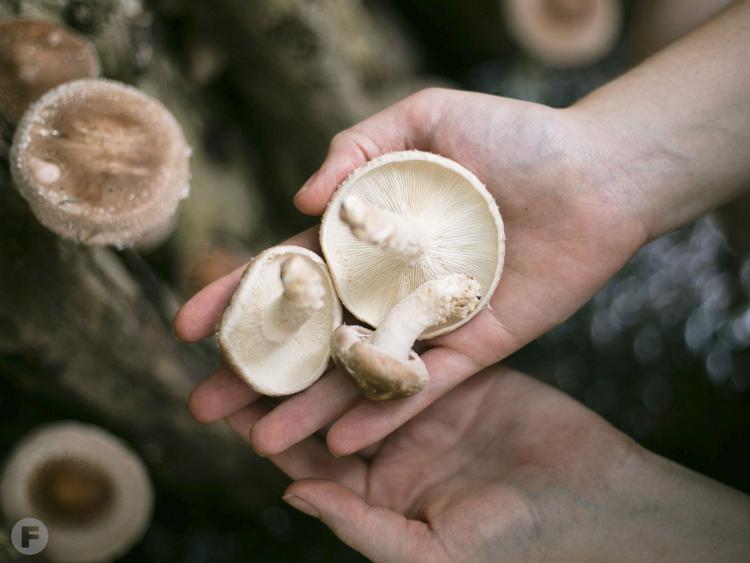 At Yellowbelly – a restaurant best known for its seafood – executive chef Ben Tulin incorporates the mushrooms in a small plate of braised pork belly with watermelon radish kimchi. "I love how the sharp, earthy flavors [of Ozark Forest Mushrooms] are strong enough to hold up next to the punch of the kimchi in the dish," says Tulin. "These specific mushrooms have a delicate texture, which provides a really nice counterbalance to the rich, tender pork."
For those interested in cooking with the mushrooms at home, dried shiitakes – in bulk or packaged with spices and seasonings – are available at ozarkforest.com. Ozark Forest Mushrooms also operates a stand at the Tower Grove Farmers' Market and sells its products at St. Louis-area grocery stores, including Local Harvest Grocery, City Greens Market and Fair Shares CCSA.