Each Thanksgiving, Mattie's Foods offers Kansas City diners a full, from-scratch vegan menu cooked with love. For owners – and sisters – India Pernell and Arvelisha Woods, it's just another way of carrying on their family's tradition of creating community through food.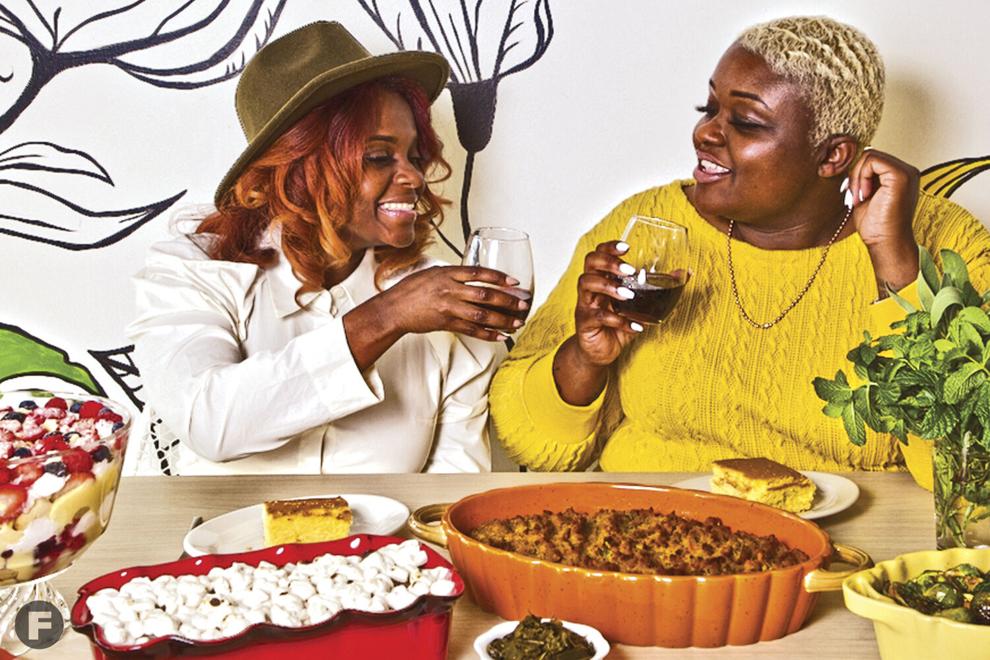 When we started our vegan journey, there was nothing for us to eat. So, our objective with Mattie's Foods was to continue to tackle issues in our own food journey – we didn't want to give up this lifestyle, which has been great for our health, but we also didn't want to give up eating great. We knew there had to be some type of balance where we could have both.
We quickly realized that it wasn't hard; we took the same approach that you'd take with non-vegan food, but we just found vegan substitutions. If a recipe calls for chicken broth, we use vegetable broth; if it calls for cheese, we use the best version of nondairy cheese. That's why everything tastes just like what you're used to eating. We're especially proud of our mac 'n' cheese – it's creamy and gooey, and we spent at least a year trying to perfect that recipe. We get so many stories from customers who are excited to finally find vegan versions of foods they love, whether it's a cinnamon roll or strawberry shortcake or that mac 'n' cheese.
A few years ago, we hosted our very first vegan Thanksgiving, and it was phenomenal. We cooked everything; we told everyone in our family not to bring anything because we wanted to introduce those vegan recipes to them. We do more of a soul food Thanksgiving in our family, and nothing was missing from our spread. We had greens, mac 'n' cheese, dressing, yams, black-eyed peas, gravy, sweet potato pie and even a "turkey." A lot of these things are dishes we've had other places and wanted to veganize – just because we're vegan doesn't mean we don't miss that sweet potato pie.
This vegan recipe was inspired by the sweet potato casserole at Ruth's Chris Steak House.
Initially, some of the family was skeptical, not believing that a vegan Thanksgiving could taste good. But when they showed up, their response was incredible – they kept looking at us like, "Ain't no way this is vegan." Everybody was coming back for seconds. They just couldn't believe they could be that full, eat food that rich and not feel like they were going to pass out.
This easy side features a sweet and salty dynamic here with a mix of different textures.
Our grandmother, Mattie, is the namesake of our restaurant, and before she passed, she always had people at her house, feeding them for the holidays. Being able to provide a meal was everything for her. She might not have had a lot of money to spend, but she would make sure that you were well-fed, and she would put her heart and soul, all the love that she had, into making sure that when you eat, you're smiling.
This vegan spin on the classic dessert is light, simple and works with whatever berries you have on hand .
We try to carry on that tradition at Mattie's with our vegan Thanksgiving. When the pandemic hit, we could only imagine how things were – you're lonely because you're isolated, and you're hungry. We wanted to be able to step in and provide a great meal so that our customers didn't feel alone on Thanksgiving. Food is comforting. Food makes you smile. Food brings out so many emotions. We get those responses, especially from the African American community, a lot. They'll say, "I thought I wouldn't be able to eat as good because I chose a healthier holiday meal," and when they come in, they say,
"Oh my god, that sweet potato pie tastes just like my grandmother's." We just smile because that is our heart; we really go the extra mile. To be able to offer that experience…to us, it means the world.
Mattie's Foods, 633 E. 63rd St., Kansas City, Missouri, 816.712.2887, mattiesfoods.com