Gin khao. These two Thai words mean far more than the literal translation: "Eat rice." The phrase is a query as to whether or not you're hungry, an invitation to come eat and a greeting with the expectation that you will eat.
My mother emigrated from Central Thailand to Kansas City. Growing up, my family meals featured dishes such as gai pad grapow (basil chicken) and pad phrik king (red curry beef and green bean stir-fry), while trips to visit family further expanded my knowledge of Thai cuisine. I've eaten rich dishes in busy Bangkok, rustic food in Chiang Mai's mountains, home-cooked meals, street delicacies and seafood cookouts along the Gulf of Thailand. The country's expansive cuisine is influenced by the very mountains, plains and waterways that shape its geography and agriculture. Modern regional cooking is the centuries-long culmination of multi-ethnic migration across Southeast Asia, Thailand's internal conquest by different tribes and kingdoms, royal traditions and trade with other civilizations.
In the U.S., Thai food has evolved from "exotic" to trendy to commonplace – you can get everything from tom yum (hot and sour soup) to pad ki mao (drunken noodles) to red or green curry delivered these days. Increasingly, regional food is also in demand. In the not-so-distant past, Missouri diners knew Thai food as pad Thai – and that's about it – but now we can find a wealth of dishes representing Thailand's four regions in our own backyard. The following regional dishes from local Thai restaurants will give you a taste of the intricate flavor profiles, unique ingredients and expressive differences of the typical cuisine found in Thailand's North, Northeast, Central and South regions.
NORTH
Chiang Mai and Chiang Rai, both major cities in provinces of the same name, are known for their arts, culture, tourism and cool climate. Mountains, forests and rivers shape terrain dotted with wats, or remote temples, and indigenous tribes, such as Hmong and Karen, and a mix of ethnicities, including immigrants from southern China and neighboring Laos and Myanmar (formerly Burma), influence the cuisine. Burma controlled Chiang Mai until the late 18th century, accounting for the existing similarities between the Burmese noodle soup khao swè, Thai curry egg noodle soup khao soi and Lao rice noodle soup khao soi. Khao soi's origin allegedly traces back to Chinese Muslim immigrants who combined Chinese egg noodles and curry from Muslim culture to create the dish. Northern dishes represent the least spicy among the four regions, replaced by prominent sour and bitter flavor profiles – tamarind is used more than lime to add those sour notes. Fresh turmeric, ginger, herbs and dried spices are common ingredients, and sticky rice, or glutinous rice, is served rather than jasmine rice. Since fresh seafood is scarce, Northerners cook with pork, chicken, dried shrimp and shrimp paste, which are the main ingredients in distinctive dishes such as sai oua (grilled pork sausage), gaeng hung lay (tamarind-based pork belly curry with ginger) and gaeng khanun (young jackfruit curry).
Laab Moo Kua Lanna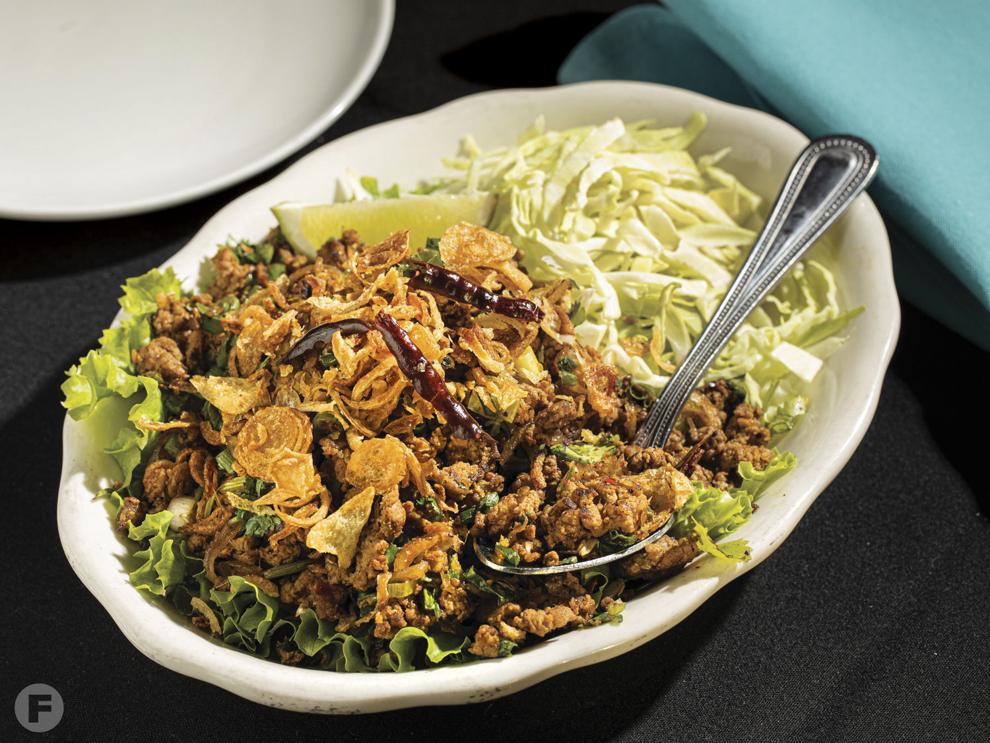 Let's deconstruct laab moo kua lanna. Laab is a common minced meat dish in the North and Northeast regions. Moo means pork, kua translates to stir-fry and lanna refers to the former Lanna Kingdom in northern Thailand. All signs point to the dish's origin being in the North where regional flavors are typically bitter, salty or sour. Born in Lampang, Thailand, Pam Liberda, executive chef of Waldo Thai Place in Kansas City, often cooks with chicken, dried shrimp and shrimp paste per Northern style, but she generally prefers pork as a protein and uses minced pork and slivers of crispy pork skin for her laab moo kua lanna. The laab is not boiled like other recipes, Liberda notes, "but fried slowly with oil in a wok over medium heat." Liberda then seasons the dish with a proprietary blend of green Sichuan peppercorns, black pepper, lemongrass, galangal, fish sauce, lime juice, fried garlic and dried bird's eye chile for balance. It's her belief that this and other regional specialties can open diners' minds to even more flavors and dishes such as gaeng hung lay, stewed pork belly and curry broth with a harmonious amalgam of sweet, sour and salty notes. "You want people to learn about your culture through food," says Liberda.
Waldo Thai Place, 8431 Wornall Road, Kansas City, Missouri, waldothaiplace.com
Khao Soi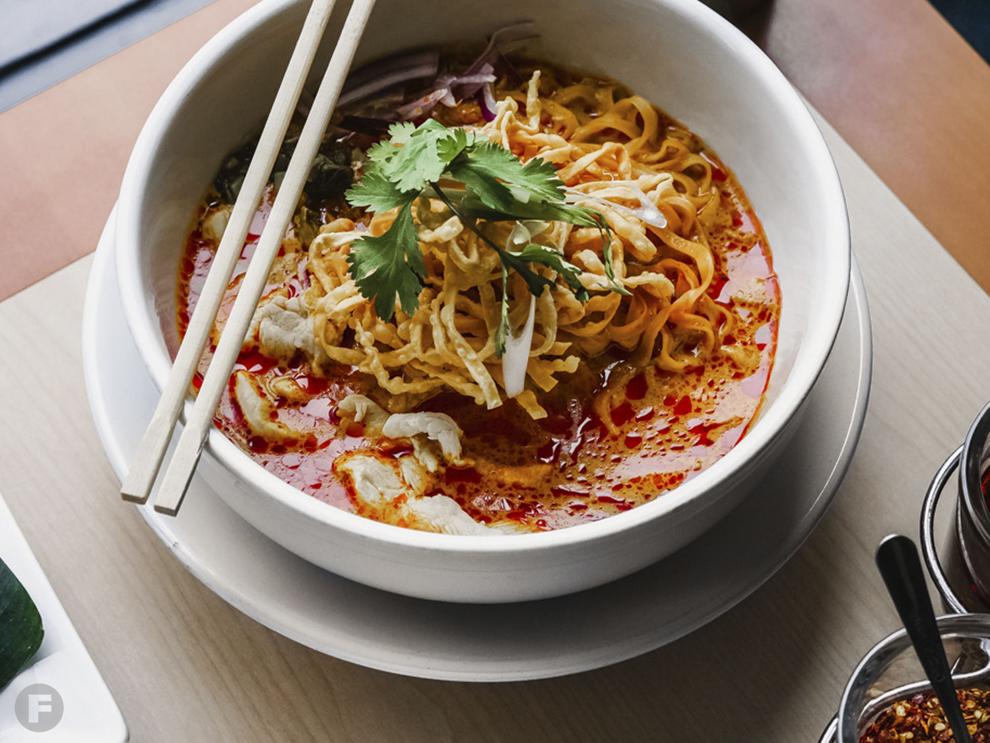 Traditionally, "Thais in the North forage for food and eat more vegetables," says Fork & Stix owner Phatcharin Wanna, who is originally from Fang District, one of the northernmost reaches of the Chiang Mai province. However, the region's proximity to Myanmar and southern China has influenced some of its traditional dishes such as khao soi, an egg noodle curry soup. Although khao soi is a popular street food dish eaten throughout the region, it's not frequently served in Thai restaurants abroad. "Burmese-style khao soi features minced pork, rice noodles and a clear both," says Wanna, but when Chinese Muslims emigrated to northern Thailand centuries ago, they introduced egg noodles and curry to the local cuisine. Using these ingredients and some of its own, such as coconut milk, Thailand became known for a new version of the dish. Accordingly, the Thai-style khao soi at Fork & Stix features egg noodles, curry paste, coconut milk, sour pickled mustard greens and chicken or tofu (or beef as a nontraditional option).
Fork & Stix, 549 Rosedale Ave., St. Louis, Missouri, forknstix.com
NORTHEAST
The contour of Thailand's borders is often described as an elephant's head. Isaan, Thailand's largest geographic region – and its poorest – represents the elephant's left ear. While flatter than the North, mountains and rivers carve across Isaan's northern and southern plains, but sandy, acidic soil with salt deposits and drought-prone conditions hamper farming. The Mekong River forms a border and trade waterway between Thailand and Laos, and Lao influence pervades Isaan's language, culture and food. Sticky rice – the primary crop for the region – red chiles, bitter herbs, pungent dipping sauces, dried shrimp and lime comprise bright savory salads and simply prepared dishes: Think laab (minced meat salad), som tum (green papaya salad), nam tok ("waterfall" beef salad) and gai yang (grilled chicken). Offal, blood and bone-in cuts of meat are also common ingredients, but not likely found on U.S. restaurant menus. Quality pieces of meat, on the other hand, are scarce and expensive. Instead, Isaan Thais incorporate fermented freshwater fish and shrimp into their diet; pla raa (an intensely sour-salty fermented fish paste) is a common seasoning used instead of shrimp paste, especially in curries. Here, bold flavor profiles run fiery hot and sour, and grilling, boiling and curing are the favored cooking techniques.
Som Tum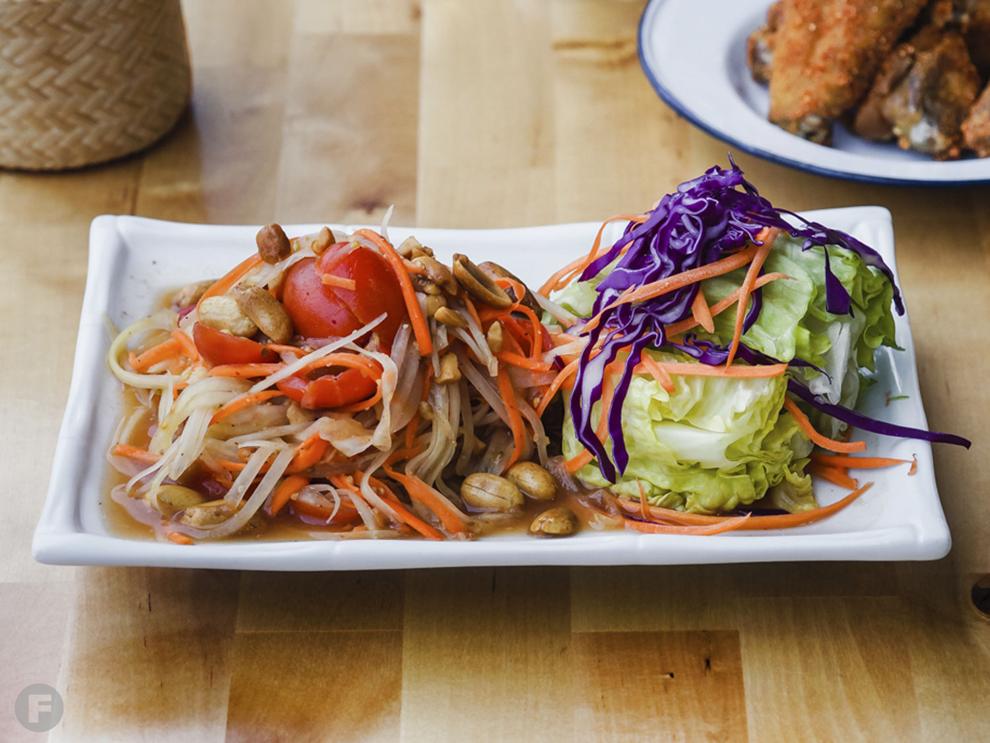 In 2012, Natthinee "Joy" Teerakawanid, chef-owner of Thai Table in Maplewood, Missouri, emigrated from the Northeastern Thai province of Buri Ram. She worked at a Thai restaurant in St. Louis for a year before opening Thai Table in November 2018. Som tum, a salad made from shredded green papaya, is a popular dish in her hometown and throughout the region. Those cooking closer to the Laos border sometimes adopt their neighbor's version of the dish – typically made with funky fermented fish sauce. Thai Table's som tum, in which Teerakawanid uses fresh chiles grown by a friend and ground in-house, balances spicy, sweet and sour flavors. Tamarind, tomato and lime juice contribute sourness and acidity to temper the bite of the raw papaya, and nam pla (fish sauce), palm sugar and peanuts round out the delicious profile.
Thai Table, 7403 Manchester Road, Maplewood, Missouri, thaitablestl.com
Khao Niao Mamuang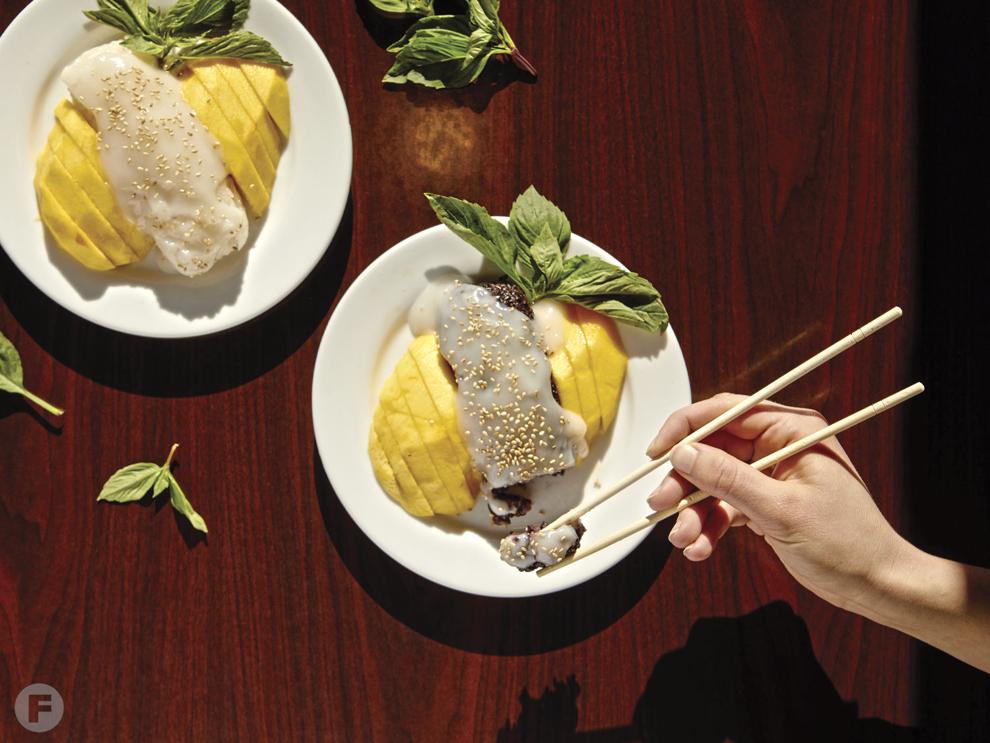 Laos natives Jessica and David Chouang lived in Thailand for years before emigrating to the U.S. They ran a Thai restaurant in Florida for two years and then relocated to Kansas City, where they opened Bangkok Pavilion in Overland Park, Kansas – that was 29 years ago now. In 2015, when the Chouangs opened Spices Asian Restaurant in North Kansas City, Missouri, they introduced local diners to Isaan dishes from Northeast Thailand, including khao niao mamuang (mango sticky rice). Thais eat this dessert prepared with steamed sticky rice, fresh mango, sweetened coconut milk and palm sugar during peak mango season in April and May. Lucky for us, Spices Asian Restaurant serves traditional mango sticky rice as well as purple sticky rice made with Jessica's closely guarded recipe all year long. "The purple is less sweet," she explains, and toasted sesame seeds add nuttiness to the glutinous pile of rice and juicy mango slices.
Spices Asian Restaurant, 2417 Burlington St., North Kansas City, Missouri, spicesasiankc.com
5 Essential Thai Ingredients to Keep in Your Pantry
For high-quality and hard-to-find Thai ingredients, you may have to look beyond the small designated section of your favorite supermarket. Asian markets, such as Jay International Foods in St. Louis, 888 International Market in Overland Park, Kansas, and Hong Kong Market in Columbia, Missouri, offer ample resources to stock your pantry.
CENTRAL
Bound for the Gulf of Thailand, rivers, waterways and canals course through the Central region of the country, providing a bounty of freshwater fish, shrimp, crab and other shellfish to the area. Closer to Bangkok, there's fertile farmland where farmers grow a wide array of fruits and vegetables and rice fields where they grow fragrant khao hom mali (jasmine rice), which locals prefer over sticky rice. Dishes balance sweet, sour, salty, spicy and bitter flavors, and liberal use of coconut milk and palm sugar often yields a richer and sweeter profile than those found in other regions. Also, spicy dishes are not as fiery as Northeastern and Southern versions. Trade with Portuguese and Spanish ships introduced chile, corn, tomato, pineapple, pumpkin and other foodstuffs from the Americas, while Chinese immigrants brought wok cooking techniques such as deep frying and stir-frying and ingredients such as soy sauce, egg noodles and tofu to Thailand. Central staples include pad Thai, khao pad (fried rice), tom yum (hot and sour soup) and guay tiew reua (boat noodles). Popular green and red curries begin with fried paste (rather than boiled) that is blended with coconut milk or broth, and nam phrik (a category of chile-shrimp pastes and sauces) is eaten with countless varieties of fresh vegetables and fish.
Tom Yum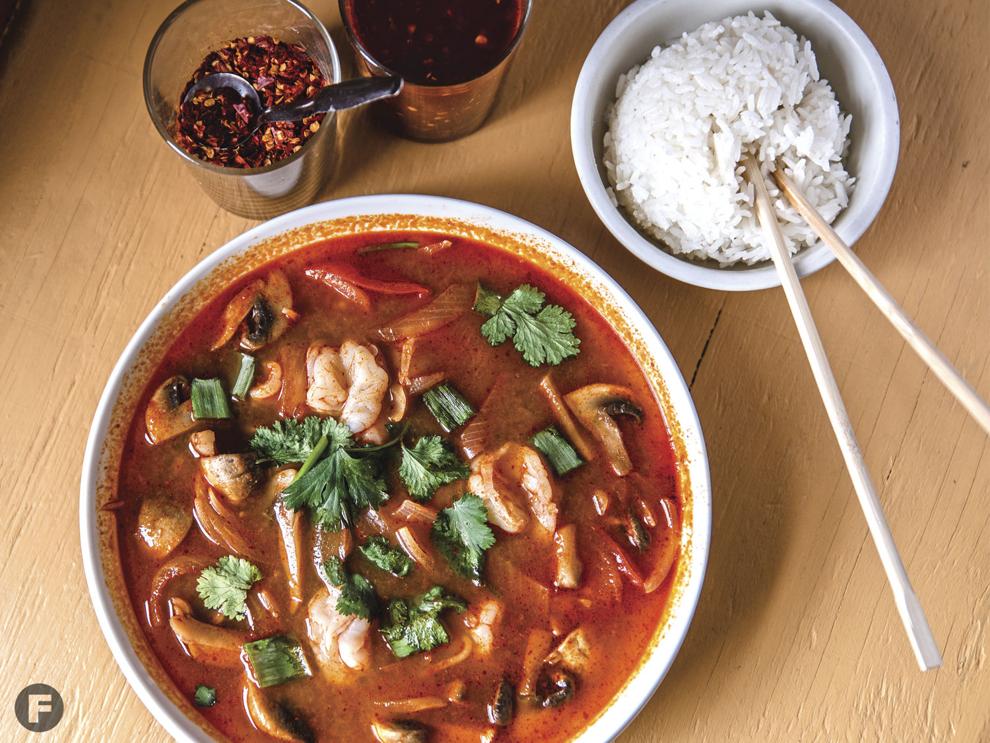 China has egg drop soup, Vietnam has pho and Thailand has tom yum. According to some Thai scholars, the "modern" version of this hot and sour soup traces back to 1782 – the year Bangkok became Siam's (now Thailand's) capital. Usually made with river shrimp in Thailand today, tom yum was associated with royal cuisine during revered King Rama V's reign from 1868 to 1910. Over the centuries, the essence of tom yum has been steadfast: sour, spicy and salty notes play out with a sweet and citrusy finish. Traditionally, makrut lime leaf and roasted chile jam contribute both aroma and flavor to the soup's broth; the tom yum at Rama Thai Café in Springfield, Missouri, builds layers of flavor with lemongrass, lime juice, onion, tomato and mushrooms. Galangal, a dense rhizome similar to ginger, is simultaneously earthy, peppery and citrusy and adds a pleasant aroma to the soup. Guests can order tom yum with gai (chicken), goong (shrimp), vegetables or assorted seafood.
Rama Thai Café, 1129 E. Walnut St., Springfield, Missouri, ramathaispringfield.com
Pad Thai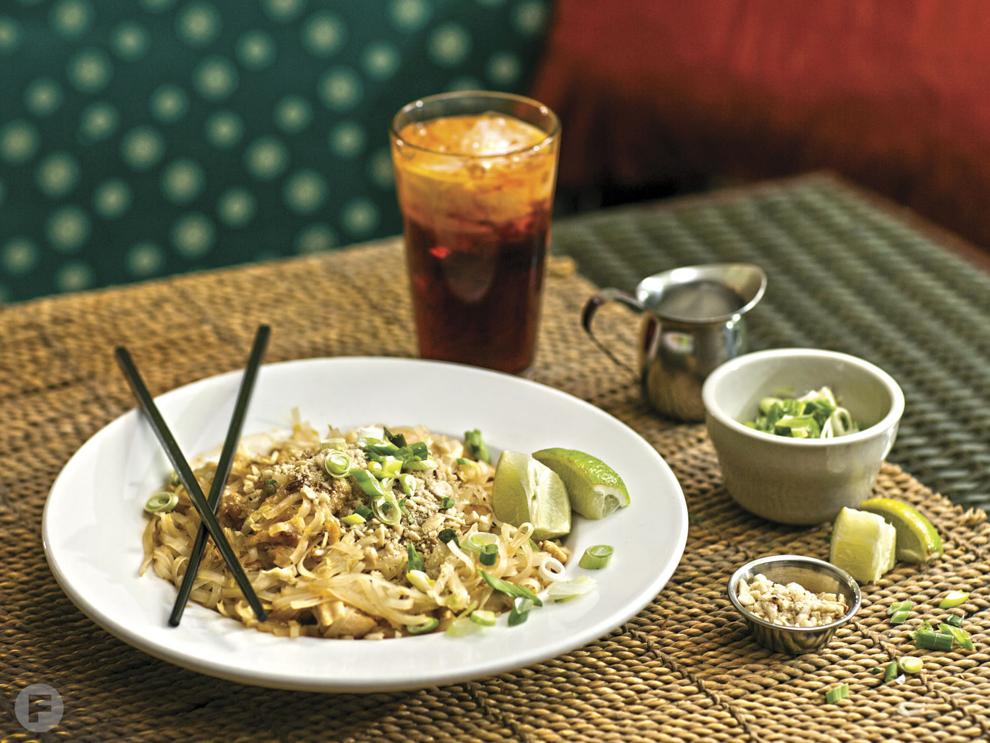 A Vietnamese refugee who immigrated to Los Angeles with his family, John Pham moved to Columbia, Missouri, in 1990 to attend the University of Missouri. As a freshman, he began working at Bangkok Gardens; three years later, he dropped out of school, bought the restaurant and has been running the show ever since. Pham's pad Thai (a.k.a. phat Thai) is his take on Thailand's most famous dish. Legend has it that Plaek Phibunsongkhram, prime minister of (what was then known as) Siam during the late 1930s, ordered the creation of a new dish that would inspire nationalism among regional ethnic groups. Using rice noodles, tamarind, palm sugar and chiles, a dish with an innate "Thai-ness" was established – something different from the wet and dry noodle dishes being prepared by Chinese street vendors at the time. Ingredients for pad Thai vary depending on the cook; Pham's features rice noodles stir-fried with sweet and sour sauces, cabbage, bean sprouts, onion and egg. Garnishes include peanuts, green onion and lime.
Bangkok Gardens, 811 Cherry St., Columbia, Missouri, bangkokgardens.com
SOUTH
Located largely on an ismuth shaped like an elephant's trunk, the Southern region of Thailand boasts miles of coastline. Phuket, Ko Samui and many other sandy, picturesque locales attract tourists and expatriates, known as farang (foreigners), by the droves. Its position along the gulf means seafood is consumed more than meat, and plentiful coconut groves are the source of abundant coconut milk used in curries and desserts. The South's largely Muslim and predominantly ethnic Malay population eats dishes similar to nearby Malaysia, Indonesia and India. Panang and massaman curries have Malay and Persian influences, typified by a much thicker coconut milk-based sauce than Thai curries in other regions. Ample use of fresh and dried bird's eye chile creates some of Thailand's hottest dishes, and dried shrimp, shrimp paste and nam pla (fish sauce) contribute salt and funk to flavor profiles. Once a stop for Indian and Middle Eastern spice merchants, spices such as fresh turmeric, clove and cumin are prevalent as well – tamarind and pineapple offer complementary tart, sweet and acidic notes for balance. Specialties in the South include gaeng som pla (sour curry with bamboo shoots) and kua kling (an intensely spicy dry curry made with pork, beef or chicken). Chu chee salmon, another fixture in Southern Thai cuisine, features grilled salmon with curry atop steamed vegetables and rice.
Kua Kling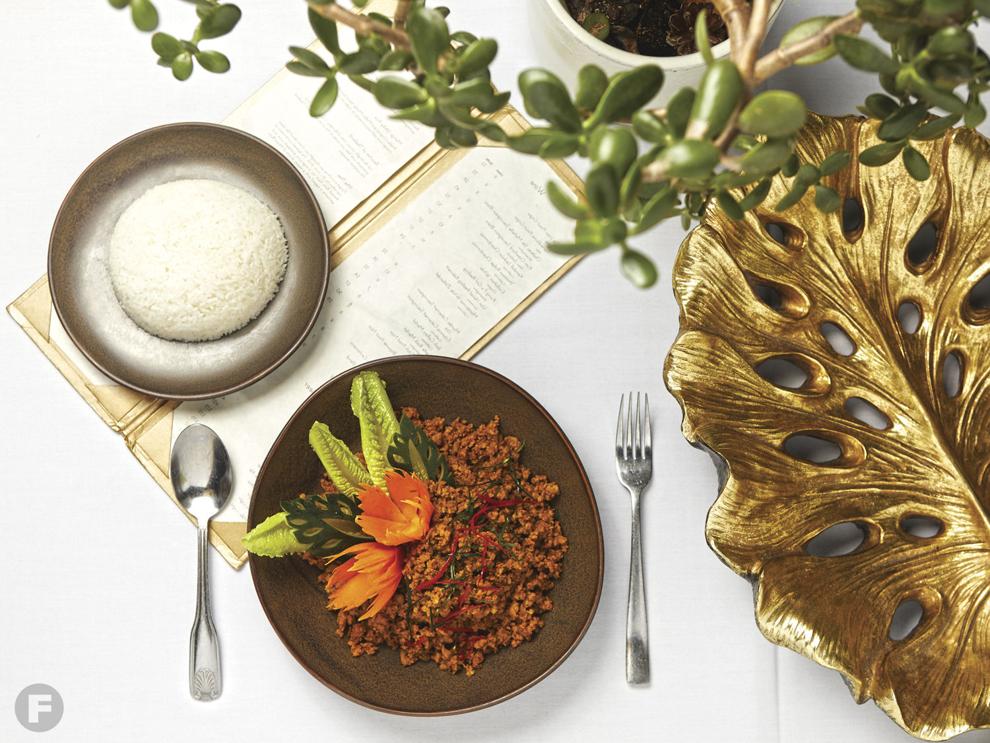 Niramol "Ann" Riensin, co-owner of Pad Thai and I Am Frozen Dessert Cafe in Overland Park, Kansas, is a native of the Chonburi province located on the Gulf of Thailand southeast of Bangkok. Open since 2015, Pad Thai's muted gray color scheme, rattan seating and white tablecloths provide an elegant setting for lunch and dinner. Riensin's chef, who is originally from South Thailand, specializes in regional dishes such as kua kling (dry meat curry). Served only for dinner at Pad Thai, kua kling arrives in a chocolate-brown ceramic bowl with bright garnishes. The golden yellow hue of the curry contrasts against its deeply colored backdrop – a simple, yet dramatic, presentation for such a humble dish. Garlic, lemongrass and makrut lime leaf enhance the flavor, and there is no water or coconut milk present. The meat – in this case, minced pork – is pan-roasted in dry curry paste to absorb the bold flavors.
Pad Thai, 14319 Metcalf Ave., Overland Park, Kansas, padthaikc.com
Gaeng Som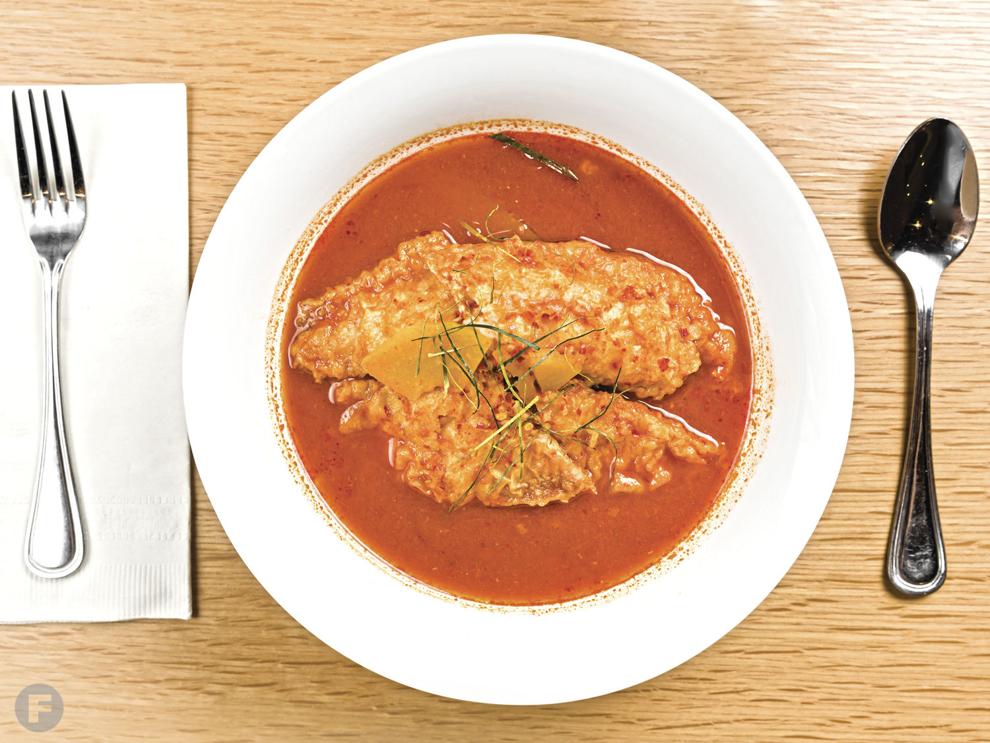 Born in St. Louis, Chao Baan owner Shayn Prapaisilp is the son of Thai immigrants – and esteemed local restaurateurs – Suchin and Sue Prapaisilp. Suchin hails from Yala, Thailand's southernmost province, and Sue grew up in the Loei province in the Northeast. Chao Baan's regional Thai dishes honor these geographic roots and their culinary differences. Gaeng som is a fiery soup emblematic of Southern Thai cooking, although, Shayn explains, "most people have only had the sweeter Central version from Bangkok." Chao Baan's gaeng som features turmeric, shrimp paste, lime and chile to produce a yellowish-red soup that brings the heat. Thinly sliced green papaya, tilapia and rice add weight, but as Shayn says, the broth is the real star. "Good Thai food takes time to master," he says, but Thailand's vastness and its disparate regions present a gastronomic opportunity. "Keep an open mind when ordering beyond pad Thai – there's a lot to discover."
Chao Baan, 4087 Chouteau Ave., St. Louis, Missouri, chaobaanstl.com