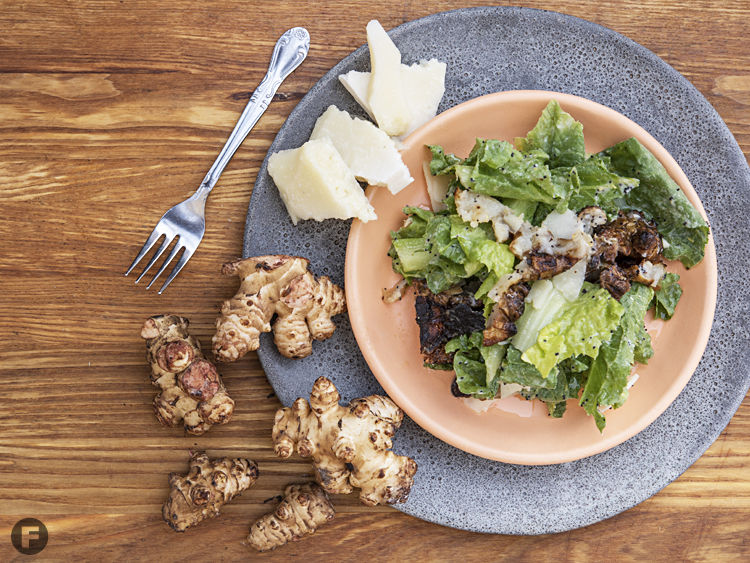 I have long been enamored with sunchokes, also known as Jerusalem artichokes, and winter is their peak season. The starchy tuber shares qualities with hearty vegetables like turnips and potatoes. They're delicious just thinly sliced and served raw, but my favorite preparation is roasting them, as their natural sweetness becomes more prominent with caramelization. Most grocery stores carry sunchokes in season; if you don't see them in the produce section, ask your produce manager to order them.
Escarole and Roasted Sunchoke Salad With Creamy Dressing
Serves | 4 to 6 |
1 lb sunchokes, scrubbed
2 Tbsp olive oil
salt and freshly ground black pepper, to taste
2 cloves garlic, minced
1 Tbsp poppy seeds
1 Tbsp lemon zest
¼ cup crème fraîche
2 Tbsp fresh lemon juice
1 tsp honey
1 small head escarole, rinsed, tough outer green leaves removed and remaining leaves torn into bite-sized pieces
½ cup shaved Pecorino cheese
| Preparation | Preheat oven to 375°F.
In a large mixing bowl, combine sunchokes with olive oil, salt and pepper. Transfer to a baking sheet and roast until soft and caramelized, approximately 45 to 50 minutes. Let rest for 15 minutes. Using the back of a spoon, smash rested sunchokes into bite-sized pieces.
In a medium mixing bowl, combine next 6 ingredients, season with salt and pepper to taste and stir well. In a large serving bowl, add escarole, smashed sunchokes and cheese and toss with dressing. Serve.