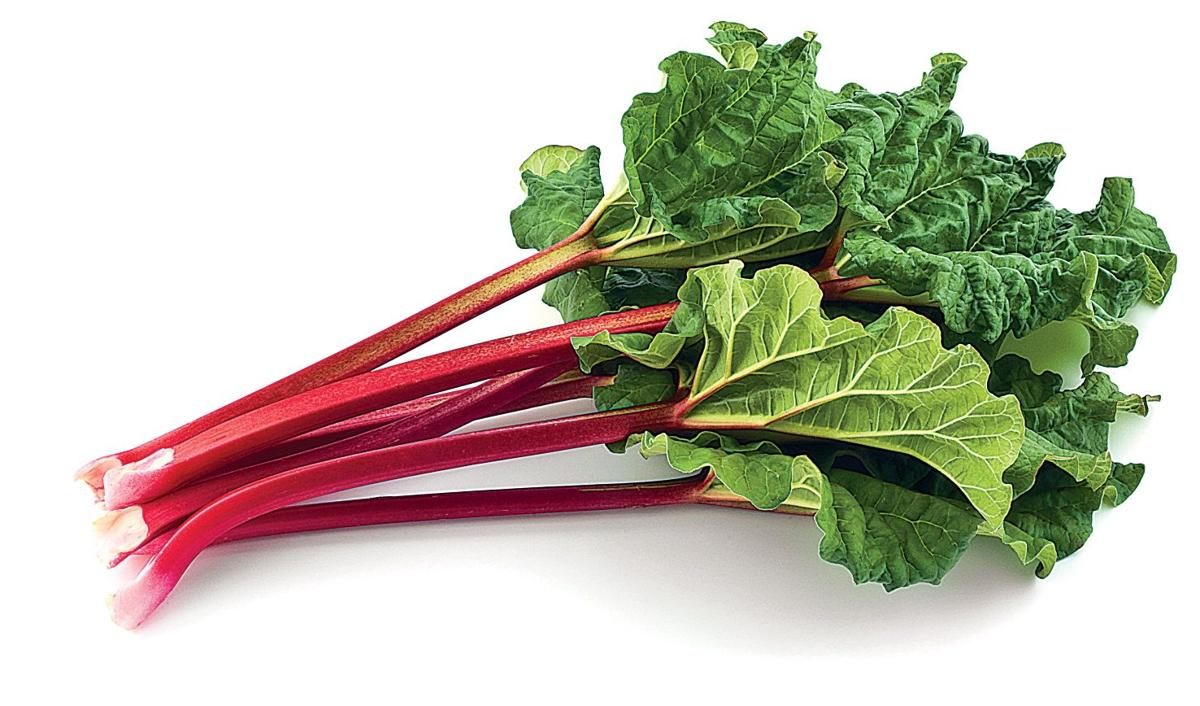 Known as the "pie plant," long, firm and hardy rhubarb stalks are easy to find at farmers' markets in June. The vegetable's tart flavor can be used in both savory and sweet recipes, including classic rhubarb pie.
Strawberry-Rhubarb Pie
"Apparently rhubarb pie is a form of currency in this state," says Rebecca Miller of Peggy Jean's Pies. She's not kidding – in the past, Miller has leveraged the shop's rhubarb pie to broker deals with her hairdresser. Along with best-selling strawberry-rhubarb, Miller and her mother, Jeanne Plumley (who also co-owns the Columbia, Missouri, pie shop), are working through quite a bit of the vegetable. Miller says fresh (and local, sourced from the Columbia Farmers' Market) is always best, though she warns the fresh stuff is a lot juicier and can lead to "soupiness" in the hot-pink latticed pie, which is the original co-founder's grandmother's recipe dating back to the 1800s. "It's super basic," Miller says. "It's flour, sugar, rhubarb and strawberry. And that's the beauty of it; you're not dumping a bunch of extra sugar in there because the natural sweetness of the berry balances out the rhubarb's tartness."
Peggy Jean's Pies, 3601 Buttonwood Drive, Suite E, Columbia, Missouri, 573.447.7437, pjpies.com
Rhubarb Soufflé
Stone Soup Cottage, owned by chef Carl McConnell and his wife, Nancy, is only open to the public three nights a week. Even more special, the restaurant's single-seating, six-course chef's tasting menu highlights just-picked seasonal ingredients from the McConnells' garden. In April, the restaurant featured a rhubarb soufflé with housemade white chocolate gelato, while in the past, the lemony root has made appearances in vinaigrettes, gastriques, tarts and crêpes. "I have wonderful childhood memories [of] going to my best friend's mother's house in late spring, and she would cut us slices of her amazing rhubarb pie," Carl says. "It's easy to work with, and you can make some really delicious things with it, with very little effort."
Stone Soup Cottage, 5809 Highway N, Cottleville, Missouri, 636.244.2233, stonesoupcottage.com
Rhubarb Pie
Growing up on his family's Kansas farm, You Say Tomato executive chef and co-owner Randy Parks remembers spending 105-degree summer days in his grandmother's rhubarb patch, finding the biggest rhubarb leaf and walking around using it as shade as he snacked on stalks. Parks still enjoys eating raw rhubarb, but at his restaurant, he and co-owner and executive chef Mark Wingard usually chop it into ³⁄8-inch pieces and bake it into pies – and diners are grateful. One loyal customer even got weak in the knees after seeing it on the menu. "It's an old-fashioned thing," Parks says. "Most of the younger crowd doesn't have any idea about it, but they love to try things. The baby boomers just know what to expect – they've got it ordered before they think about their other food." The restaurant sources its rhubarb from a former employee's patch when the season hits.
2801 Holmes St., Union Hill, Kansas City, Missouri, 816.756.5097, yousaytomatokc.wordpress.com