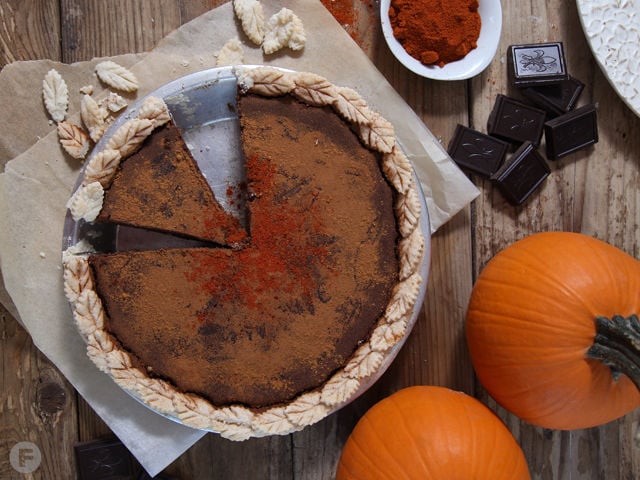 This pie is perfect for chocolate lovers who also love eating pumpkin pie with Thanksgiving dinner; it's the best of both worlds. The amount of cayenne pepper used in this recipe can be adjusted based on your preference.
Chocolate-Pumpkin Pie with Cinnamon and Cayenne Pepper
Yields | 2 pies |
16 oz semisweet chocolate
4 Tbsp unsalted butter
4 large eggs
1½ cups granulated sugar
1 29-oz can pumpkin
2¼ tsp cinnamon
½ tsp ground ginger
¾ tsp cayenne pepper
2 Tbsp cornstarch
1 tsp kosher salt
16 oz evaporated milk
½ cup heavy cream
| Preparation | Preheat oven to 425°F.
Fill a large saucepot with water, and simmer over medium-high heat. Place chocolate and butter in a large bowl or double boiler, and set over simmering water to melt, about 10 minutes, stirring to incorporate. Remove bowl from heat, and let mixture cool to room temperature.
In a large mixing bowl, whisk together eggs and sugar. Add pumpkin, spices, cornstarch and salt. Fold chocolate-butter mixture into batter. Gently stir in evaporated milk and heavy cream.
Pour filling into unbaked pie crusts in pie pans. Bake both pies for 10 minutes, reduce heat to 350°F and continue baking for another 40 minutes or until filling is set.