Watermelon – the go-to fruit in my household from May to September – is extremely versatile. Each one is so big that even after you've gotten your fill and crowned a seed-spitting champion, there's still a lot uneaten. Take those juicy leftovers and turn them into something unexpected.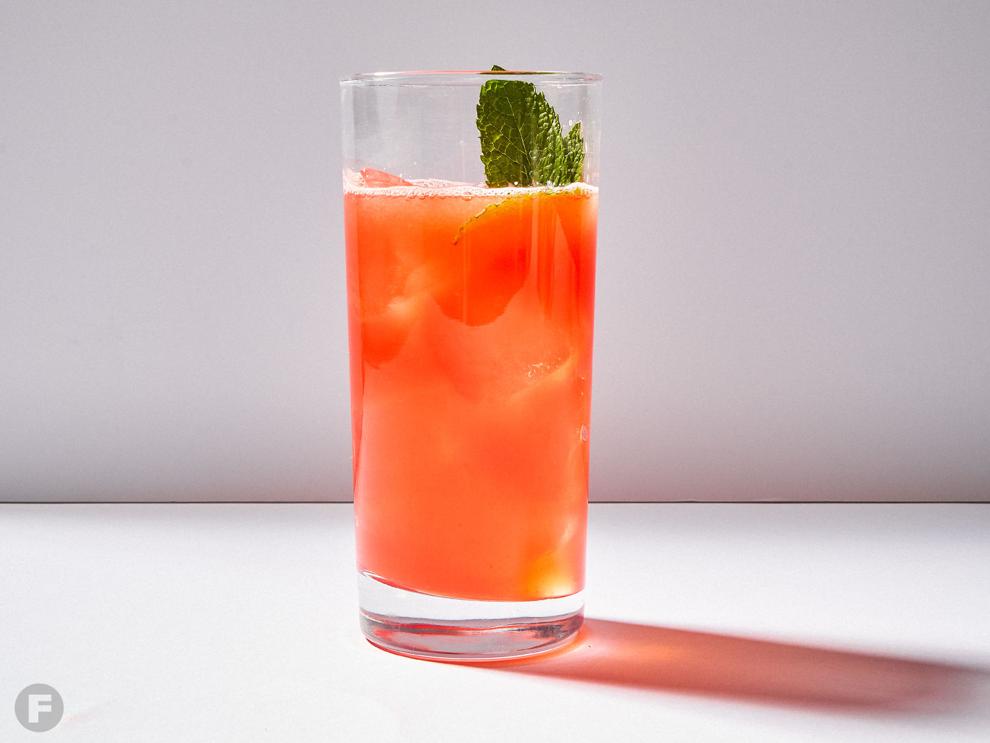 Watermelon Agua Fresca
Say goodbye to lemonade – agua fresca is a lighter, more refreshing drink that will jazz up your repertoire of summer sips. Add a shot of vodka to this watermelon version when the time is right.
Serves | 4 |
6 cups chunked seedless watermelon
28 oz cold water, divided
1 oz honey
½ oz fresh lemon juice
½ oz fresh lime juice
¼ cup packed mint leaves, plus more for garnish
| Preparation | Add watermelon, 16 ounces water and honey to a blender; blend on high until smooth. Strain liquid into a large pitcher. Add remaining water, lemon juice, lime juice and mint leaves; stir to combine. Serve over ice and garnish with mint leaves.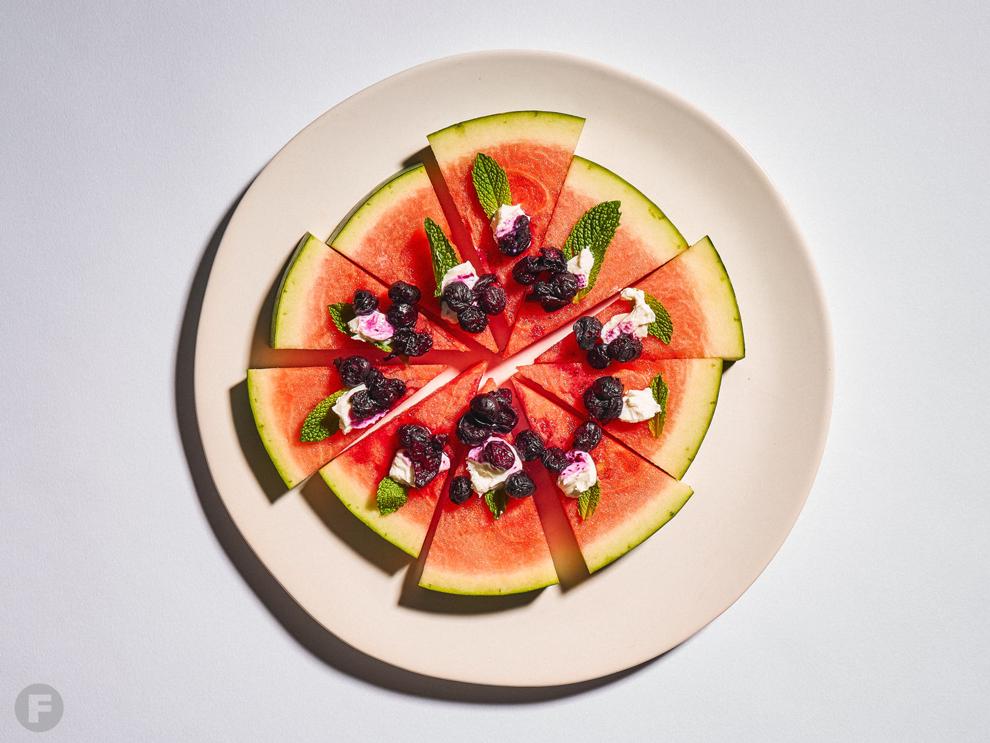 Watermelon "Pizza"
This "pizza" will quench your thirst and satisfy your lust for summer. The tangy goat cheese and sweet blueberry compote add an extra layer of indulgence.
Serves | 2 |
Blueberry Compote
2 Tbsp water
¼ cup granulated sugar
1½ cups blueberries
juice of 1 lemon (approximately 2 Tbsp lemon juice)
Vanilla-Honey Goat Cheese
1 cup goat cheese
1 tsp vanilla extract
1 tsp honey
½ tsp kosher salt
Watermelon "Pizza"
1 slice watermelon, cut from the middle of a whole watermelon, 2 to 3 inches thick
8 mint leaves (approximately)
vanilla-honey goat cheese (recipe follows)
blueberry compote (recipe follows)
| Preparation – Blueberry Compote | In a small saucepan over medium heat, add water and sugar; bring to a boil. Add blueberries and lemon juice; continue to boil, stirring every minute, until blueberries have burst and liquid begins to thicken, approximately 8 minutes. Remove from heat and allow to cool to room temperature. (Mixture will continue to thicken.) Once cool, transfer to an airtight container and refrigerate until ready to use.
| Preparation – Vanilla-Honey Goat Cheese | In a small bowl, add goat cheese and break it up with a fork. Add vanilla and honey; using fork, whip together until well mixed. Sprinkle in salt and whip again. Set in refrigerator until ready to use.
| Preparation – Watermelon "Pizza" | Cut watermelon into triangles, like a pizza. Add one large mint leaf to each triangle. Top each mint leaf with 1 teaspoon goat cheese and one teaspoon blueberry compote. Serve chilled.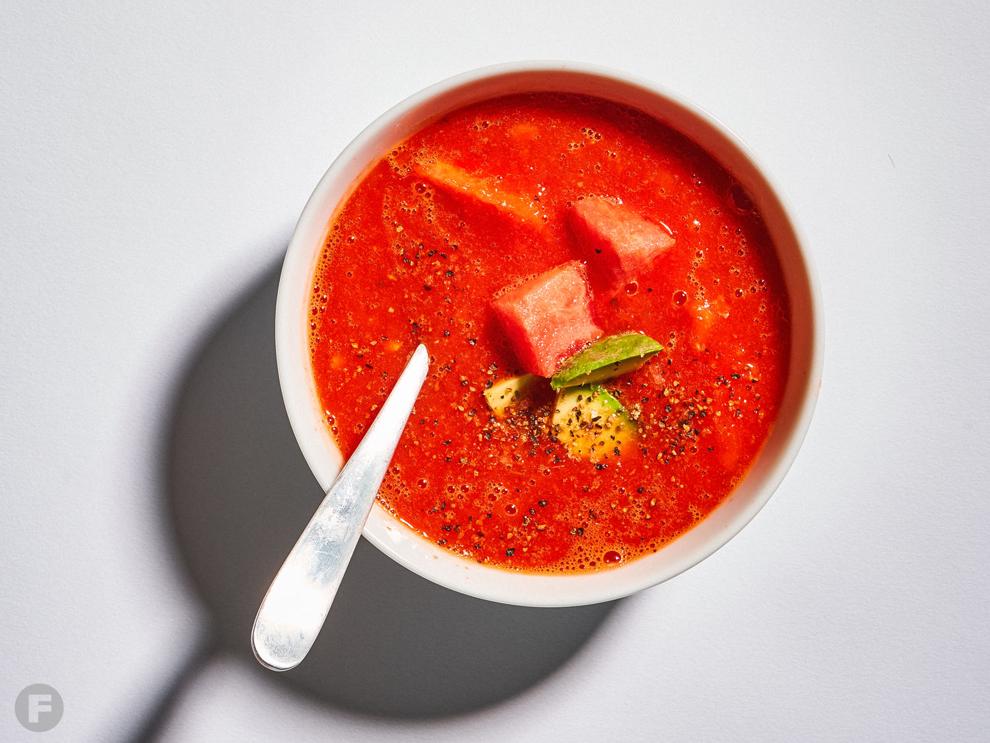 Watermelon Gazpacho
This recipe gives gazpacho – a cold Spanish soup typically made of raw, blended vegetables to create a savory flavor profile – a sweet spin with the inclusion of watermelon.
Serves | 6 to 8 |
6 cups chunked seedless watermelon
1 cucumber, peeled and seeded
4 Roma tomatoes, cored
1 red bell pepper, seeds removed and fine brunoise cut
1 clove garlic, pressed
1 Tbsp minced shallot
¼ cup fresh basil
4 Tbsp red wine vinegar
4 Tbsp olive oil
1 tsp ground cumin
1 tsp smoked paprika
kosher salt and freshly ground black pepper, to taste
| Preparation | In a blender, add watermelon, cucumber, tomatoes, red pepper, garlic, shallot, basil, red wine vinegar and olive oil; blend until smooth. Pour mixture into a large bowl and stir in remaining ingredients. Transfer to refrigerator and chill, at least 4 hours or until cold. Garnish with cubed watermelon, chopped cucumber, diced avocado and fresh flat-leaf parsley, if desired.