Summer wouldn't be the same without the heady aroma of plump, ripe tomatoes wafting through a backyard cookout or picnic in the park. Starting in the spring, Midwesterners can find overflowing bins of tomatoes in myriad colors, shapes and sizes, creating a utopia of sorts for fans of the fruit. While all varieties are delicious, some are better suited to certain preparations. Want to grow your own? The same rule applies: Research what types of tomatoes will work best for you – in recipes and in your garden – and in a few months, you'll be able to pluck them off the vine and enjoy them with any meal.
To-May-To, To-Mah-To
Tomatoes can be grouped into three main categories in terms of use: salad, slice, cook. Salad tomatoes – juicy and sweet – are the epitome of summer: Just imagine popping one in your mouth and delighting in the bright flavor as it bursts between your teeth. Look for cultivars such as Super Sweet 100, Sweet Million and Sungold; their small size makes chopping a breeze, and this time of year, no salad should be without them. Celebrity, Better Boy, Jet Star and Big Beef tomatoes are just as sweet but larger and meatier – perfect for slicing and sprucing up a burger or sandwich. And meaty, mild tomato cultivars such as Big Mama and Roma VF thrive when you apply a little heat.
Another way to categorize tomatoes – I'm talking to you, gardeners – is by determinate or indeterminate varieties. Determinate tomatoes are smaller, growing to a compact height, and all the tomatoes from the plant ripen at approximately the same time. They are ideal for small gardens or container planting. Indeterminate tomatoes are the big boys; they grow tall, bear fruit all year long and require a lot of attention.

DETERMINATE
Celebrity tomatoes, robust and medium in size, are good for almost anything, from salads and sandwiches to salsa and homemade sauce.
Oblong Roma VF tomatoes don't become overly juicy in the pan, creating quintessential tomato sauce. They're great for canning, and the fruit also freezes well for later cooking.
Small but full of flavor, Patio Princess tomatoes are super sweet and great for salads.
INDETERMINATE
The Super Sweet 100 tomato cultivar produces long, fruit-bearing stems that hold 100 or more bite-size tomatoes, which easily jazz up any ordinary salad.
Delicious flavor with outstanding yield, the Sweet Million hybrid produces large clusters of smooth, bright red fruit that come in season early and continues to produce all summer long.
In existence for more than 50 years, Better Boy requires support for the growing plant, but with the right care, it can produce an astounding yield. In fact, it holds a Guinness World Record for amount of fruit produced from a single plant.
Globe-shaped fruit in an eye-catching red, Jet Star tomatoes are firm and meaty with low acid levels. Although classified as indeterminate, the vines are fairly compact.
Big Beef produces large fruit with classic tomato flavor. Its vines are vigorous and resistant to many of the problems that can discourage gardeners.
The best variety for making Italian tomato paste and sauce, soup and salsa, Big Mama tomatoes are red and plum-shaped. They're easy to peel and core and have very few seeds.
Yellow Pear gets its name from its color and shape – although you can also find them in orange and red. Chop them and throw them in salad.
With distinguishable dark green and yellow stripes, the Green Zebra cultivar is tangier than other tomatoes.
This exquisite summer snack highlights fresh tomatoes.
Cherokee Purple tomatoes – squat with a purplish-brown hue – boast a sweet, savory and smoky flavor as well as a dense and juicy texture.
In local markets, Brandywine is the most common heirloom cultivar. Large and meaty with the tomato flavor we crave, it is best sliced for sandwiches and burgers or a dramatic caprese salad.
Amish Paste tomatoes have an oblong shape and firm texture. Their succulent flavor shines when they're slow-roasted for sauce and paste.
BOTH VARIETIES EXIST
Small, extra-sweet and sunset orange, Sungold tomatoes stay firm longer than other cherry varieties and can be used in salads and tartines.
Big with bold red color and concentrated sweetness, Early Girl is true to its name, blooming early and prolifically. The determinate variety is great for sauces and canning, while the indeterminate variety can be sliced, cooked or used in salads.
Growing Tomatoes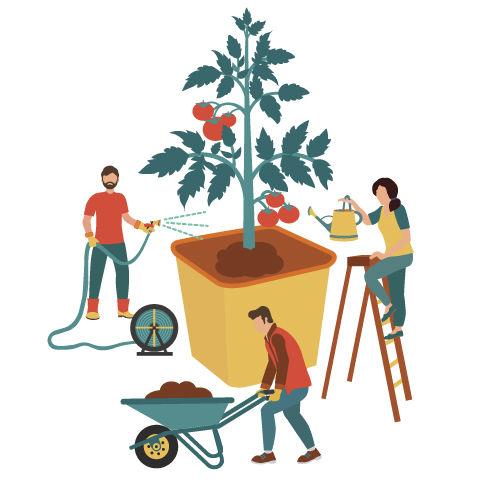 Missouri is the place to grow tomatoes, but before you plant your own, consider this: Committing to a tomato garden is like committing to a new puppy – you have to be realistic about the best kind for your environment, energy level and daily routine. Some tomatoes need space to grow and a lot of love, while others flourish with minimal care and a little room to move. Take a look around their potential home and follow these tips to create a win-win situation for you and your tomatoes.
Get in the Zone. The best time to plant tomatoes in Missouri is late April to mid-May in southern Missouri and early to late May in central and northern Missouri. Seed catalogs, gardening books and websites can provide more information, but we're also fortunate to have incredible local sources such as the University of Missouri Extension and Missouri Botanical Garden to provide specific details and tailored help for our region.
Prep Your Dirt. Tomatoes won't grow in just any dirt. Whether you plant them in raised beds or containers, you'll need an abundance of fresh, nutrient-rich topsoil – at least 18 inches deep for indeterminate varieties and a little less for determinate varieties.
Let the Sun Shine. Tomatoes crave light, so be sure to plant them in an area that is bathed in sunshine for a large portion of the day. If you're not sure how your yard or patio fares, stick close to home one day and observe how the light travels across the space.
Choose Your Friends Wisely. Certain plants work in conjunction with tomato plants to ward off insects and diseases and help your garden prosper.
Make It Rain…Or Not. It's never a good idea to oversaturate your tomatoes. Most like dry soil, but it's best to research the variety you've chosen to grow and determine its specific needs.
Stand Guard. If you have any experience growing tomatoes, you know it's not that easy. One minute everything can look perfectly fine and the next – disaster strikes. Perils to tomatoes can take many forms: Blight, insects and hungry critters threaten crops large and small. While companion planting can ward off some problems, it's also necessary to keep a watchful eye over your tomatoes.
Raise the Stakes. Determinate (or bush) varieties generally have thick stems that are strong enough to hold their fruit without staking, but indeterminate varieties need a little support. Stakes or cages will keep them off the ground and unburdened by heavy fruit.
Prune, Prune, Prune. Tomatoes – especially indeterminate varieties – love attention. Make sure you have ample time to prune them and check for any issues as they grow. Careful grooming will keep their leaves healthy and dry and keep them producing fruit.
Fertilize. Plants are like humans: They need adequate nutrition to grow. Use a natural, nontoxic fertilizer that works for your varieties and add it to the soil regularly – tomatoes will suck it all up over time and hunger for more.
DIY Slow-Roasted Tomatoes
Slow-roasting, or oven-drying, tomatoes lengthens the life of your fresh picks, concentrates their flavor and increases their flexibility in dishes, from tartines to tortellini. It takes barely any effort for outstanding results – just follow these simple instructions.
Note: Smaller varieties of tomatoes work best for slow-roasting, as larger tomatoes don't pack the sugar content needed to achieve that quintessential flavor, and they contain a bit too much liquid for the task.
1. Preheat oven, 200˚F to 225˚F.
2. Line lipped baking sheets with parchment paper.
3. Halve tomatoes from tip to tail.
4. In a bowl, add tomatoes and any extra flavors such as garlic cloves and/or fresh herbs.
5. Drizzle everything with enough olive oil to coat but not drench; toss to combine.
6. Lay ingredients on baking sheets in a single layer. (Tomatoes should be placed cut side up.)
7. Season with sea or kosher salt – only if you're into it, and in moderation.
8. Transfer baking sheets to oven and walk away. Depending on the tomatoes – the varieties, sizes and quantity – as well as personal flavor preferences, they can slow-roast for 2 to 6 hours. Once tomatoes have shrunk in size and darkened in color, they're technically done, but you can leave them in longer to achieve different flavors and textures. Check in on them every hour just to make sure nothing is burning or too dry.
9. When they're finished roasting, remove tomatoes from oven and allow to cool.
10. To store in the refrigerator, stuff them in canning jars and cover with olive oil. To store in the freezer, lay them in a single layer on a clean baking pan and freeze individually. Once frozen, transfer tomatoes to a freezer-proof container and put them back in the freezer.