On a recent Saturday afternoon, with the sun beating down and the humidity pushing the heat index up, I found a shady spot beneath a large tree at the Les Bourgeois Vineyards A-Frame. As a college student in the late 1990s at the University of Missouri-Columbia I had spent many a Saturday sipping wine and enjoying a picnic lunch in this very spot, often after a morning of biking the Katy Trail from Rocheport.
In some ways, nothing has changed over the past 30 years. And, of course, in other very significant ways everything has changed, especially in the past five months.
The Les Bourgeois A-Frame still looks the same, with mossy shingles on its sides and a simple shop inside that sells Les Bourgeois' famous Missouri wines, local brews and snacks. A series of decks and covered pavilions offer views of the Missouri River from the bluff-top location, providing a scene that's both calming and somehow cooling when coupled with the river's breezes.
Yet at this visit, many of the wooden picnic tables that usually punctuate the outdoor space were stacked neatly to one side, ensuring more distance between diners. Outside food and beverages are prohibited. Only one household group at a time may enter the A-Frame to purchase refreshments, and wine by the glass is not available.
"A packed bluff-top overlooking the Missouri River has been our welcome reality for over 30 years," says Christa Holtzclaw, director of marketing and retail. "There have been changes, and it may not look exactly like you remember, but we have found a way to provide a great winery, shopping and dining experience despite the current challenges. We have all of our guidelines and rules listed on our website, and we ask that our guests be courteous and respectful of others and understanding of the situation."
Despite the changes in appearance and procedure, the wines at Les Bourgeois remain the star attraction. Classics like sweet Riverboat Red, Catawba blush Pink Fox, semi-dry red Fleur Du Vin and dry white Solay join fun newer blends like the semi-sweet MIZZOU Red and MIZZOU White and limited editions, such as Equinox White, which features "a taste of lemon custard mingled with melon rind on the finish." The Collector's Series includes Noiret, Malbec, Chambourcin and Chambourcin Rosé.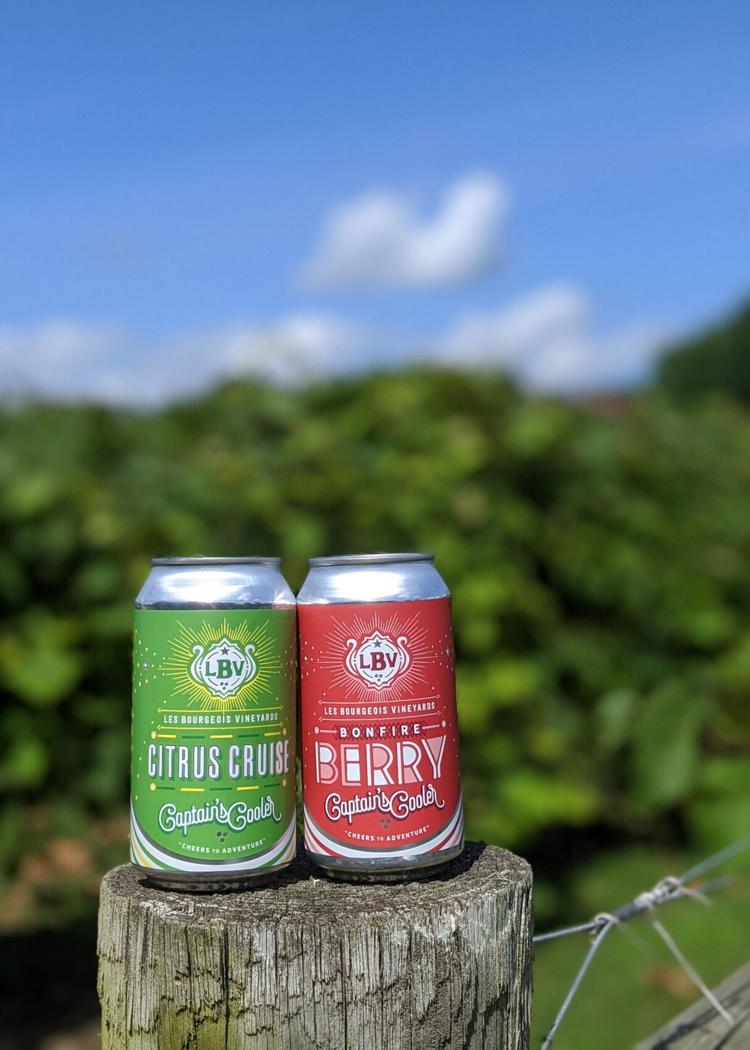 The winemakers at Les Bourgeois are branching out to other products, too. "We were set to release two very exciting new products in April and despite the restrictions and challenges, launch them we did," Holtzclaw says. "LBV canned Captain's Coolers are now available in two flavors: Bonfire Berry and Citrus Cruise. These new options are refreshing, lightly carbonated wine-based coolers with natural flavor."
If the rustic A-Frame isn't for you, a visit to the refined Bistro at Les Bourgeois Vineyard provides similar bluff-top views while enjoying full-service dining. Reservations are recommended since capacity is limited to allow for social distancing between parties, and a patio is open for those who prefer alfresco meals. The menu changes based on availability of ingredients and seasonal components, but the fare typically includes a variety of soups, salads, sandwiches and entrees, such as black Angus rib eye served with crimini mushroom sauce and grilled Norwegian salmon with romesco sauce.
The tasting room and gift shop, located just off Highway 70 at Exit 115, is a quick stop for those who want to stock up on Les Bourgeois wines and merchandise. Because tastings are not currently available, patrons can order a wine flight to sip a selection and choose favorites. Curbside pickup is available for advance orders made by phone or online.
"We put a lot of time, thought and effort into our reopening at each of our locations," Holtzclaw says. "Each location required different adjustments to make them the safest possible environment for our guests." She adds that online sales have increased. "We ship to 33 states, and we have some gift items our customers have been liking a lot, such as our Build-Your-Own Gift Boxes and our Blufftop Wine Box subscriptions."
Whether popping in for a bottle to go or lingering for the views and ambiance, Les Bourgeois remains a mid-Missouri staple for wine-lovers from near and far.
Les Bourgeois Vineyards, 14020 W. Hwy. BB, Rocheport, Missouri, 800.690.1830, missouriwine.com