Despite the winter weather, Blue Bell Farm is still growing.
The picturesque event destination just outside Fayette, Missouri, will host a series of supper clubs each Saturday night in February. Departing from its popular farm dinners, each intimate evening invites 32 guests into an interactive and collaborative experience featuring female Missouri chefs, local producers and talented musicians.
Spurred by the end of Prohibition, the original supper clubs of the 1930s and 40s featured classic cocktails, like an old fashioned, and a delicious dinner followed by live music and dancing. Substituting the word "supper" for "social" best sets the scene.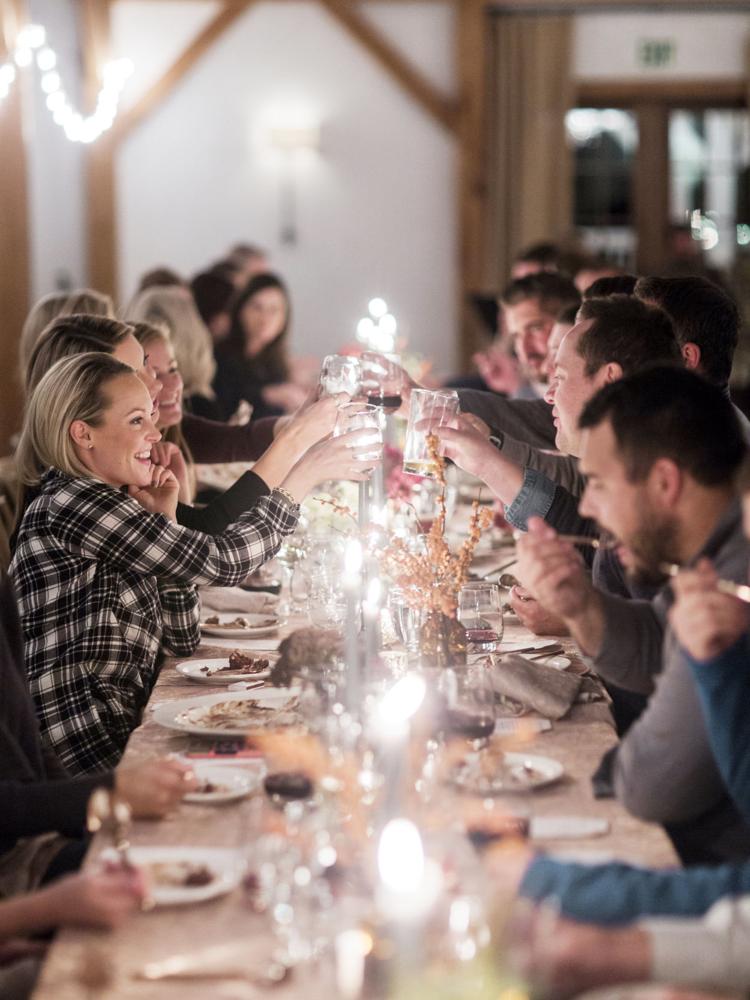 Blue Bell Farm owner Jamie Bryant loved the idea of a pop-up restaurant, especially one that served dishes inspired by the area's culture and history. Mosquito Supper Club in New Orleans, along with the longstanding supper clubs of her native Wisconsin, inspired her to imagine the concept in mid-Missouri.
A typical evening experience at a Blue Bell Farm Supper Club will first invite the 32 guests into the bar, warmed by a wood-burning fireplace, for a welcome cocktail. After a short cocktail hour, guests will be ushered and seated in the barn's main hall for a four-course meal, starting with appetizers and ending with dessert. The evening will end with a live performance from mid-Missouri talent.
In addition to uniting regional chefs, producers and musicians to showcase the multitude of talent in the area, this intimate experience invites guests to broaden their idea of mid-Missouri food.
Bryant has selected a chefs of all backgrounds for the collaboration. The supper club menus will be created by Amanda Elliot of Rustic Supper (also a Feast columnist), Julia Norregaard of Butter and Figs, Ali Ratcliffe of Flourish, Amy Barrett, formerly of Sycamore, Gaby Weir of Chef Gaby, Jessica Bowman of Cafe Berlin and Shelly La Fata of Sidebar.
Instead of providing a paper menu, each evening the chefs will tell guests about the dishes to allow for a more interactive and conversational experience. Bryant hopes an 1800s Missouri cookbook she found in the property's farmhouse can provide inspiration for regional dishes.
"I'm super excited about the collaborative menus and all of the chefs' different styles blending together," she says.
The ingredients for the dishes will be sourced from area producers. Blue Bell Farm provides the grass-fed beef and pork. The Sage Garden, Happy Hollow Farm, With The Wild Farm, Share Life Farm, The Veggie Patch, Country Neighbors Farm, Hickory Hill Pastures and LP Farms will provide the remaining seasonal bounty.
The post-dinner musical performances will be provided by Noah Earle and Stephen Varner, Ironweed Bluegrass Band, The Third Switch and Elizabeth Palmieri and Tim Pilcher.
"I really want this to be a warm, cozy experience that's very relaxed and brings community together," Bryant says.
Tickets to Blue Bell Farm's supper club series are $100 per person, available here.
Blue Bell Farm, 3030 Highway 240, Fayette, Missouri, 314.220.7120, bluebellfarm.org