Sometimes confidence is the only ingredient you need to get cooking. Just ask Shelly La Fata, festival manager at Ozark Mountain Biscuit Co. and owner of Pasta La Fata.
"The first time I was hired for kitchen work was at the Cherry Hill Cafe," La Fata says. "I applied with no work experience, but loads of confidence, and that worked."
From there, La Fata took every opportunity she could to observe chefs, learn about the processes to make different dishes and practice working under pressure – including a period where she helped out at the Root Cellar in exchange for store credit to stock her shelves with beautifully fresh ingredients to use for her own cooking experiments. Her attentiveness and gusto paid off, and now she's worked at several of Columbia's favorite restaurants, including Broadway Brewery and Main Squeeze.
We checked in with La Fata to see what she's got in mind for the future, but we also looked back to her past, which is filled with Sicilian cookies and Italian bread. Our mouths are watering, too.
What is your favorite ingredient to cook with and why? I scour markets whenever I travel. My favorite ingredients vary seasonally and regionally. Can professional chefs ever narrow it down to one favorite ingredient? I will say, I go crazy for figs and stone fruits. I'm always anticipating stone fruit season, and when it ends I mourn. I like to eat them with gorgonzola and balsamico di modena. Mama mia!
Do you have a secret weapon spice/ingredient/technique? I don't think I have a secret weapon, just simple weapons. And time. Great food takes time. I am a naturally distracted person, and I'm a total adrenaline junkie. Patience and focus are ingredients I've had to cultivate, and I believe they're my most important tools.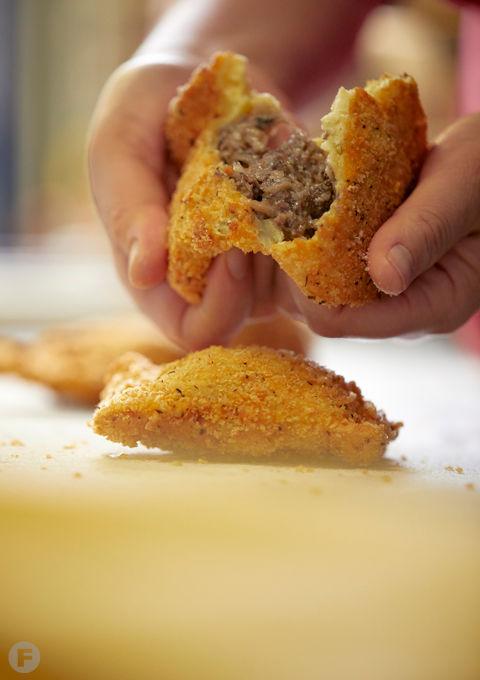 What's the most intriguing dish you've made recently, and why? Recently, I started making my Sicilian grandmother's, Josephine La Fata's, cookie recipes. She wrote cookie recipes throughout her life; there are so many shapes and varieties, and I've started making my favorites and selling them at pop ups and the Columbia Farmer's Market. People love them. My family loves them. They take a lot of time and look spectacular. It's a beautiful thing.
What inspires your cooking? I find inspiration in so many places. Travel. Farmers' markets. Listening to my parents talk about their childhood. Thinking about my own food memories. Of course, I'm inspired by other chefs and cooks. My customers inspire me, too. I feel so lucky because I get to speak with each of them. As a small-business owner, it's a gift. Customers tell me what they love, and I can see the sincerity on their faces. It means the world to me, and they inspire me to keep creating, improving and doing this work.
How do you approach research and development, and what inspires that process? I'm always thinking and learning about food. Some days, when I feel uninspired or in a rut, I will spend some time alone and work on a project outside of the kitchen. My mind always comes back to the food – forwards and backwards, I'll consider every aspect and angle to try to make something better. When I think I have it figured out, I rush back to the kitchen. For me, recipe development is always ongoing. For example, pasta dough. I've formed an intimate relationship with it. It's simple but also complex because there are limitless variations, which is overwhelming for me at times. I would like to experience and master them all. I am absolutely inspired and overwhelmed by the limitless possibilities. Experience, dedication and practice is the only way I can come close to it.
What do you like to cook at home or on your day off? I really like to cook for my friends. I save cooking liquids and make broths, specifically, to make risotto. I also like to snack and graze on fruits, roasted veggies, nuts, olives, fruit, cheese, pickles and chocolate. All the good stuff.
What's your favorite comfort food? Stuffed pasta.
His food truck has become a perennial Columbia favorite.
What is your first memory with food that stands out to you? I remember watching my grandmother's fingers press anchovies into heavily oiled Italian bread. She tore the filets apart, pressed them into the oily bread and then cracked pepper over the top. Then she wrapped the bread in foil and baked it. It must've been almost 30 years ago, but I remember this very clearly. It was my favorite snack to eat on Sundays at her house.
What's your perfect day of eating in Columbia? I'd start at Main Squeeze with a fresh-squeezed Ring of Fire. Then I'd go to Uprise Bakery for soup and a potato knish. Then Booches for two burgers with everything and extra cheese. The eggplant at Szechuan House is fire. Hopefully there'd be a Beet Box pop up that day, too.
How has the local food scene in Columbia evolved over the past year? Gosh, well, it seems like people are really excited about all of the good food in Columbia. Pop ups have really increased in popularity. Especially over the past six months. Each one is so unique. The food is thoughtful, and the experience feels special because you don't know when you'll get to eat it again. It's fun to watch local chefs hustle to feed the community. It shows how passionate they are. Also, the Columbia Farmer's Market Pavilion & Agriculture Park is about to evolve the local food scene in a major way. The new construction and plans for development will change people's lives. More people will have access to better, fresher food. I think it will be a major destination in this town, and more money will stay here in Columbia. It's very exciting.
Who are Columbia chefs you admire at the moment? Chris Foley. He recently started a bread business called Fiddle & Stone, and he sells out every Saturday at the Columbia Farmer's Market. We both work in the Café Berlin building at night; I make pasta, and Chris makes bread. He is striving for perfection, and it shows. I'm incredibly impressed by him. Amanda Elliott [of Peachtree Catering, and also a Feast columnist] is one of the coolest people in town, and I'm always looking forward to what's coming out of her kitchen next. The work that she and Benjamin Hamrah are doing with Beet box pop ups and Sunday Suppers is very exciting and inspiring. They are the coolest. I also really admire Josh Wexler at Drinkraft in the North Village Arts District. I love his creative spirit and the support he shows to local artists, chefs, musicians and yogis. He is the master collaborator. And the beverages there are phenomenal – we're lucky to have him in this town. Leigh Lockhart at Main Squeeze, who I think was born to be a business owner. She can tell you how much each individual napkin or straw costs. She's tough; she has a clear vision and love sewn into every single inch of that restaurant. Also, everything that comes out of Barred Owl's butcher shop is gold, thanks to Josh Smith and his crew there. You can't go wrong when making a purchase from that beautiful glass case. This town needs these people. We're a better community because of them.
What concepts or styles of cooking do you hope to see added or expanded in Columbia? I'm not sure… surprise me! I can't wait to taste what's next.
If you could tell home cooks one thing, what would it be? You can prepare any dish that you want; it just takes patience and confidence.
What are your future plans? I haven't figured that out yet. At this time, owning a restaurant is not high on my priority list, but it will be in about 10 years or so. I have a lot of travelling to do still, and I would like to live abroad for a while. When I'm ready to open a restaurant, it will be in Columbia. Until then, I'm easy to find, and I'm always cookin'.
Pasta La Fata, facebook.com/sidebarcomo