A familiar name in local artisan coffee recently got a new home for its operations. Stringbean Coffee Co.'s production facility is now based out of Brentwood in a small industrial area.
As reported by Feast in July, the homegrown roaster got its start in a garage in 2011, later relocating to a building in Fenton. The new home for the company more than triples the size of Stringbean's previous production space at 2,200 square feet.
"We wanted to be able to do coffee events as well as other fun things. The location is so central," says Peter Cohen, who co-owns the concept with business partner David Pocost.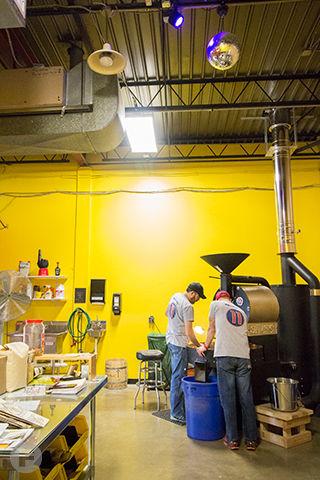 The list of entertainment opportunities thanks to the expansion includes everything from cycling ride kick offs and band jams to yoga classes and roasting demonstrations. 
A new tasting room features a '50s theme with vintage red-and-white diner furniture, a refurbished gas pump and an assortment of rock-and-roll paraphernalia. Local woodworking artist Alan Lorence built a mosaic and table for the space.
"Our passion is coffee and music," Cohen says. "We support local music and promote local music. We play music, listen to music and have our own line of guitars."
The extra space allows the duo to focus on that aspect of their namesake brand: custom guitars. A side room in the facility features a small selection of guitars and music gear for sale, with custom-made equipment to try and buy on its way in the near future.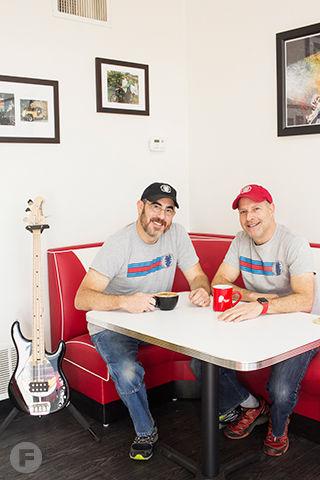 For now, Cohen and Pocost are simply focusing on getting through the busy holiday season at their new space in style – with a 25-pound San Franciscan roaster under a vintage disco ball straight from the set of Soul Train.
The duo roasts fair-trade, organic beans based on demand, supplying eight different styles to nearly 100 retail locations throughout the St. Louis area. Stringbean's most popular product is a Redeye Roast – a bold yet smooth espresso blend. 
Another highlight is the Peru Cafe Feminino, a smooth medium-roast coffee with a molasses-like sweetness. Sales from each bag benefit the Cafe Feminino Foundation efforts. Micro roasts and special reserves are also available throughout the year.
"We roast coffee in small batches over a gas flame to music under a disco ball. It's seriously good vibes, and a lot of good energy goes into it," Cohen says. "This is an opportunity for David and I, who come from corporate environments, to do something we love and be part of St. Louis' vibrant food community. We roast coffee and have fun doing it."
Look for Stringbean's goods at Schnucks, Kakao Chocolate, Dierbergs, Straub's, Cafe Ventana, Kitchen House Coffee and more.
Stringbean Coffee Co., 858 Hanley Industrial Ct., Brentwood, Missouri, 314.472.3267, stringbeancoffee.com