Louie is turning one year old this week, and a familiar face will be in the kitchen to celebrate.
Owner Matt McGuire has announced that chef Nick Martinkovic will join executive chef Sean Turner and his team for one night only on Wed., Dec. 5. 
McGuire notes that Martinkovic is no stranger to Italian food, having worked as sous chef at the acclaimed Roberta's in Brooklyn. Many local diners will recognize his name, too: After Roberta's, he moved to St. Louis in 2013 to help open Central Table Food Hall and then went on to work as executive chef at Blood & Sand and Death in the Afternoon. After a few years working at Emko in West Palm Beach, Florida, he relocated with his family to Weston, Missouri, where he opened his first restaurant, Noah's Cupboard, earlier this year.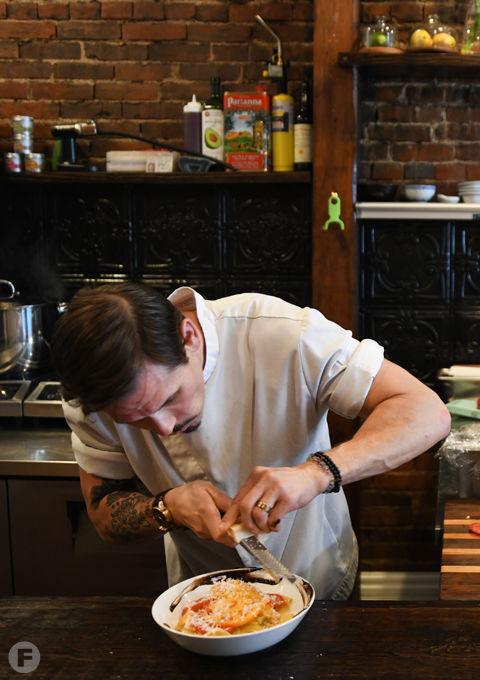 McGuire refers to Martinkovic as an incredibly talented chef as well as a dear friend, and that sentiment is heartily echoed by the Kansas City-area chef.
"Matt McGuire and I have been like brothers for at least five years, since we met in the industry in St. Louis," Martinkovic says. "He, in my opinion, is one of the most thoughtful people I've ever had the pleasure of working alongside. He's so much more than a restaurateur: He's a coach. That's what makes him great. He coaches his team as individuals building a rock-solid foundation which then allows the machine to perform flawlessly. Sean Turner is incredibly talented and has done the same. In years past I have worked with many on Matt's team, so it will be a fun reunion!" 
To celebrate the occasion, a few specials will be offered just for Wednesday night. In addition to Louie's regular menu, expect to see dishes like potato pierogi with a New England clam chowder-inspired sauce, poached clams, lemon, and guanciale; beef braciole with spicy tomato and creamy polenta and a bacalao pizza with potato, aged crème fraîche, picked red onion, watercress and lemon. Martinkovic says they might also offer their take on a classic upstate New York favorite: Spiedie pizza.
Louie, 706 DeMun Ave., Clayton, Missouri, 314.300.8188, louiedemun.com