Jim Hamilton, the owner of West Bottoms Kitchen, has officially closed the doors to his two-year old family-run restaurant located in the historic Stockyards District of Kansas City's West Bottoms.
The retired physician-turned-chef from Joplin opened his Southern-inspired, lunch-only restaurant in the summer of 2016 with the help of his daughter, Hannah Murray.
The family decided to quietly close their doors on July 6, following the birth of a grandchild and some important life and work changes. 
"We had a series of life events that took my entire family out of the daily workings of the restaurant, so we decided to close," explains Hamilton. "My son-in-law, Brett, is going back to school and is leaving his post as the general manager at the Majestic Steakhouse, which means my daughter must go back into the workforce."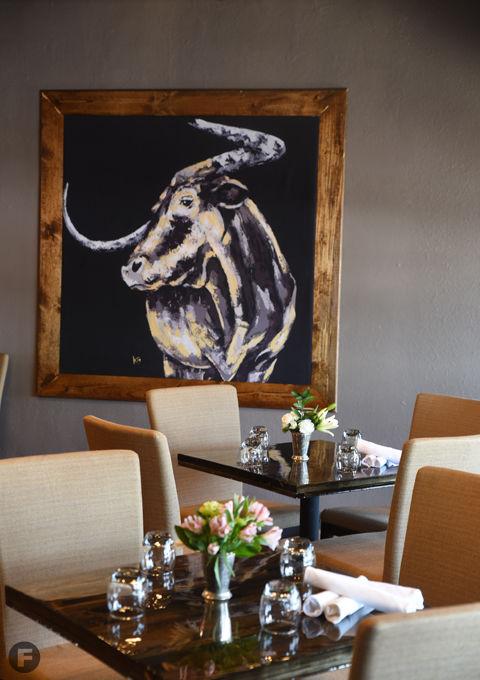 This means that Hamilton is looking for a buyer for his 1,200-square-foot restaurant, which will soon be located directly across the street from a brand-new apartment complex. The Yards is a 236-unit complex that is currently under construction on the 2.5-acre parking lot located next to the Livestock Exchange Building.
"I am trying to find someone to sell it to who will open something new here, and take advantage of all that is going on in the historic West Bottoms," Hamilton says.
The handsome dining room was completely remodeled and decorated by Hamilton's daughter, and seats 35, plus room for 12 more outside. Everything will stay with the building, including the kitchen equipment and the large painting of a bull on the wall (an homage to the West Bottoms stockyards).
The restaurant enjoys the company of good food and drink neighbors like Amigoni Urban Winery, The Campground, Golden Ox, Voltaire, Lucky Boys and Stockyards Brewing Co., which are all located within two blocks.
Hamilton enjoyed his time in the West Bottoms, but he is looking forward to what lies ahead for him. "I am looking forward to the change, as I will get to be stay-at-home grandpa," he says.
Those interested in hearing more about his restaurant should DM him on Facebook, or email him at jham1776@gmail.com.
West Bottoms Kitchen, 1623 Genessee St., West Bottoms, Kansas City, Missouri