New Axiom Brewing Co. brewer-owners Mac Lamken, Joe Migletz, Devin Glaser and Sean Householder want their new Lee's Summit, Missouri, brewery to be able to offer something for everyone. In this new venture, the four brewers are trying their hand at just about everything, from IPAs and pale ales, stouts, lagers and browns to kolsches, saisons and even sours.
New Axiom opened less than a month ago just off of 291 Highway in Lee's Summit, a city that has seen its diversity of food and drink offerings explode beyond chains in the past few years to include a number of locally owned restaurants, bars and craft breweries. New Axiom is located in a tucked-away strip mall, in a space that is now unrecognizable as having once been home to an office complex.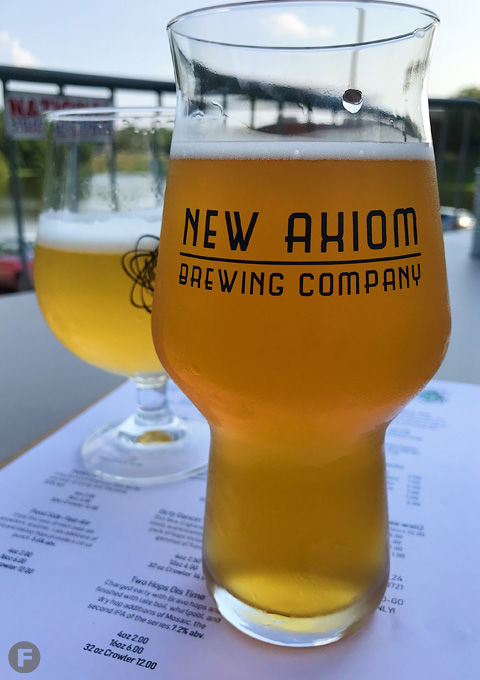 Upon arrival, customers walk up to a concrete outdoor patio overlooking a pond. From the patio customers enter the New Axiom space, which features a long, polished concrete bar to the right (with brew tanks behind the bar), 20-foot ceilings, polished concrete floors and natural wood tables. Behind the bar, a rotating tap list displays which of New Axiom's beers are available that day on its 24 taps. The brewery designates one section of the bar for ordering, but typically has several bartenders working and the line, which can seem long, moves very quickly. Customers can order tasting pours for $2 to $3, depending on the style, large pours for a very reasonable $6, or Crowlers for $12 to $15. Flight boards are available in quantities of four.
In its current lineup of beers, which will change somewhat with the seasons, New Axiom offers two pale ales: the Pond Loungin' is a more hop-forward choice, while the Pond Side offers a little bit of citrus. Two IPAs are also available, including the Dirty Dancin' Patrick Hazy, a New England-style IPA made with six varieties of hops. The Two Hops, features, yes, two varieties of hops.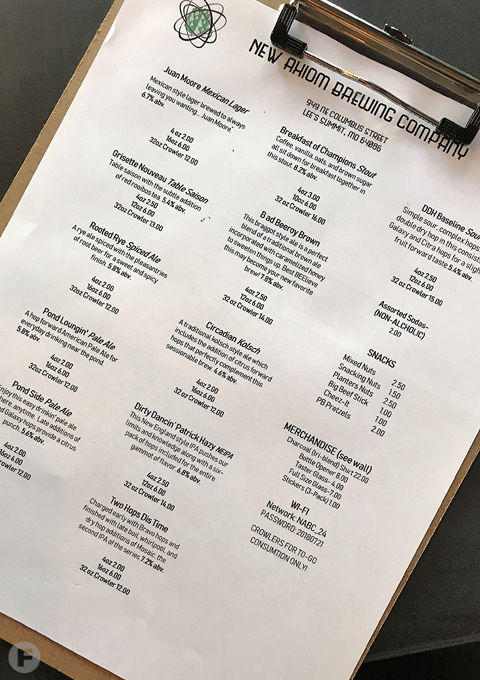 New Axiom also offers an easy-drinking Mexican-style lager, the Juan Moore, as well as a bright, cirtusy kolsch called the Circadian. If you're wanting a touch of sweetness, opt for the Rooted Rye Spiced Ale, which is flavored with root beer, or the Bad Beeroy Brown, which is a traditional-style brown lightened with a little caramelized honey. Also on offer is a coffee, vanilla and oat-flavored stout named the Breakfast of Champions, as well as the hoppy but bright DDH Baseline Sour, made with Galaxy and Citra hops. Another fresh, seasonal style is the Grisette Noveau table saison, a slightly tart beer with hints of red rooibos tea.
If it seems like a lot for these brewers to take on, it is – but it's designed to appeal broadly, giving customers an opportunity to try a wide variety of styles under one roof. The beers available, as varied as they may be, show a lot of promise, and the space is comfortable and inviting. And as there is often a food truck parked outside, you might just find you've got everything here that you need.
New Axiom Brewing Company, 949 NE Columbus, Lee's Summit, Missouri, newaxiombrewco.com