It's hard to keep quiet about the new food and drink menu at Hush, the jazz club located on the lower level of The Garment House in downtown Kansas City.
There are plenty of great places to catch live music in this town, but Hush is looking to set itself apart by upgrading its food and bar program to include craft cocktails, small plates and an affordable $55 4-course prix fixe dinner menu (including drink pairings) that changes every week.
To find the basement speakeasy, just look for the red light outside the front door at Hush. Known mostly for live jazz, which happens Wednesday through Saturday starting at 7pm, Hush recently rolled out a new craft cocktail program from their new lead barman and general manager Sam Lage and a swanky new food menu from executive chef Bryan Sparks and culinary director Joe Shirley.
"We want people to come and visit us for dinner, drinks and a show," says Sparks. "With Sam's excellent cocktails, and our creative and evolving prix fixe menu, we want to create the full supper club experience at Hush that Kansas City was once known for."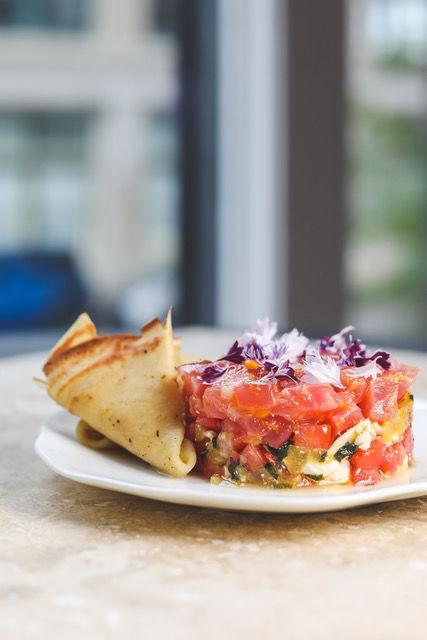 Sparks explains that in the past Hush offered several musical genres, sometimes mixing the live jazz with a DJ playing R&B and hip hop. Now, they have decided to exclusively play jazz on the bottom floor, and have rebooked all other musical acts into 10 Spot Music, the new live music stage located on the third floor of the same building. Once that decision was made, it became clear that the food and drink served at Hush needed to be dialed up to match the quality jazz performances coming from the stage.
Lage joined the Hush team for the opportunity to put his thumbprint on the bar program, which, in addition to beer and wine, now serves a fine selection of 10 cocktails. They're all based on classic recipes with names taken from the jazz greats like Ellington, Basie and Parker, to name a few.
"I wanted to do a cocktail menu that was classic but pared down to the basic core ingredients," says Lage. "I wanted to get away from all of the added and extra ingredients, keeping the core of the drink intact, and getting rid of the rest."
The Davis cocktail, for instance, is a Negroni made with Bombay Gin, Montenegro Amaro, Campari and absinthe, while the Ellington is similar to a French 75; it features Tom's Town Kansas City Gin, lemon, La Marca Prosecco and flamed green chartreuse.
To pair with the cocktails, Sparks has come up with a rotating list of appetizers featuring crab cakes, pig wings, gnocchi and clams. A chef's raw plate of the day could feature raw fish or beef carpaccio. Appetizers are half price during happy hour, which runs Tuesday through Friday until 8pm and Wednesday and Thursday from midnight to close.
The prix fixe menu features specials that rotate weekly. Recently, the $55 menu featured squid ink rolls with nori butter, heirloom tomato carpaccio with herbed ricotta, crispy capers and parsley sauce, a 6-ounce filet with gremolata and truffle risotto. For dessert, Sparks served a trifle with yuzu cake and chocolate-covered berries.
The quality cocktails and new food menu at Hush will get you through the door for dinner, but it's the live music that will keep you in your seat for a nightcap.
Hush is open Tuesday through Thursday from 5pm to 1:30am, and Friday through Saturday from 5pm to 3am.
Hush at The Garment House, 1000 Broadway Blvd., Kansas City, Missouri, 816.600.0707, facebook.com/HushKC