With only one week left in her Indiegogo crowdfunding campaign, Jenny Wheat is hustling to raise the final dollars to fund her dream, Wheat Neighborhood Table.
The local photographer owns Wheat Photography, and in the next month she will go from simply snapping people and plates in Kansas City to serving them at her new Crossroads café, which will open in the former YJ's Snack Bar location.
If everything goes according to plan, Wheat Neighborhood Table will open in early September, offering quick and fresh breakfast, lunch and snack options. Wheat says she could not let the tradition of serving people good food in that space come to an end.
"From my studio window in the Bauer Building across the street, I have watched over YJ's for the past five to six years," says Wheat. "I loved going there to eat and making conversation with a wide variety of people from all walks of life, and I am hoping to continue to offer that experience here on 18th Street."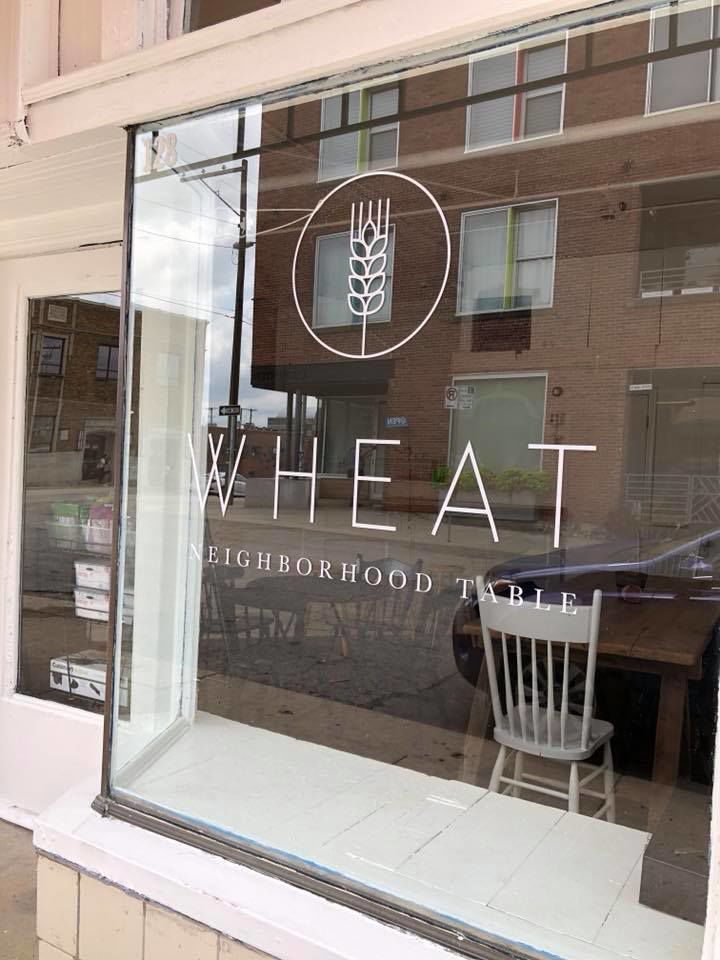 The corner space on 18th Street has housed a restaurant for over 90 years. Last month, though, owner and artist David Ford announced he would be moving his almost 21-year-old restaurant, YJ's Snack Bar, up the street to Westside. Ford plans to take over the former Sylvia's Deli space located at 1746 Washington Street and reopen YJ's soon.
Wheat is currently in the process of cleaning, repairing and repainting the entire space with a nice, crisp shade of white to contrast with the natural wood tables and black mix and match chairs. White letters spell out "Wheat Neighborhood Table" on the giant windows. The restaurant seats about a dozen guests, including extra outdoor seating. 
"I am not trying to reinvent the wheel here, just continue the tradition of serving people fresh delicious food," Wheat says. "I simply won't have room for a giant freezer, deep fryer or even a stove with a hood, so my food will just utilize fresh, locally sourced ingredients."
She has reached out to chef Josh Eans for some consulting help to map out a simple and fresh menu using the limited equipment that she will have at her disposal. As co-owner of Happy Gillis and Columbus Park Ramen Shop with his wife, Abbey-Jo Eans, this is something Eans has plenty of experience with. 
In addition to good coffee, breakfast options include toasts topped with avocado and an egg or nut butter and bananas, or even a breakfast parfait made with Greek yogurt, fresh berries and granola. At lunch, Wheat sees the restaurant offering several salads with freshly made dressings, a soup of the day and a couple whole grain or quinoa bowls topped with fresh vegetables.
The menu will change often, depending on what is in season and available. Vegan and vegetarian options will also be plentiful. Wheat feels that grab-and-go snacks had been missing from the neighborhood, so she plans to offer fresh fruit, hummus and vegetables, protein bars, bags of nuts and dried fruit.
"I am sure my menu will change with time; we will be open to feedback and want to know what people want," says Wheat. "Wheat Neighborhood Table will be a happy communal place, with nothing fancy or fussy."
With seven days to go on her Indiegogo campaign, Wheat is about 34 percent funded, which means she has around $13,000 left to go to hit her target of $20,000. She is hoping to rally the businesses around her in this last week to help her raise the total amount needed to get her final kitchen equipment and inventory in order to open on time.
Most important to her, however, is that at everyone is welcome at the upcoming restaurant. "It is the diversity of people who live and work near this corner of 18th Street that makes this neighborhood buzz with creativity and culture, and I want this to be a place where everyone feels welcome," Wheat says.
To learn more about Wheat Neighborhood Tabl, or give to theIndiegogo Campaign, click here.
Wheat Neighborhood Table, 128 W. 18th St., Crossroads Arts District,, Kansas City, Missouri, facebook.com/wheatnt