A new chef in Weston is adding his considerable talent to the town's growing reputation for good food and drink.
Chef Nick Martinkovic landed in Weston this spring, having worked in kitchens from New York to St. Louis to Florida and back again. He and his wife, Andrea, who grew up in Weston, recently moved back to town to open their first restaurant, Noah's Cupboard.  
A native New Yorker, Martinkovic arrived in St. Louis in early 2013 to open Central Table Food Hall after a stint at the much-loved Roberta's in Brooklyn. Next, he was executive chef of Blood & Sand and helped open sister restaurant Death in the Afternoon before leaving St. Louis in late 2014 to head up the kitchen at Emko, a restaurant in West Palm Beach, Florida.
Soon after, he and Andrea, who met in St. Louis, decided it was time to open a restaurant of their own. Martinkovic considered staying in St. Louis, but Andrea convinced him that Kansas City would be a better move for both their family and the restaurant.
"I had lived and worked as a health and wellness coach in St. Louis for many years, which is actually how Nick and I met, but when we would come home to visit my parents, we'd check out the amazing food scene in Kansas City," she says. "I just felt like being closer to my parents and the supportive culinary community here would be the best long-term move for both our family and the restaurant."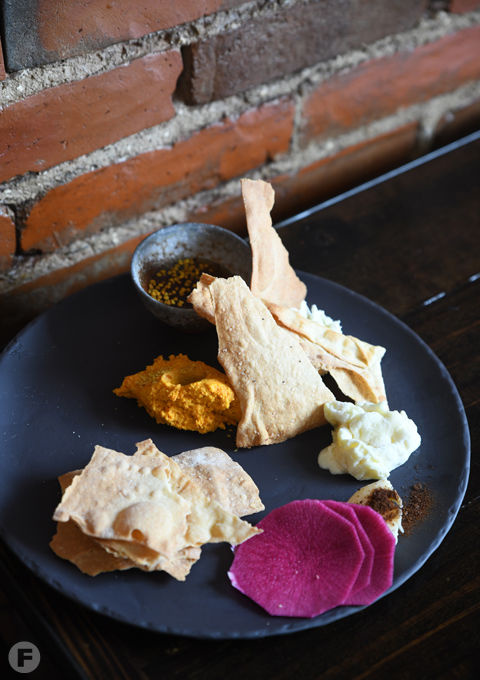 The couple and their 18-month old son, Noah (the restaurant's namesake), and JJ, Andrea's 10-year old son, all moved into her parents' basement in Weston so they could quickly start the search for the perfect spot to open their restaurant.
"We had originally thought about the Crossroads, then ended up liking a few places in Brookside and the Parkville area, but we just weren't finding the exact right space to open the restaurant," Nick says.
The couple stumbled across their current home in Weston by accident. They had not originally considered Weston for the restaurant, but a space on Main Street became available and the two quickly decided to jump on it. It's the perfect starter space, with Martinkovic's restaurant on the main floor and Andrea's yoga studio in the basement.
Although Weston used to be known for its quaint downtown and antique shops, it's growing into a delicious daytrip destination as chefs, farmers and food and beverage artisans choose to set up shop in this sleepy little river town. Noah's Cupboard joins a host of culinary artisans who already call Weston home, like Green Dirt Farms and its creamery, Vox Vineyards' tasting room, Hearth Bread Co., The Vineyard, Avalon Café, Tin Kitchen, McCormick Distilling Co.'s tasting room and Holladay Bourbon Tour, Pirtle Winery & Tasting Room and Weston Brewing Co. and O'Malley's Pub.
Noah's Cupboard is located on the main floor of a shotgun-style, two-story red brick building that was formerly home to Miss Doyle's Soapery. There is no real signage on the building; just look for the tiny chalkboard sign outside.
The dining room is tiny, with only about 17 seats total. That includes four seats at the chef's counter, which must be requested ahead of time, where Martinkovic does all the cooking himself. The rest of the seating is spread out across three bar stools against the wall with a small bar-height table, and 10 regular seats, including eight located in the window of the restaurant and two in the middle of the dining room. Even packed with guests, the space is small, but it is not unmanageable, and the food more than makes up for it.
The menu changes weekly, depending on what Martinkovic can source from local farmers. Although the menu reads like a typical farm-to-table restaurant, guests will be delighted by Martinkovic's light and pretty dishes that flaunt an interesting twist of global spice and flavors, particularly in his vegetable dishes. The umami eggplant dip, for example, typically features Middle Eastern flair; at Noah's Cupboard, it's a dark, thick and rich dip full of Asian flavors like miso, five spice, ginger and lemongrass. It is served with housemade crackers, but you may be tempted to just eat it with a spoon.
There is also a fine selection of salads including a Mexican-inspired ceviche that can be made either with mahi mahi fish or turnip, in addition to avocado, carrots, orange and cilantro with red pickled onions. Vegetarian and vegan diners will be thrilled to find many vegetable substitutions across the menu. The menu also typically features three housemade pastas, including a pappardelle, pierogi and maltagliati. On a recent evening, the latter was served with KC Cattle Co. Wagyu Osso Bucco with gremolata bread crumb and Parmigiano-Reggiano cheese.
Entrees also typically offer three choices, which also rotate depending on what protein Martinkovic can get that week. The wild sockeye salmon en papillote was a tender salmon fillet with tomato, organic farro, lemon and herbs cooked in paper, which keep the dish moist and the fish tender.
Dessert featured two different types of panna cotta; one was vegetarian and one was made with heavy cream, and both were delicious with fresh berries and mint.
"I've waiting a long time to open up my own restaurant, so I've had some time to think about it," Martinkovic says. "This menu represents all the influences that I've had – pizza, pasta and all the vegetable-forward dishes I've been known for doing in the past."
The wine list is sleek and interesting, with several European bottles that wisely sit in that sweet prince range of $30 to $50. The best deal in the restaurant, however, is the prix fixe four-course menu, which includes a starter, pasta, entrée and dessert for $52 per person. For an additional $20, couples can split this prix fixe feast, which features healthy portions of Martinkovic's excellent cuisine. No one will leave hungry.   
Martinkovic and his wife refer to their restaurant as serving "thought-provoking, soul-fulfilling food," which, given both of their talents as a holistic healer and chef, seem to perfectly describe the vibe of what is happening inside Noah's Cupboard.
Noah's Cupboard is open currently for dinner only Friday through Saturday from 5 to 9pm. Starting next week, the restaurant will add a Wednesday dinner service from 4 to 8pm. Reservations are a must.
Noah's Cupboard, 521 Main Street, Weston, Missouri, 816.386.4080, eatnoahscupboard.com