Bringing the legendary Golden Ox steakhouse back to life has been a painstaking labor of love for restaurateurs and business partners Jill Myers and chef Wes Gartner. To start, its iconic 108-year-old building desperately needed major repairs: Its plumbing, electrical, HVAC, hood vents and grease traps all needed to be replaced, which took about two and a half years (about two years more than anticipated). All of that effort has at last paid off as the Golden Ox officially opens its doors for dinner service this Fri., June 8. Lunch service will return in coming months.
Gartner's and Myers' efforts proved to be incredibly worthwhile. Stepping into the Golden Ox in 2018 feels at once nostalgic and novel, paying clear homage to its past with its beautifully old-fashioned and deeply masculine interior. The original rich brown wood-paneled walls have been cleaned, restored and reinstalled, as have its original black leather tufted booths. Customers who remember the old Ox will recognize artwork, including original paintings and photographs of cattlemen and the Kansas City stockyards of the early 20th century.
The bold brass cattle heads as well as the original 1940s-era speaker covers dot the walls and corners of the bar (and the speakers within them still work). Near the side entrance of the restaurant (which can be accessed from within the Livestock Exchange Building), several of the restaurant's original menus are framed, lining the walls. (On one, an aged Kansas City sirloin is available for $3.90, and an accompanying bottle of Burgundy is $2.)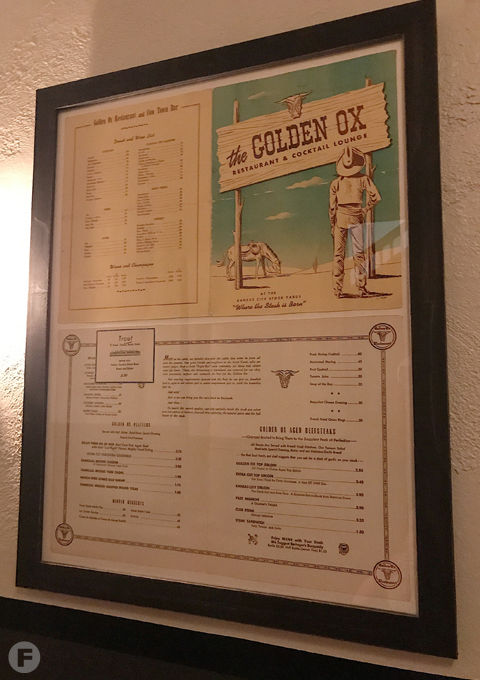 While a visit to the Ox feels like a step back in time, the space also has been thoroughly cleaned and modernized. Where the grill once sat in the center of the dining room is now a handsome wood bar, which seats about 12. A longhorn mount and moody red lighting act almost like a beacon, making the bar the visual centerpiece of the entire restaurant. Perhaps the most noticeable change is the kitchen, which is now completely open to the dining room, and located right at the restaurant's entrance. Glossy red brick columns and bright stainless steel tables and appliances gleam from behind a curved countertop, which also features seating, so customers can take a close look as chef Gartner and his team work the open-fire grill.
Gartner's menu, like the interior of the restaurant, is a hearty nod to the Ox's former heyday. Steak tartare, oysters Rockefeller, escargot, rumaki (chicken livers) and crawfish-andouille hushpuppies are available to start the meal, with oxtail soup, shellfish bisque, and Caesar and dinner salads are also available.
At the heart of the Golden Ox's menu, of course, are its steaks. The menu features nine different options, ranging from an eight-ounce flat iron steak to a 17-ounce ribeye and even a 34-ounce, bone-in, dry-aged cut known as The Drover. All steaks are cut and aged in house, and are cooked over flame so as to achieve the ideal salty bark, or sear, on the exterior. Accompanying sauces are also available, including a tangy chimichurri, herbed horseradish butter, and a creamy Béarnaise, among others. Gartner says that as soon as this project was announced, he had local cattle farmers immediately calling him to sell their beef. From them, he chose cuts that he hopes will appeal to a wide variety of customers.
Also on the menu are featured selections, including an 18-ounce Porterhouse pork chop, a half slab of ribs, a filet of Scottish salmon, a rack of lamb and a half chicken. Cold seafood offerings are also available, including a classic shrimp cocktail, crab salad and oysters on the half shell. On the side, the Ox's classic and loaded baked potatoes are back, alongside a sweet potato Gruyère gratin, Parmesan-parsley French fries, creamed spinach, seasonal vegetables and fire-roasted broccolini, among other options.
The bar menu was designed by general manager and certified sommelier Richard Garcia to hold the same type of wide appeal as the steak menu. Garcia has presented a well-edited selection of classic-inspired cocktails, nine wines by the glass, five beers on tap and 10 other beers available in cans or bottles. He notes that it was designed in this way to stay in line with how the Ox traditionally offered its drinks as well as to make selecting a drink more easy and fun for the customer.
The new Golden Ox is a loving tribute to Kansas City's past. Through careful and thoughtful updates, it also manages to hold appeal for a new generation that perhaps did not grow up with the icon as a part of their lives, or saw the Ox during a period of decline in its later years. Although it took an extraordinary amount of effort to get there, Gartner and Myers have managed to bring forth the best, idealized version of the Ox's former self, one that all but assures a long life ahead.
The Golden Ox, 1600 Genessee St., Stockyards District, Kansas City, Missouri, 816.842.2866, goldenoxkc.com